Put These May Food and Drink Events on Your Radar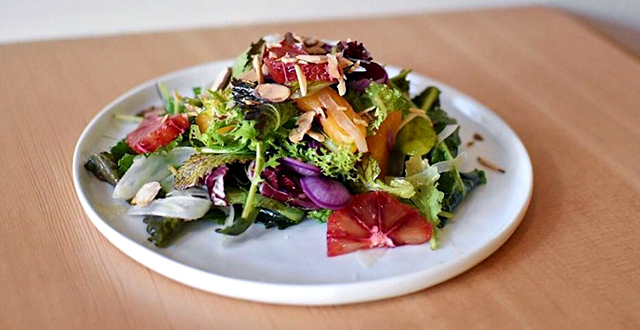 May marks the official launch of spring; cue rooftop cocktails, more sunlight, later nights, and lighter, brighter food. Are you ready for matcha, Mexican food, a new Off the Grid and sipping more wine outside? The following events have your month of May covered.
~~~~~~~~

Have a taste of Traci Des Jardins' cooking at The Commissary
While local legend Des Jardins is closing her iconic restaurant Jardinière, The Commissary, another project of the chef with the Presidio Trust, is about to celebrate its fifth anniversary. On Wednesday, May 22, cava, tapas, and paella will be served at the eatery by past and present chefs. Tickets are $85, available here.
~~~~~~~~

Feast on a Game of Thrones dinner
Honor Kitchen & Cocktails in Emeryville is all about the cult TV show. Sunday, May 19th, from 5pm, the crowd-favorite bar will host a Game of Thrones finale feast, a $40.00 three-course prix fixe dinner consisting of Beef Carpaccio with Pretzel Roll, a choice of House Smoked Pork Ribs or Braised Boneless Beef Short Ribs on Garlic Mash with Peas and Carrots, and Creamy Rice Pudding with Stewed Fruits. Whatever happens, you'll be full and ready to face it.
~~~~~~~~

Sample wild ice cream with Humphry Slocombe
In preparation for Pride Month, the local ice cream brand has teamed up with the city's biggest drag icon, Juanita MORE, for a special flavor combining blackberry, ginger and whiskey. On May 12th, 12noon – 1pm, the Castro sports bar Hi Tops is hosting a launch party where the ice cream will be served. The event is free to attend, and Juanita MORE! herself will also be on site. RSVP available here.
~~~~~~~~

Attend a talk about the future of food
On Wednesday, May 29th, Mother Jones magazine is coming to town, to discuss serious and important topics; access, affordability, and equity in the food system. Taking place live at the San Francisco's SFJAZZ Center, the panel includes Tanya Holland (Brown Sugar Kitchen), Leigh Gaymon-Jones (Castanea Fellowship), Danielle Nierenberg (Food Tank), Justin Phillips (San Francisco Chronicle), Tom Philpott (Mother Jones), Alice Waters (Chez Panisse and Edible Schoolyard), and Paul Willis (Niman Ranch). Tickets are $25-$50, available here.
~~~~~~~~

See Gabriela Camara talk about food
If you've ever eaten at Cala, you know Mexican superstar Gabriela Camara is a big deal. On May 2nd, she'll be at Omnivore Books, participating in live Salt + Spine podcast with Brian Stewart, discussing her book My Mexico City Kitchen: Recipes and Convictions. Come to enjoy the cutest bookshop in the city, stay for Camara's passionate take on food, heritage and tradition. Free, details here.
~~~~~~~~

Get a suntan at the Jack London Square Art and Wine festival
Wineries and the arts? Classy. On Saturday, May 11th, 12noon – 5pm, Jack London Square in Oakland will host a celebration featuring over 20 Northern California wineries, plus live music by artists like Pride & Joy, vendors, artists and more. To keep the bellies full with not only alcohol, but also food, the Square's plentiful restaurants (Farmhouse Kitchen, Nido, Belcampo and more) are right around the corner. Tickets are $40 General Admission, $80 VIP, available here.
~~~~~~~~

Nibble at Off the Grid's newest location
Off the Grid needs no introduction in the city. This season, the food trucks extravaganza is expanding to the Embarcadero, offering much needed lunch on Mondays, Wednesdays, and Fridays 11am-2pm. Vendors include Cochinita, Da Poke Man, It's All Gravy and Moonraker, among others, with updates on social media about new additions each week. More details here.
~~~~~~~~

https://www.instagram.com/p/BwsjaJ2BUOj/
Go Indian-ish with Dyafa
Back to Jack London Square, Reem Assil's Dyafa never stops innovating. This month, on May 13th, the chef is hosting Priya Krishna, the author of the buzzing cookbook Indian-ish, for a collaborative, five-course dinner mixing the two's backgrounds. What to expect? Creative dishes, spicy cocktails, and a signed copy of the book. Tickets are $82 (the book is included), available here.
~~~~~~~~

Get high on matcha
The better-looking, healthy alternative to coffee is not going away anytime soon. In fact, more matcha-inspired eateries are to be expected in the Bay in 2019, joining successful spots like Stonemill Matcha. Meanwhile, on May 11th – 12th, SoMa StrEat Food Park is hosting a neon-green celebration of all things matcha, from lattes and ice cream to muffins and waffles. Prepare to get very energetic. Tickets are $5, available here.
~~~~~~~~

Sip and taste with Check, Please!
Who doesn't love Check, Please!, the KQED classic restaurant show? On May 9th, the show, led by the lovable Leslie Sbrocco, is hosting its annual Check, Please! Taste and Sip event, hosting over 50 restaurants and wineries under one roof. In tune with the program's kind of old-school / classy vibe, live jazz will accompany tastings from newer and older restaurants like Bar Crudo, Dragon Beaux, Lovejoy's Tea Room, Rocker Oysterfeller's Kitchen + Saloon and more, giving you a chance to rediscover a long-forgotten favorite. So dress up. It should be an awesome evening of food & wine. Tickets are $85-$135, available here.
~~~~~~~~

Become Greek for a day
Greeks have all the fun, and this month you get to join in too, as the Oakland Greek Festival returns on Friday, May 17th – Sunday, May 19th. Held on the spacious grounds of the Greek Orthodox Cathedral of the Ascension, the festival offers Greek food, exhilirating music, wine and lots of fun for all ages. The weekend pass is $13, available here.
~~~~~~~~

Learn about spices at The Assembly
The Assembly highlights learning in a calming space; never a bad idea. On May 13th at 6:30 pm, the coworking space will host From Pantry to Apothecary: Healing Spices for Every Home, a workshop with the founder of Elemental Alchemy, an Ayurvedic organization from Oakland. Discover essential spices, their healing properties and recipes to utilize them. More details here.