Inventive Thai Restaurant Farmhouse Kitchen Expands to Jack London Square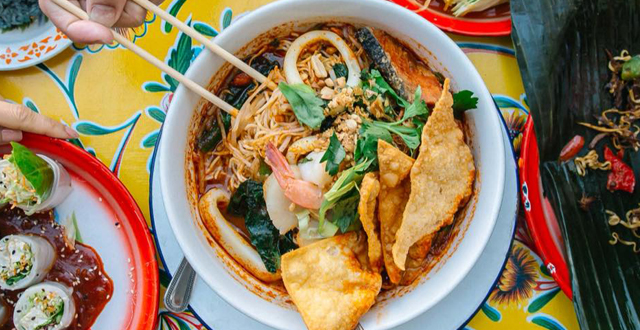 Jack London Square is currently in the center of a bar and restaurant boom, with Belcampo opening its new spot on the water, Dyafa quickly becoming a favorite, and a new cider bar underway. Farmhouse Kitchen, with its new fancy digs, is the latest addition to the scene; following a highly successful Mission location by the same name. Farmhouse Kitchen is also connected to the permanently busy Montclair restaurant, Daughter Thai.
Images courtesy of Farmhouse Thai
In addition to chic dishware, flower-covered chairs, servers in tropical shirts, and fun beach umbrellas on the patio, the restaurant is bringing the group's famous flair and kick to the menu. Executive Chef Kasem Saengsawang's menu includes crispy salads, spicy curries, and a section dedicated purely to street food, with a zero-compromises Pad Thai that easily could've been at home on the streets of Bangkok.
Some dishes, like the spicy shrimp curry with naturally-dyed blue rice, are inspired by Thailand's southern regions, and many of the menu's option will sound and taste unfamiliar—but in the best way possible. Right now, the restaurant is open for lunch and dinner, with dreamy Thai breakfasts remaining a future possibility.
Farmhouse Kitchen
336 Water Street, Oakland