Elbo Room Extends Lease to Stay in the Mission Until 2019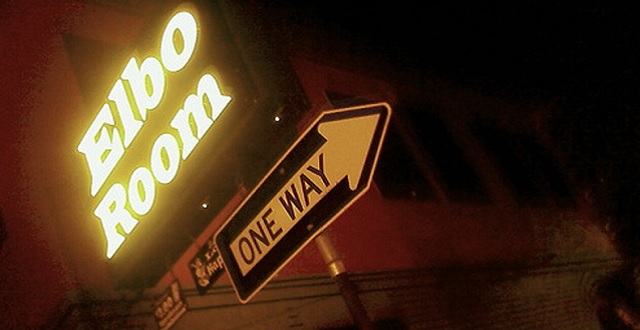 Update: "With a heavy heart, we need to announce that the last day of Elbo Room SF will be January 1st, 2019. The building is officially on the market and the lease is not being renewed. Erik Cantu & I (Matt Shapiro) bought the bar in 2010. We had both been working there since the early 2000's as Manager and Booker (respectively)."
~~~~~~~~
Keeping tabs on the status of the Elbo Room is like following a can being perpetually kicked down the road. Owners of the Mission district bar and event venue recently signed a third extension of the lease agreement to stay at their current location until January 1, 2019.
It was back in 2014 that we first heard about the pending fate of the Elbo Room. This unexpected news was eventually followed by a temporary extension that in 2015, followed by another extension that kept the doors open another two years.
It appears that a similar extension has been forged between the involved parties, which now keeps the Elbo Room open and in the same spot until January 2019. Owners Matt Shapiro and business partner Erik Cantu said they plan to make several unspecified changes to the bar's interior.
Elbo Room was also recently named a Legacy Business. And by gaining legacy status with the City, the Elbo Room can enjoy monetary benefits that could potentially make it an attractive business to a prospective real estate owner. However, at the time of the announcement, the bar still planned to move because the owners of the building were developing housing on the current site. According to the latest planning documents, the existing two-story corner building would get three additional floors. After completion, the top four floors of the proposed five-story development would be used for residential housing.
We'll continue to monitor the status as the term agreement's end draws closer. In the meantime, the drinks are still a flowin'.
Related: https://www.sfstation.com/2016/01/06/qa-with-elbo-room-co-owner-thumbs-up-to-two-year-lease-extension/