Q&A with Elbo Room Co-Owner: Thumbs Up to Two Year Lease Extension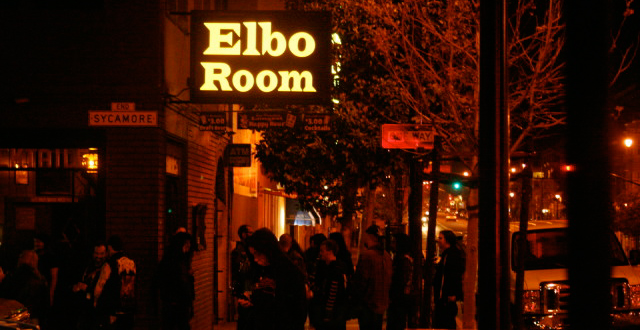 The Mission District's beloved and historical night club, Elbo Room, will be sticking around for another two years after signing a lease extension in August of 2015.
The club has been operating since 1991, priding themselves as a viable outlet for World, Afro-beat and Latin inspired music. Matt Shapiro, co-owner and booker of the Elbo Room since 2004, addressed the rumors of their immediate closing. "That's not true," said Shapiro excitedly, "the building owner wanted to convert the building into condos. Their lease ran out on November 1st and they were going to start the project, but the plans have taken longer than expected so they offered us two more years."
Two years might not seem like long, but it's a giant step towards preserving some of the lasting venues and business that have succeeded during San Francisco's recent tech boom. Many of them have been subjected to architectural exploitation, as Shapiro concedes, "luckily I think the city recognized that and sort of slowed their roll."
So how have things changed over the years?
The neighborhood changed quite a bit in the last twelve years, but I've watched it happen slowly. It's completely different on a Saturday and Sunday afternoon, there's packs of people eating brunch. There's just different types of people. As far as music at the venue, it's changed a bit as well. I've tried to keep the integrity of that room, as far as the Latin and World influence, as well as adding my own taste and keeping a good mix.
Where do you see things two years from now?
I don't know. It's hard to say. The optimist side of me thinks within two years we're gonna start seeing changes, maybe not going back to what it used to be, but maybe less high end brunch places everywhere. That's what I'm hoping for but it's hard to say. The first dot.com boom we had was a lot different. There's a lot more money involved in this one but I'm thinking it might dry up eventually. I'm hoping at the very least the people that move here get more involved in the city and put some context to it.
Do you feel any pressure to go out with a bang?
Definitely. We thought we were closing in November. We want to make these last two years awesome and aim higher. We're trying out this new party called "Pop That." It's a booty bass pizza party. Free pizza for the first hour with booty bass, Miami bass and dance hall grooves. Dub Mission is giving up Sundays and moving to the second Friday. Once a month they're gonna do a big performance with special guests. Other things are still incubating.