The All-Encompassing Guide: Things to Do in Golden Gate Park & 8 Lesser-Known Facts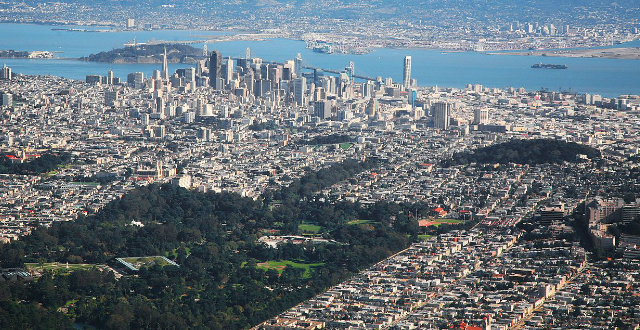 Golden Gate Park is one of those San Francisco must-see destinations for all first-time visitors. And just when you think you know everything about the 1,000+ acre park, new events, exhibits and secret hideouts surface. Rich with old-timey tidbits and weird facts – history lovers and staycation junkies alike are wise for leaving Golden Park on their To-Do list all year long.
Our guide to the third-most visited park in the United States is for locals and new visitors alike with must-see attractions, annual events, where to eat, fun facts and Instagram-worthy photo opps throughout the park. #NeverStopExploring!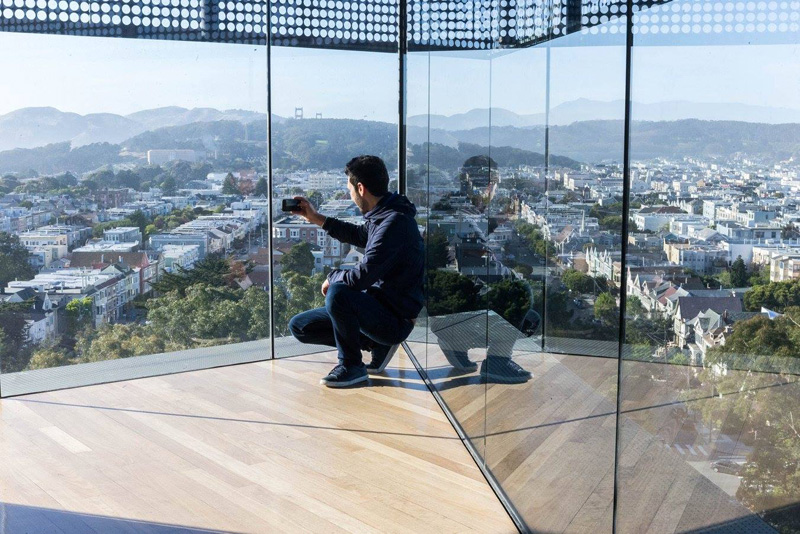 Founded in 1895, the de Young Museum is one of two Fine Arts Museums of San Francisco, alongside the Legion of Honor in the Presidio. The de Young is currently running a special exhibit on "The Summer of Love Experience: Art, Fashion, and Rock & Roll" and on American Modernist painter Stuart Davis. Check their website for the latest special exhibitions. While there, head up to the tower observation deck. It's free and offers a panoramic view of the entire Bay Area on a sunny day.
Special Events: Friday Nights at the de Young is a summer series (running through August 18, from 5-8:30pm) in which the general exhibits are free and open to the public. The special exhibits still cost the same but the museum comes to life with music, performances, cocktails, hands-on activities and exhibition tours.
Admission: $15 for adults, $25 for special exhibits, $30 for a dual-exhibition ticket to see both special exhibits
Hours: Closed Mondays, Tuesday-Sunday, 9:30am-5:15pm, Open Late Fridays through August 18, 9:30am–8:30pm
Fun Fact: "The Fine Arts Building was designed in a pseudo–Egyptian Revival style and decoratively adorned with images of Hathor, the cow goddess."
California Academy of Sciences
The California Academy of Sciences (more casually called the Cal Academy) is a natural history museum located across from the de Young Museum. It's among the largest museums of natural history in the world, housing over 46 million specimens. Be sure to see their living roof, penguin exhibit, aquariums, Morrison Planetarium show (often with fun guest narrators), and their butterfly-filled rainforest dome.
Special Events: The Nightlife series on Thursday's from 6pm – 10pm keeps locals headed back on the regular. Each Thursday the museum prepares a themed night and a new adventure filled with DJs, special exhibits and cocktails.  Or win mega good parent points or cool aunt/uncle points with the "Penguins + Pajamas" sleepover party at the museum. (I wish they had this when I was little!)
Admission: $36 for adults, Kids prices vary based on age. The museum also offers "Neighborhood Free Weekends" – check here for the complete schedule.
Fun Fact: Claude the albino alligator has his own Wikipedia page, terrible eyesight and is 22 years-old.
This plant, flower and butterfly paradise is a breath of fresh (humid) air. Enjoy some solitude surrounded in this lush oasis of natural beauty. On sunny days, the outside lawn is also a perfect place to enjoy an afternoon picnic.
Special Events: In honor of the Summer of Love, the Conservatory is transformed into a full-on canvas for a light-up art installation in the evenings.
Admission: Free every first Tuesday. $8 for adults.
Fun Fact: There is a corpse flower here! The plant reached full bloom in June 2017. It takes 7 to 10 years before this plant actually blooms…talk about a "late bloomer."
Fun Fact #2: This place has had more rebuilds than the opening sequence in Bob's Burgers. Since its opening, the building has seen more than its share of accidents and natural disasters. It survived a boiler explosion, fire and the 1906 earthquake.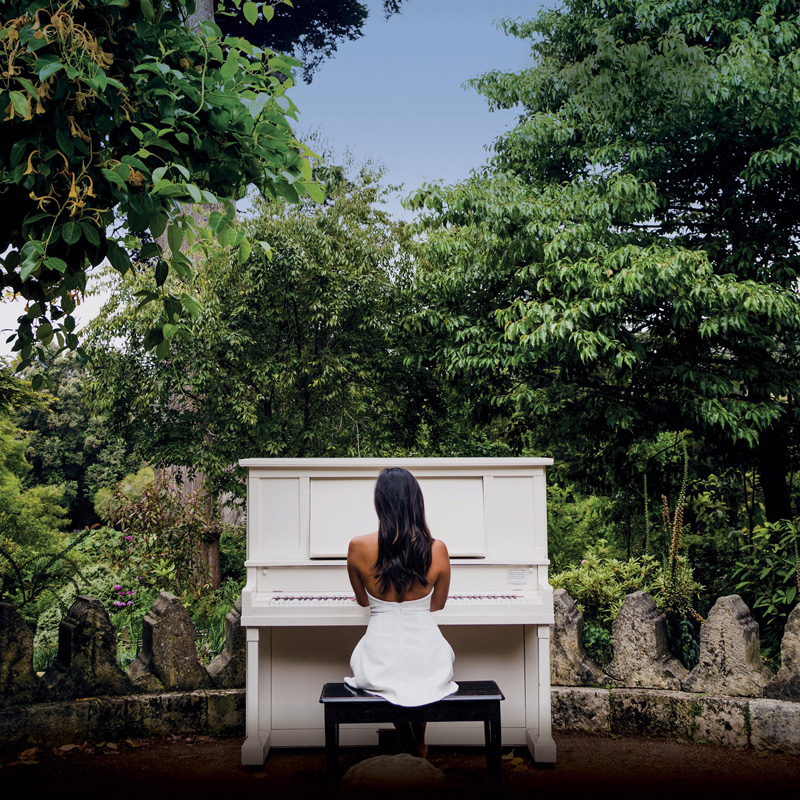 San Francisco Botanical Garden & Arboretum
The San Francisco Botanical Garden is considered a living museum, offering 55 acres of both landscaped gardens and open spaces, showcasing over 8,000 different kinds of plants from around the world. Travel through time in the Ancient Plant Garden and keep an eye out for their giant turtle sunbathing in the pond.
Admission: Free for residents, $8 for non-residents
Special Events: "Flower Piano is back for its third year, celebrating music, nature, and creativity. In collaboration with Sunset Piano the Garden will once again be filled with music, for you and by you!" (More info.)
Be sure to check their calendars. For occasional green thumbs check the list for monthly sales, as well as their annual plant sale, considered the Northern California's largest plant sale.
The Japanese Tea Garden features classic Japanese elements such as an arched drum bridge, pagodas, stone lanterns, stepping stone paths, native Japanese plants, serene koi ponds and a zen garden. Cherry blossom trees bloom throughout the garden in March and April.
Admission: Free before 10am on Monday, Wednesday and Friday. Otherwise, $6 for residents and $8 for non-residents.
Interesting Fact: According to the website, the Tea Garden was created as a "Japanese Village" exhibit for the 1894 California Midwinter International Exposition. When the fair closed, Japanese landscape architect Makoto Hagiwara created and maintained the space and extended out the garden from one acre to today's five-acre space. He and his family lived there for many years until 1942 when they, along with approximately 120,000 Japanese Americans, were forced to evacuate their homes and move into internment camps.  When the war was over, the Hagiwara family was unfortunately not allowed to return to their home at the tea garden and in subsequent years, many Hagiwara family treasures were removed and new additions were made.
The Dahlia Garden is located near the Conservatory of Flowers and celebrated the ), the Dahlia Garden starts to bloom in June, is in its full glory generally in late August and September, and often seen way into October.
Fun fact: The dahlia is the official flower of San Francisco.
The tiny meadow's actual name is the Garden of Shakespeare's Flowers and is the most popular wedding site within Golden Gate Park. Among the roses, lilies and poppies, all the plant life chosen for the garden are ones mentioned in Shakespeare's works.
Fun fact: The garden has a gate but remains unlocked at all times.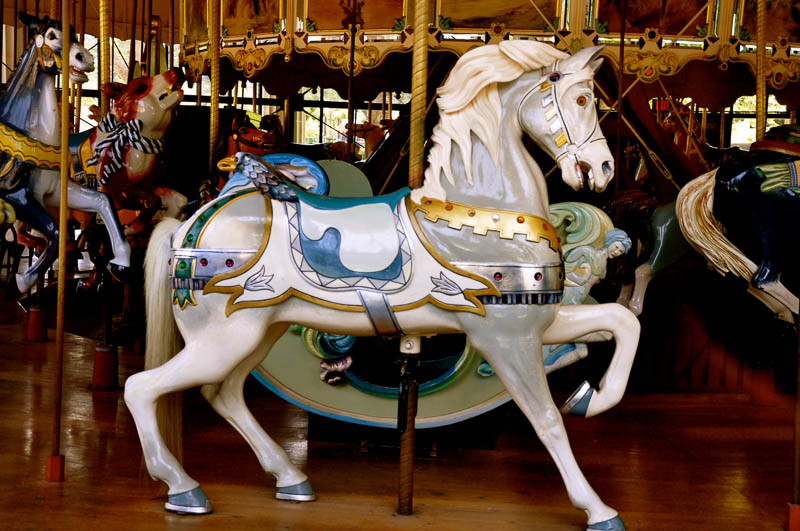 The Carousel
Located near the Korbet Playground, this carousel only costs $2 for adults and $1 for kids, and the photo opps are a plenty.
Fun fact: This carousel is the third one in the park. The other two were replaced and the carousel that's in place today was first was built in 1914 by the Herschell-Spillman Company and operated at amusement parks in Los Angeles and Portland, prior to being installed in Golden Gate Park in 1940 after it was introduced at the World's Fair on Treasure Island.
Nature Groves, Meadows & Lakes
Groves and Meadows
Within the park you will naturally meander in and out of the various meadows and groves. Among the small wooded areas there are six main groves. For sunnier, sun-kissed meadows there are fifteen defined areas, including Hippie Hill which is a smoke-filled celebration on 4/20 and a frequent mainstay for drum circles and colorful characters. Don't get us wrong, there are still chill corners to get in some reading but depending on the day, these meadow areas can get pretty lively.
Tucked within these areas throughout the park, there are designated sporting areas including: 3-Par Golf Course, Beginner Driving Range, Disc Golf, Archery, Fly Fishing, Roller Skating, Lawn Bowling, Soccer, Tennis, Baseball and more. *Some may require reservations.
Lakes
There are ten lake areas within the park. Mallard Lake is considered one of the most pleasant lakes in the park, enjoy a family-friendly day here and expect some ducks to invite themselves along to your picnic. Spreckels Lake is highly frequented by bikers, joggers, walkers, and exercisers. Don't forget, walk to your right and let runners pass on the left. Stow Lake is home to a historic boathouse and café within the park. Rent rowboats, pedal boats or motor boats by the hour at Stow Lake.
Fun fact: Some consider Stow Lake to be haunted by the "lady of the lake." As the story goes, her stroller rolled into the lake and in search of her baby, she also went into the lake, never to be seen again. Some say late at night her spirit still roams and some have claimed that the statue of the nearby "Pioneer Mother" moves. Another fact, this statue is the only female statue in the park.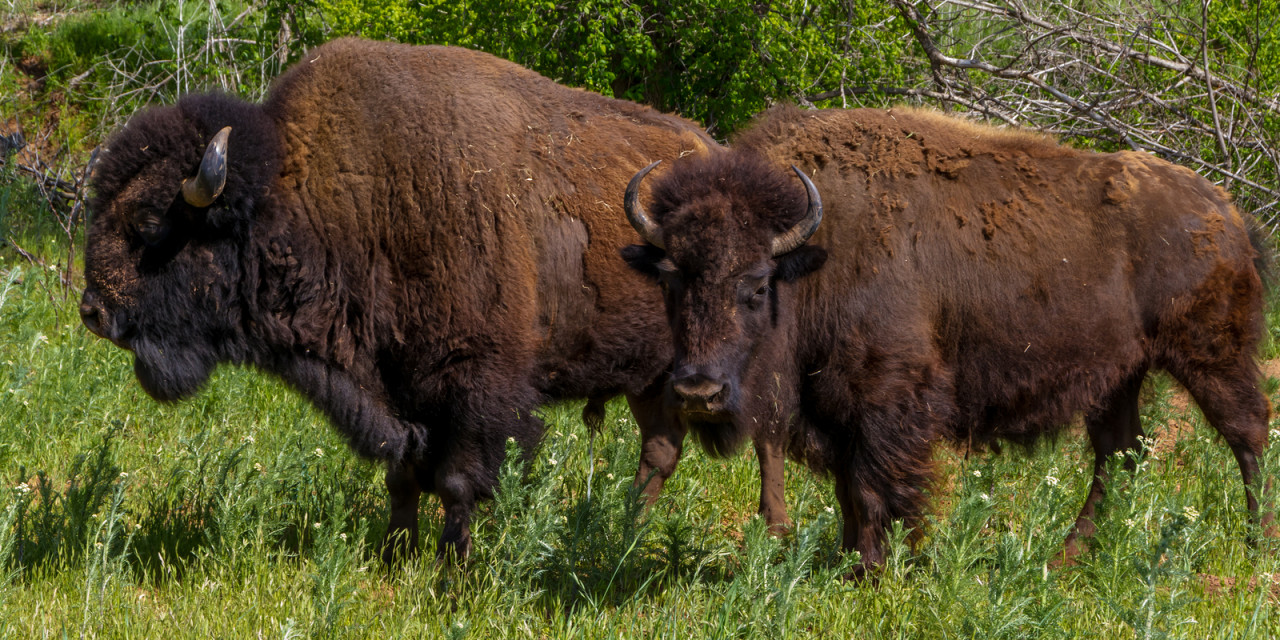 The Buffalo Paddock
Among the many forms of wildlife within the park are our bison friends. Located next to Spreckels Lake, these gentle roamers are a must-see on the Golden Gate Park checklist for first-timers. While a bit underwhelming, the fact that this giant bison exists in the park is a noteworthy novelty in itself.
Fun Fact: In the 1890's bison were at an all-time low in North America. In an effort to preserve the species they were brought to Golden Gate Park. Over 100 calves have been produced by the herd at Golden Gate Park, now the number in North America surpasses 200,000. Before the San Francisco Zoo opened, this bison area was also home to sheep, elk, deer, and bear.
Additional Areas for Sport & Play
The Playgrounds
The largest of the park's playgrounds is the Koret Playground has numerous play structures for kids of all ages and the carousel is close by. Other favorite playgrounds include the "Blue Playground" (at Fulton at 8th Avenue) and the playground at 45th Avenue and Lincoln Way.
Bocce ball & lawn bowling 
Located close to the tennis courts, watch or get in on some lawn bowling Tuesday to Sunday with game play beginning at 12pm. Be sure to come with laced-up flat-soled shoes. If you are new to the game and wish to learn, there are free lessons on Wednesdays at 5:30 pm.
Between the archery range (which is the only one in the city), places to play handball, the soccer fields and whatever sport fits your fancy, check out the Golden Gate Park's list of sports-related activities.
Ready to join a team or club? Here's a list. Seriously, you don't want us to name every single one here.
Places to Eat (In and Around) Golden Gate Park
The Beach Chalet is a classic oceanfront restaurant to take the folks or to go on a dinner date with your bae. The Chalet offers a bottomless mimosa and buffet brunch that's an all-out decadent affair best saved for a day when you have a good amount of time– maybe save this for when you are not showing your folks around the city.
For light lunches, sandwiches and that classic pink popcorn you had when you were a kid, Stow Lake Boathouse Cafe is your spot. Not hungry? Grab a coffee pick-me-up or take a beer-o-clock breather. All without having to end your fabulous day in the park.
The Tea House, located within the tranquil Japanese Tea Garden, offers classic Japanese sweets and snacks like the dorayaki (sweet pancake with red bean paste) arare (rice cracker snacks) and pastel-colored mochi bites. On a chilly day cozy up with a bowl of udon noodles or, in the heat of summer, opt for a refreshing cup of iced green tea at this tiny tea house in the park.
Off the Grid at Upper Haight is located at the very base of Golden Gate Park and at the start of the main Haight Street shopping area, near the iconic Amoeba Records. If you find yourself at Golden Gate Park on a Thursday evening, from 5 to 9pm, then you're in luck! The food trucks are open. Grab a Humphry Slocombe ice cream cone or if you've built up a huge post-nature appetite get the California Senor Sisig burrito, complete with fries and guac.
Another option for a midday rest and snack opportunity is the De Young Cafe, located inside the De Young Museum. Come in for a pastry and espresso, leave feeling a slight caffeine/sugar high and give your soul a little culture boost.
Have plans for your own picnic in the park or are a finicky eater? Whole Foods is also located at Stanyan and Haight. Grab a sandwich to split and some fresh fruit and head across the street to the park.
If DIY BBQ and bouncy houses are more your style, reserve a picnic table one of 7 picnic areas in the park. To reserve: "call (415) 831-5500 or visit the Pioneer Log Cabin located at Stow Lake & John F. Kennedy Drives – from 9 a.m. to 5 p.m. (Monday thru Friday), and 9 a.m. to 12 noon on Saturdays. Keep in mind that the office is closed from 12:30 p.m. to 2:30 p.m. on Thursdays. You can make reservations six months prior to an event date."
Annual Events in The Park
Golden Gate Park maintains a lofty schedule of annual events for gardeners, art lovers, runners, and museum-goers. In addition to annual events, visitors can also always enjoy a car-free JFK Drive from Stanyan to Park Presidio half the day on Saturdays and all day Sundays.
Here is a list of some of our favorites to get you started but also check their website for exact dates and a complete list of events.
January
San Francisco Vintage Paper Fair – County Fair Building
February
Pacific Orchid and Garden Exposition – County Fair Building
March
Magnolias & More Plant Sale – SF Botanical Gardens
Free Ceramics Studio Day – Sharon Art Studio
April
Hunky Jesus – Hellman Hollow
Car-free Saturdays begin (Car-free areas run along portions of JFK Drive in Golden Gate Park)
People's Day in the Park – Skatin' Place (6th & Kennedy)
420 in the Park – Hippie Hill – April 20
May
Bay to Breakers – Panhandle, along JFK Drive to Ocean Beach
Annual Plant Sale – SF Botanical Garden
Annual Mother's Day Rose Show – SF County Building
June
Sunday Streets – Through GGP and along the Great Highway
11th Annual Golden Gate Park Band Festival – Spreckels Temple of Music
SF Succulent & Cactus Society's Show/Sale – SF County Fair Building
Guinness World Record for Longest Chain of Roller Skaters in San Francisco – Skatin' Place
July
Patriotic America 4th of July GGP Band Concert – Spreckels Temple of Music
Festival of the Chariots – John F. Kennedy Drive
Orchids in the Park – SF County Fair Building
August
Outside Lands Music & Food Festival – Golden Gate Park
Gem & Mineral Show – San Francisco County Fair Building
Fat Tire Presents Tour de Fat – Hellman Hollow
September
Aloha Poly Fest: Polynesian Music, Dance & Food – County Fair Building
San Francisco Zine Fest – County Fair Building
Comedy Day – Sharon Meadow
Hardly Strictly Bluegrass – Hellman Hollow, Lindley/Marx Meadows
October
Oktoberfest – Park Chalet
Halloween Fundraiser Haunted Hollow – Sharon Studio
Pet Pride Day – Sharon Meadow
November
Thanksgiving Free Day – SF Botanical Garden
December
Holiday Tree Lighting Ceremony – McLaren Lodge
Winter Art Sale – Sharon Arts Studio
Holiday Gift-Crafting: Succulent Terrariums – SF Botanical Garden
Holiday Bazaar NightLife – California Academy of Sciences
Garden Free Day – SF Botanical Garden is Admission-Free on Christmas Day
Map of Golden Gate Park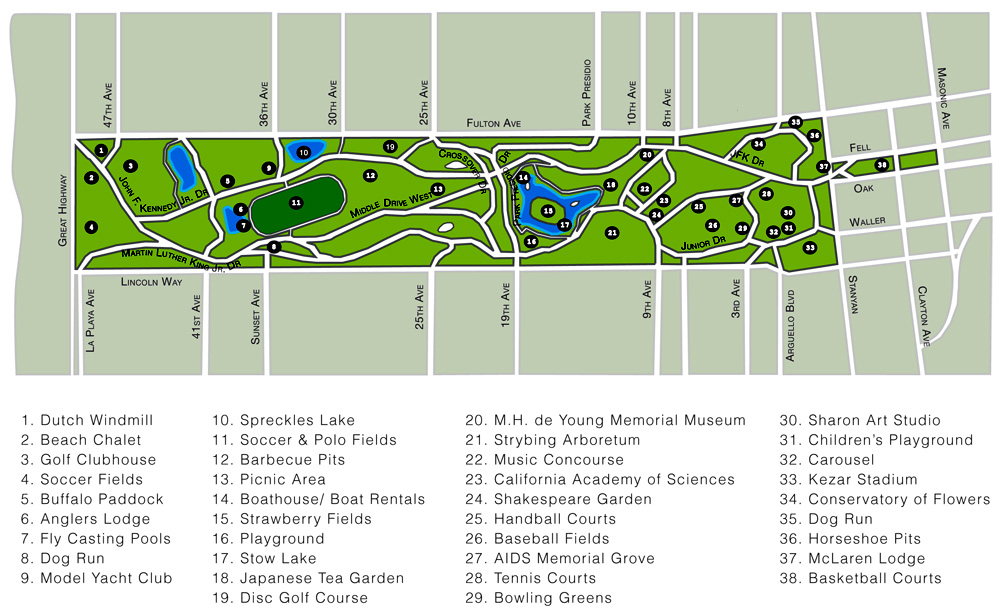 See Also: Illustrated Guide/Map to Golden Gate Park (thebolditalic)