Artistic Reflections from the Iranian Diaspora at SOMArts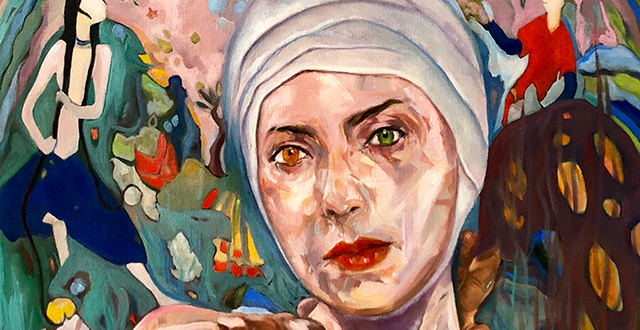 For two days, beginning Saturday, December 1st, SOMArts will showcase works by twenty-two Iranian contemporary artists, reflecting the struggle and growth that emanates from Iran. Art Brief IV: Iranian Contemporary San Francisco explores themes of gender politics, modernization and political conflict.
The works in the show are set against a layered backdrop of diaspora that often defines the region, and helps shape what we now refer to as "Iranian Contemporary Art."
Artists in exhibition come from as far away as Europe, while some are from San Francisco as well. They range from emerging to more established artists whose works have been featured at the Los Angeles County Museum, British Museum, and in the Berger/YSL Collection.
Crafting narratives across artistic mediums – painting, drawing, sculpture, digital and analog photography and mixed media – each artist plays to the enduring balance between past and present to build an awareness of the complexities of cultural identity.
Painter and photographer brother duo, Dana and Dariush Nehdaran, seek to crystallize time through moments marked by intimacy and nostalgia. Dariush, who currently lives in San Francisco, juxtaposes black and white images with sprawling shadows to play with the viewer's perception, constructing an alternate lens of the world mirroring that of his own childhood; where he suffered with blurry vision for many years to avoid the stigma of wearing glasses.
Another artist, Farnaz Zabetian, paints symbolic portraits of Eastern women forced to navigate social taboos and hidden yearnings alongside a quickly modernizing world. The primarily female figures that she imagines serve as a "manifestation of my attention to the events of daily life," she notes. "My subjects are usually maltreated women, particularly from the part of the world that I come from."
The show is the first Northern California multi-artist show led by ADVOCARTSY. Founded in 2015, the Los Angeles-based organization is dedicated to introducing artists of Iranian heritage to the broader community.
Art Brief IV: Iranian Contemporary San Francisco is also noteworthy for its collaboration with Moms Against Poverty (MAP). MAP is a nonprofit founded in 2008 to provide childhood education, hunger relief and care to orphans worldwide – 10% of net sales during this event will be donated to MAP.
Artists in the exhibition include: Pouya Afshar, Afsoon, Samira Akbari, Ali Dadgar, Taraneh Hemmami, Kevah Irani, Aida Izadpanah, Shahram Karimi, Simin Keramati, Dana Nehdaran, Dariush Nehdaran, Ardalan Payvar, Bahar Sabzevari, Sepideh Salehi, Hadi Salehi, Shilla Shakoori, Rebecca Setareh, Kamran Taherimoghaddam, Taravat Talepasand, Shadi Yousefian, Farnaz Zabetian, and Avideh Zahedi.
Art Brief IV: Iranian Contemporary San Francisco
Saturday, December 1st from 6-10pm & Sunday, December 2nd, from 1-5 pm
at SOMArts Cultural Center
934 Brannan Street
Images displayed courtesy of ADVOCARTSY