Q&A: Jaga Jazzist Re-Emerge in SF with 'Starfire'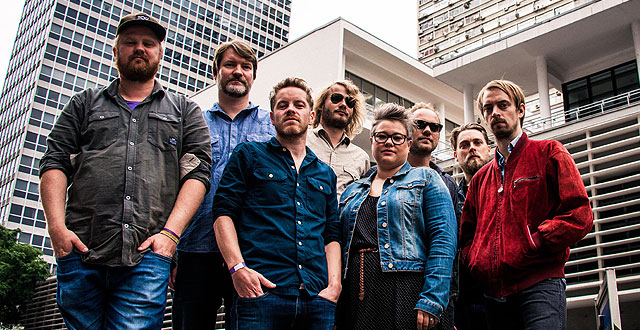 Norweigan experimental band Jaga Jazzist visit the Independent on June 18 following the release of their fifth full-length studio album, Starfire.
With over 20 years experience making music, the Oslo-based group of eight multi-instrumentalists thoughtfully manipulate atmospheric sounds, demonstrating a strong-willed distaste for orthodoxy. Jaga Jazzist has no limits for exploring genres, with each of their albums sounding like nothing that preceded it.
Thundering 12-minute synth juggernaut, "Oban," is the standout from Starfire, released June 1 on acclaimed independent label Ninja Tune. This new record arrives on the heels of a 20th anniversary vinyl box titled, '94-'14.
Before the band embarks on an extensive North American tour this month, we spoke to main songwriter Lars Horntveth about differences between living in Norway and California, his highlights from Coachella this year, and what the band has in store for their new live show.
Will Jaga Jazzist always be an eight-member group?
What has happened before is that, a few years back, maybe 10 years back, the flute player had to quit the band. Instead of getting another flute player, my sister learned how to play the flute, and she's a tuba player. Also, a year ago, the trumpet player, who's a great solo voice and fantastic musician – he had to quit the band. Instead of getting another trumpet player, I bought my sister an alto horn for Christmas, which can do some of the stuff that the trumpet does.
We kind of do that. If we're missing stuff, we just learn how to play those other instruments that we need to. That's part of the fun as well is to actually learn those. The reason people quit the band before is mostly because they have their own music or bands that they want to grow and prioritize, which comes as no surprise to us. It hasn't been that dramatic. We've been the same eight people since 2009, so it's pretty stable.
Another thing which is kind of cool is the trumpet player we had for 15 years was a really great soloist. But there's not that many solos in our live shows. So actually what has been fun the last year has been to play those songs. Now I have to do more solo stuff, and the trombone and the keyboard player have to do more solo stuff too. Basically, you just have to step up and do the job. This new album was made after Matias the trumpet player left the band. So, the music is more suited for the band that we have now.
Is there a limit to the number of instruments Jaga Jazzist can perform with live?
We have so much stuff on stage, it's crazy! It's at least 40 instruments or something. Probably 10 keyboards and a bunch of guitars for three guitar players. A lot of microphones. A bunch of horns and winds and a piano. It's a bunch of stuff. We always manage to fit it all on the stage somehow. We're used to standing really close to each other and that's what we like. We played a few really, really small venues back in the day.
Why did you decide to move from Norway to California?
I was on vacation here for a month, like three years ago, during Christmas. I just spent Christmas with a friend. After that, I finished this orchestra album I did few years ago called Live with Britten Sinfonia. It's like a symphony orchestra album. I finished editing and mixing that album, and basically looked at my calendar and saw I have nothing I have to be in Norway for. So I thought, if I'm going to write music anyways, I could just do it [in California].
I also got to stay at my friend's house in Echo Park with a great studio in the back yard with a great view. It's very isolated. I really enjoyed it. I ended up staying here for a few years. Now, I'm going back and forth. I'm basically skipping with the wintertime in Norway. I'm here from December until June. The summer in Oslo is just fantastic, so I don't want to miss that.
What are must-do activities in Norway?
Just being outside. Oslo is such a small city. It's like San Francisco, with like 600,000 people. Around Oslo, there's fjords and ll beautiful islands. So in the summertime, I like go out on the islands and take my bike out there. It's like 10-15 minute bicycle ride from the inner city. Everything is really close. It's quiet. People have cabins and go on vacation. The summertime is my favorite time.
Of course, there's a bunch of stuff to do in the wintertime as well. If you want to go skiing, or cross country skiing, it's like a 15-20 minute drive and you're up in the mountains. It's pretty cool in that sense.
What do you miss most about Norway when you're away?
I miss all my friends and stuff like that. Also in Oslo, there's a good live concert scene. There's all the Norwegian artists, but also international artists are always coming to Oslo to play. That scene is really good.
Los Angeles is also a fantastic music scene, of course, but it's so spread out. I actually go to way more concerts in Oslo than I do here. It's easier to isolate yourself more or stay focused in Los Angeles.
Another good thing about being here is that since most of my work is in Norway, all my emails and phone calls are done by 10 in the morning. Because of the time difference, I can concentrate for the rest of the day instead of getting interrupted by emails or phone calls.
In addition to working with Todd Terje, Kimbra appears to be really into your music as well. What's your relationship with her?
Yeah, I just met her at Coachella festival when I played with Todd Terje, because I'm playing in his band. We just hooked up. We've been working a little bit with her stuff, basically. It's really nice. I didn't know her from before. I knew she was on that Goyte song and heard maybe one song or something before it. We're working a little bit now. She's a great singer and musician. It's inspiring.
What acts did you see at Coachella?
Toro y Moi was really good. Tycho was good too. I love their drummer. It's cool to listen to electronic music like that and it actually swings. It's a cool thing. I actually like that band Jungle. I haven't heard their album but their live thing was really cool.
What do you like most about visiting San Francisco?
Just walking around. I was there for New Years Eve to watch Flying Lotus play. That was fantastic! I've been to San Francisco many times. It's a great city. I love the atmosphere. It's one of the nicest cities in the States, in my opinion.
What can we expect from your new live show?
We always play a couple hours or more. It's quite a massive experience for us and we always put a lot of love into it. We also have this new visual light guy that comes with us on this tour, which is gonna look great in my opinion. I'm really looking forward to this tour. It's funny to start…we haven't been to the States in like four or five years, so it's nice to start off with this album in States.