Interview: Kimbra Kicks Off 'The Golden Echo' Tour in San Francisco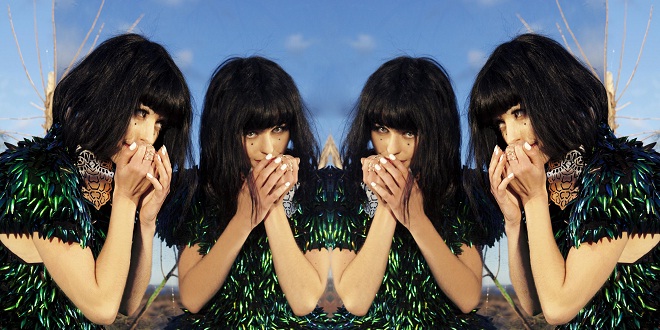 Modern pop heroine Kimbra launches a headline tour this Fall in support of her second album released last month, The Golden Echo, with a sold out San Francisco show October 20 at The Independent.
The New Zealand native offers a complex musical style, lacing electro and R&B influences with elements of classic jazz and soul. Kimbra raised the bar with iconic, wispy vocals for Gotye's 2012 multi-platinum single, "Somebody That I Used To Know," following a sophisticated 2011 debut album, Vows.
Her new solo material on The Golden Echo exudes experimentation, promoting further sonic complexities. We asked Kimbra about living on a sheep farm after the Grammy Awards, the status of Gotye (pronounced 'GAW-tee-ay'), and her collaborations with John Legend, Muse's Matt Bellamy, and Mark Foster of Foster the People.
What inspired you to start writing songs at age 10?
It was probably earlier than that, maybe around eight or something. It was like a language, something that came very naturally when I was a kid. I just probably wanted a way to express myself. I lived in sort of an imaginary world and wrote a lot of songs. That time was very different than where I am now, but I was able to create something from nothing.
Why did you move to a small sheep farm in Los Angeles the day after the 2013 Grammy Awards and how long did you stay?
I lived there for over a year. It was this urban city farm based around the idea of living off the land, with animals like chickens, as a more progressive way of thinking. There was a front part of the house, and I had the whole backyard to myself. I really wanted to get grounded again.
It was a bit of a whirlwind the previous two years  with nonstop touring, and then with all the Grammy stuff, I wanted to get back to that kid in New Zealand who would sit by the river with her guitar and make songs from a place of pure abandonment with creativity and a sense of connection.
Of course, I'm still into gadgets, and production and have a home studio with a bunch of crazy things, so it's not like I wrote a country record or anything. Part of the process was just winding down.
You worked with Mark Foster of Foster the People again with your latest single "90s Music" after his previous work on your song "Warrior."
He asked to come down to the studio. He heard the song and said, I've got an idea and I'd love to work on this. He felt like that song was a really big moment and could take it to the next level, just one more section. The thing about the track was that it kind of attracted or magnetized people to it. It was never about me consciously going after for someone. That's the best way for collaborations to happen—out of mutual respect and mutual excitement to collaborate without a forced design.
Muse's Matt Bellamy also played guitar on "90s Music." Did his presence have any influence on your album beyond that track?
I was a huge Muse fan as a kid. Prog-rock has always been a big part of my life ever since I was 14. Bands like The Mars Volta, Muse, even Interpol, were really it for me in high school. Rich Costey [her producer] happened to work with all of them. Getting to meet Matt and knowing that he digs what I do, it was an influence in the sense that I loved juxtaposing worlds with something that shouldn't traditionally marry with electronica or pop melodies or R&B. I find it quite exciting, it's like a lab experiment.
It was very subtle. It wasn't all of a sudden this huge moment and feature. It was always about bringing a subtle shift in the landscape.
What did you enjoy most about recording "Nobody But You" with John Legend and did he teach you anything about singing?
He's crazy. When we demoed that song, it was actually going to be on his record. I cut the track and I strung it down. He thought that I should sing it and decided he wanted to put in on his record. At the last minute it didn't end up making his record, so I changed a few things productions wise.
The best part of the process was the writing. It happened so quickly. That's not how it works with me. I usually take a lot of time. [With John Legend] it was about being in the moment and going with whatever you're feeling and running with it. I learned a lot from that—the trust he had with speaking from the heart and to not over-complicate things, and also watching him kill it on piano and be so fluid.
What do you miss most about New Zealand when you're away?
The mountains and the landscape with volcanoes on the horizon. I woke up every morning to a pretty view. I lived half an hour from Hobbiton, the actual place where the Hobbit was shot. It's a very spiritual place. I miss that part of it but I really love the U.S. and I really like living here. I've spent time in San Francisco and I love New York. There's a lot to offer.
What's your favorite place in San Francisco?
I just love the Mission! That area is so rad. I did some work with Dan the Automater. I had amazing Japanese food there and amazing tacos. I love exploring the food culture when I'm in San Francisco. And Corona Heights Park, the massive park on top of the mountain. That's amazing. I loved that.
Do you know when Wally De Backer will emerge again as Gotye and do you have any plans to collaborate again?
I don't know. I think he's in Australia. He's always working and creating. I know he's been collecting and putting together an incredible set of synths and inspiration. We got some of it started last year when we got together and did some jamming.
We always have had a strong music connection. I know we aren't in any hurry to repeat that kind of moment we had together. We'll continue to be musicians that connect and remain close for sure.