Giants to Open New Beer Garden Near AT&T Park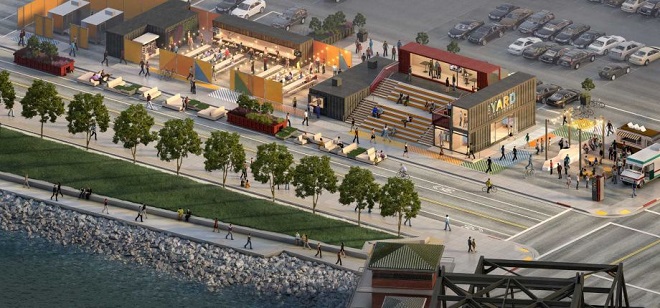 Baseball season is right around the corner and the World Champion San Francisco Giants have plans to convert part of their Mission Bay parking lot into a year-round pop-up venue with an Anchor Steam beer garden, coffee shop, retail stores and a waterfront deck.
According to the Chronicle, the new 18,000-square-foot project across the Lefty O'Doul Bridge near AT&T Park will be called "The Yard" and is currently targeting an opening date sometime in March. It should open before the Giants' preseason debut against the Oakland A's. Their regular-season home opener versus the Colorado Rockies takes place April 13.
Built entirely from 15 shipping containers salvaged from the Port of Oakland, visitors will find an Anchor-sponsored beer garden, barbecue from Ryan Farr and 4505 Meats, a coffee shop and Giants retail outlets. The project centers around multi-story bleacher seating, which can also be used for movies and concerts. It will take up 70 parking spaces, or about 3% of the lot's capacity.
The pop-up project was proposed by the China Basin Ballpark Co., the baseball team's real-estate arm, which has sought approval in recent years to turn the land into a mixed-use development. The pop-up's construction is a pitch to activate part of the undeveloped property while the team works on winning approvals for its much larger Mission Rock endeavor, which includes an 8-acre park, more than 650 housing units and 1.7 million square feet of commercial space.
MORE: Anchor Brewery Brewmaster Shares History, Details on New IPA