Highlights and Photos From SF Street Food Festival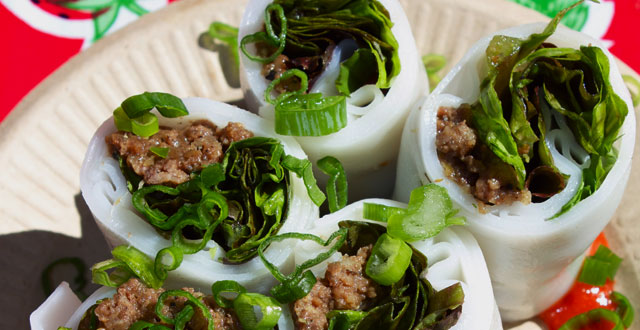 The Mission District was filled with thousands of hungry San Franciscans, all gathering in the name of street food at Saturday's San Francisco Street Food Festival.
More than 80 local vendors were at the event, which could be the last Street Food Fest organized by La Cocina at this location, according to organizers. Here are a few of our food favorite dishes:
Smoked Salmon Reuben from Fine & Rare
Fine & Rare's smoked salmon reuben is a combination of the fresh salmon, chopped and smoked for over an hour, with homemade sauerkraut, special sauce and topped with a freshly baked pretzel. Chef's Scott Peterson and Ted Wilson can usually be found serving fresh seafood with locally sourced ingredients on Fridays at Off The Grid: Fort Mason and Sunday at Presidio Picnic.
Black Bean Empanada from Taino's Puerto Rican Food
Chef Lisa Callaghan brought traditional Puerto Rican cuisine to the Street Food Festival, including a savory and delectable homemade black bean empanada. It was bursting with flavor, filled with spices, carmelized onion, corn, fire-roasted bell peppers and cilantro before it was deep fried. Taino's can be found all over the city catering events up to 100 people.
Beef Pho Roll from Rice Paper Scissors
Rice Paper Scissors served a unique twist on a Vietnamese classic with a beef pho roll. The roll was filled with hearty portions of fresh sautéed beef cuddled with lettuce and Vietnamese herbs wrapped in rice noodle sheets. Rice Paper Scissors can be found serving modern classics at Brick & Mortar.
Carne Asada Fries from Frita's Shack
Frita's Shack, found in Stonestown Farmer's Market (Sundays 9am-11am), delivered mouth watering carne asada fries, not lacking in portion, topped with pico de gallo, sour cream, shredded cheddar cheese and cotija cheese. The fries are a must-try for any Mexican food connoisseur.
Gluten-Free Chicken & Waffle Mini Bite from Hella Vegan Eats
Hella Vegan Eats creatively executed a soul food favorite, chicken and waffles. The best part—it's gluten-free and vegan friendly. As a non-vegan, I thoroughly enjoyed eating the Mini Bite. This dish was packed full with flavor and seasoning and served by an enthusiastic team.
Photos by Lauren Burge and Jessica Christian: