Vendors at Off the Grid Fort Mason This Year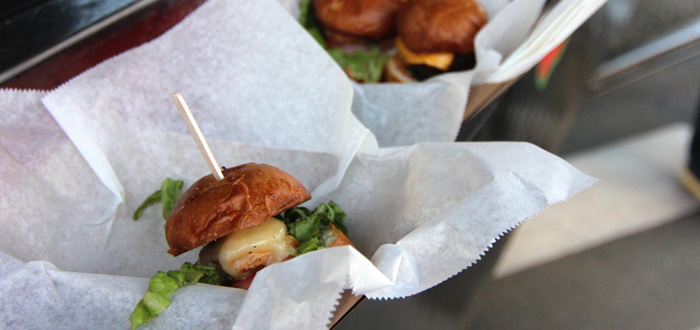 Bay Area street food organizer Off the Grid opened the 2014 season at Fort Mason last with it's latest collection of street food vendors.
With trucks and tents tightly packed side by side in an L-shape culminating in a large, open seating area, the popular event returns weekly through the fall with opportunity for food truck fans to to mix, mingle and dance dance to live music and DJs, rather than just dine and dash.
Each Friday from 5-11pm, more than 30 vendors hawk delicacies ranging from ice cream tacos to lobster rolls. And although much of the lineup may look familiar to those who frequent Off the Grid's myriad events across the Bay Area, most feature a signature dish exclusive to the Fort Mason Center extravaganza. (Think spinach and goat cheese brioche from France Delices and deep fried kettle pork from Jeepney Guy).
In keeping with Off the Grid's commitment to community building, the list of vendors this year includes several first-timers, including El Pipila, a family operation that got its start thanks to kitchen incubator La Cocina.
For entertainment, guests can enjoy live music and DJ sets, as well as carnival-style games, new to this year's edition. They're appropriately located next to Sugar and Spun, where visitors can customize their own cotton candy flavors.
While the remains family and child-friendly, adults can still kick back and get their weekend started with cocktails and beer from the mixologists of Haight institution Alembic.
Food vendors this year:
Food Trucks
An the Go
Bacon Bacon
Casey's Pizza
Cupkates
Curry Up Now
Drewski's Hot Rod Kitchen
El Sure
Fiveten Burger
France Delices
Johnny Doughnuts
KoJa Kitchen
Little Green Cyclo
Lobsta Truck
Sanguchon
Senor Sisig
The Boneyard
The Cairman
The Taco Guys
Carts
Alicia's Tamales Loss Mayes
Burr-Eatery
Rocko's Chocolate Tacos
The Creme Brulee Cart
Tents
AZalina's Malaysian
Bini's Kitchen
Bok Sam
Bombzies BBQ
El Pipila
Fat Face
Happy Dumplings
Jeepney Guy
Roast Co.
Sugar and Spun