Rice Paper Scissors Finds a Home at Brick & Mortar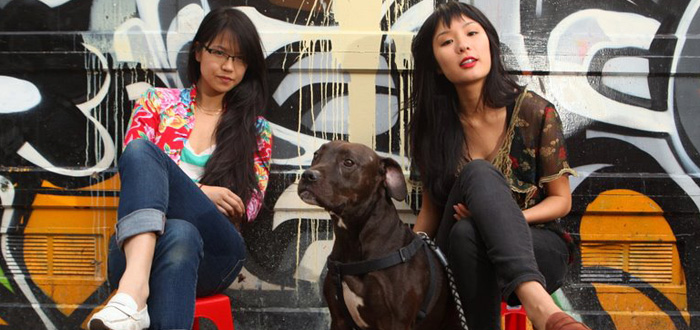 Vietnamese street food pop-up Rice Paper Scissors rang in the Lunar New Year in style with a celebratory brunch at Brick and Mortar Music Hall. But for co-founders Valerie Luu and Katie Kwan, it was more than just a cultural holiday and a chance to honor their company's third birthday. After years of schlepping pots, burners, tables and their iconic little red stools to garages, warehouses and alleyways for the pop-up cafes that earned attention from the likes of Eddie Huang and Anthony Bourdain, Rice Paper Scissors finally has a kitchen to call home for lunch service at the music venue.
As always with Rice Paper Scissors, the menu at Brick & Mortar (Monday-Wednesday, 11am-2pm) will rotate frequently according to the seasons and the tastes of the two owners. However, expect to find starters like pate chaud (savory handheld pies in meat and vegetarian varieties), and main dishes including banh mi (Vietnamese sandwich), pho (classic noodle soup) and Luu's current favorite: a madras yellow curry inspired by a recent dinner at her father's house. Drink options include kumquat ginger beer and Vietnamese iced coffee.
Inspiration for Rice Paper Scissors dates back to 2011 when Luu (then a recent college grad) and Kwan (a biotech consultant) were independent vendors at the now-defunct Underground Market, a community started by ForageSF for passionate home cooks looking to get their food into the watering mouths of the public without taking on the risks and challenges of opening a formal business. About a week before the Lunar New Year that year, the two women who, in Luu's words, "barely knew each other," decided to partner for a pop-up café honoring the holiday.
"All we wanted to do when we started was to sell good Vietnamese food on the street," Luu says.
http://youtu.be/wLSf6rpLfvs
Each month afterwards, the duo put on a new pop-up at a different location with a fresh menu. Over time Rice Paper Scissors attracted not only a loyal fan base but also a dedicated team of cooks to help prepare the dishes that the owners have had during various trips to Vietnam.
The pho rolls, consisting of beef, Thai basil and lettuce wrapped in a sheet of fresh rice noodle, are a popular item that Luu and Kwan first discovered in a nondescript Hanoi alleyway. After studying the scene, they honed in on the stall with the best rolls and took note of the vendor's methods. Once back in the Bay Area, however, it wasn't immediately clear how they would get their hands on one crucial item—the sheets for wrapping. Fortunately a close friend in the food community put them in touch with a Mission-based noodle factory, and the pho rolls remain a solid menu staple.
"We're pretty industrious," says Luu of the many challenges Rice Paper Scissors has faced in the past few years. "So if there's a will, there's a way."
Yet it wasn't just authentic food that Rice Paper Scissors was after; they sought to recreate the whole experience of street food dining Southeast Asia-style—enjoying some freshly cooked fare while bumping elbows with strangers in a clandestine location.
"Food is just so regulated here [in the US]," Luu says. "You can't really just set up anywhere— although we have, and our friends have."
From that first pop-up dinner held in an acquaintance's garage in the Mission, Rice Paper Scissors has endured quite the journey. Since their early days as part of the underground food scene, they've been featured on the Travel Channel and the local TEDx edition at Peace Plaza. The key ingredient? Tenacity.
"Start small, and just do it" Luu says.
Starting February 10, Rice Paper Scissors lunch service is available at Brick and Mortar Music Hall, Monday through Wednesday, 11am to 2pm. Weekly dinner pop-ups continue Thursdays at Mojo Bicycle Café, 6-10pm.
Select offerings from previous Rice Paper Scissors events: