The last concert ever at Candlestick Park confirmed two things: Paul McCartney is still amazing, and that stadium is kind of a dump.
There was nostalgia at every turn Thursday night, from people digging up little green mementos of turf to video clips of the Beatles' final performance at Candlestick back in 1966. The where also reminders of why it's time to move on. Candlestick is a decaying, bare-bones chunk of concrete with a disposition to be particularly cold and windy. It's hard to access and exit and it's a virtual dead zone for cell service (maybe not such a bad thing?).
"We got so pissed off, we never did it again," McCartney deadpanned early in the show, referencing the Beatles' last concert at the Stick. "It's sad to see the old place closing down, but we're going to close it down in style."
For McCartney fans, it couldn't get much better. He hit the stage just before 9pm and carried on for more than two hours with some of the Beatles' best songs—including touching tributes to the late John Lennon and George Harrison—songs from his band Wings and songs from his solo albums. His band was flawless, trading vocal harmonies and solos throughout the night with precision.
For those who caught McCartney at Outside Lands in 2013, the set list and commentary between songs was mostly indistinguishable, eliminating the element of surprise but doing little to tarnish the night. You can't replicate the roar of 49,000 screaming fans at Candlestick (plus, there were more lasers and larger screens!).
It was an all-around explosive night, first with fireworks and flames for "Live and Let Die" and finally, after two encores, a few blasts of red, white and blue confetti to bid farewell to Candlestick and send it off, back into the fog.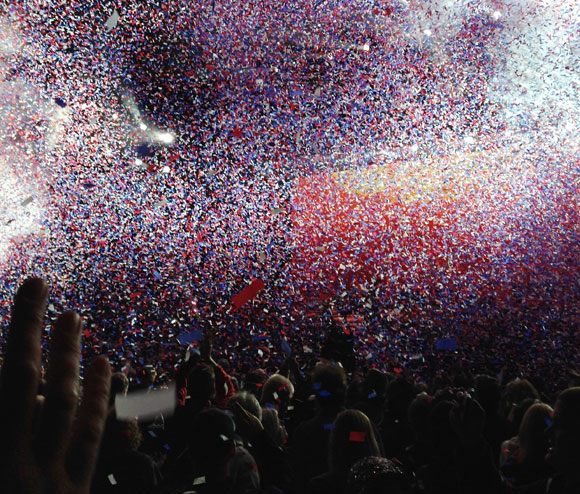 McCartney's Set List:
Eight Days a Week
Save Us
All My Loving
Listen to What the Man Said
Let Me Roll It
Paperback Writer
Nineteen Hundred and Eighty-Five
My Valentine
The Long and Winding Road
Maybe I'm Amazed
I've Just Seen a Face
San Francisco Bay Blues
We Can Work It Out
Another Day
And I Love Her
Blackbird Here Today
New
Queenie Eye
Lady Madonna
All Together Now
Lovely Rita
Everybody Out There
Eleanor Rigby
Being for the Benefit of Mr. Kite!
Something
Ob-La-Di, Ob-La-Da
Band on the Run
Back in the U.S.S.R.
Let It Be
Live and Let Die
Hey Jude
Encore:
Day Tripper
Hi, Hi, Hi
I Saw Her Standing There
Second Encore:

Yesterday
Long Tall Sally
Golden Slumbers
Carry That Weight
The End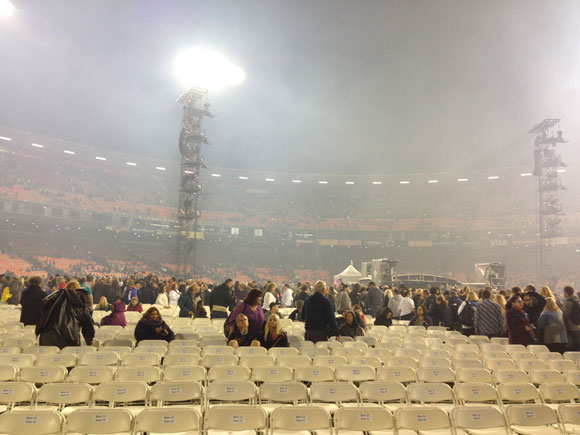 ALSO READ:
Review: Kanye Gets Weird at Outside Lands

Review: Beyonce and Jay Z Mostly Stick to the Script in San Francisco