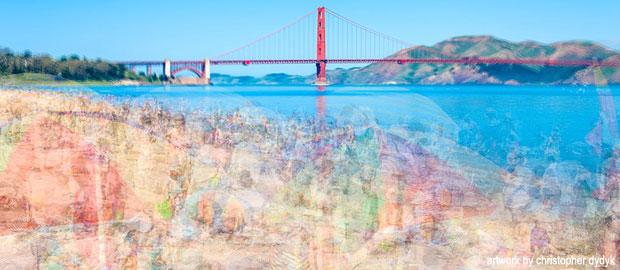 No Pants, No Problem
Sure, San Francisco's "coldest winter" rears its head sometimes this time of year, but that doesn't mean we can't sweat it out and show a little skin. Supperclub is here to help this week with a No Pants Party and fashion show with Oona Marie Dahl working the decks. Look out for a capacity crowd with Chromeo back for a DJ set at Infusion Lounge and Bay Area hip hop godfather Too Short is at Public Works with a live band. Twin Shadow is at DNA Lounge for a DJ set with Limousines frontman Eric Victorino. There will be plenty of sweat away from the dance floor at the San Francisco Marathon and Eat Drink SF (formerly SF Chefs) offers an appetizer to events this year with a preview at the Ferry Building Farmers Market. For a good laugh, check in with Alec Baldwin at City Arts and Lectures and Norm McDonald at Cobb's.

Weekly Giveaway: Win 2 tickets to the 30th Anniversary of Purple Rain this Saturday at Slim's. Reply or email us the year the album was released for a chance to win!
Wed Jul 23 at Infusion Lounge

Get ready, San Francisco! Infusion Lounge is doing it up big for a legendary night. Free w/ RSVP
Thu Jul 24 at Bottom of the Hill

Inspired by LA's early punk scene, Chloe was playing bass at age 10 and opening for artists such as Midlake, Band of Horses, and Conor Oberst by age 12...
Fri Jul 25 at Rickshaw Stop

It's no wonder Tinie, Naughty Boy and Pro Green are all clamoring to work with the West London singer and writer who possesses the vocal of a woman twice her age... Win tickets
Fri Jul 25 at Mercer

With her incessant worldwide touring, massive press coverage and hundreds of thousands of albums sold, Sandra has solidified her place as one of the most well-known female DJs in the world...
Fri Jul 25 at Pier 70

Catch a free screening of the famous psychological thriller Vertigo directed and produced by the one and only Alfred Hitchcock. Shot on location in San Francisco...
Sat Jul 26 at 2665 Mission Street

His works have been described as "structured ambient", "tectonic color plates" and "cathedral electronic music"...
| | |
| --- | --- |
| | by Greg Chow |
| | |
| --- | --- |
| | by Matt Crawford |
| | |
| --- | --- |
| | by Carlos Olin Montalvo |
| | |
| --- | --- |
| | by Matt Crawford |


Win Tickets
Jon Hopkins this Thursday at Mezzanine



Win Tickets
Au Revoir Simone this Friday at The Independent



Win Tickets
The Budos Band on Thu Jul 30 at The Independent


Tue Jul 22

Wed Jul 23

Thu Jul 24

Fri Jul 25

Sat Jul 26

Sun Jul 27

Mon Jul 28