Hoops Guide: 16 Best Basketball Courts in San Francisco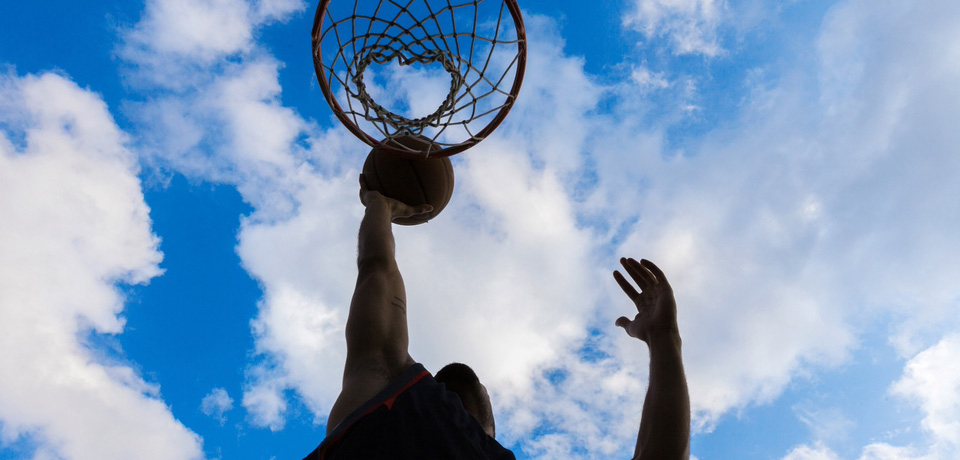 San Francisco has a rich basketball tradition dating back to the 1950's. The University of San Francisco Dons, led by Bill Russell, won back-to-back NCAA championships in 1955 and 1956. And more recently, the Golden State Warriors became NBA Champions.
But what about finding a court? Or trying a new court? Thanks to the city's numerous parks and rec centers, the options are plentiful. There is a court for you – from the player looking for a new weekly run, to the parent that just wants to play H-O-R-S-E with their kid, we hope you'll use this list to find at least one new court to check out. Happy Hoopin'.
Potrero Hill Rec Center
801 ARKANSAS STREET IN PORTERO HILL
Free, beautiful indoor court, grand gym with great hardwood and nets. Friendly people and good runs. There's also an outdoor court that has an outrageous view of the city. Watch a ferry cruise under the Bay Bridge while working on your jump shot.
Mission Bay Creek Park
416 BERRY STREET IN SOMA, MISSION BAY
One full basketball court and two half courts. There are always pick up games during the week. The best action happens on the weekends in the afternoon.
Moscone Rec Center
1800 CHESTNUT STREET IN THE MARINA
Indoor basketball courts are open for pick up every Monday and Wednesday. It can get crowded on Wednesdays. Real scoreboard and 12 minute games. This is one of the best public places to play basketball in the city. Formerly known as Funston Park, it was renamed for Mayor Moscone. There are also a few outdoor courts on the periphery of the park.
Alice Marble
GREENWICH & HYDE STREET IN RUSSIAN HILL
Known more for its tennis courts, Alice Marble also has a nice basketball court with beautiful views. However it gets windy. Pick-up games, arguably make this one of the best outdoor courts in SF.
Dolores Park
19TH AND DOLORES STREET IN THE MISSION
The courts were recently re-done. There are lots of games for various skill levels here. It can get busy and noisy with the lawn events, but it is a place to see and be seen.
Hellen Wills Playground
BROADWAY AND LARKIN STREET IN NOB HILL
Established in 1915 as the Spring Valley Playground, this area is now known as the Helen Wills Playground. This spacious basketball court is located in a nice area and has a consistent run. There always seems to be a game going. Access via public transportation using Muni bus #12 Folsom, stops at Pacific St.
Duboce Park
DUBOCE AVENUE AND NOE STREET IN DUBOCE TRIANGLE
One court with four side hoops and it's easy to get here via public transportation. The N line stops right next to the park. The side baskets are at various heights for children. The low hoops can also be perfect for working on your reverse tomahawk. Ike's is just short walk away for a post-game sandwich.
Balboa Park
SAN JOSE & OCEAN AVENUE IN MISSION TERRACE, OUTER MISSION
Two basketball courts on-site are never crowded and almost always available. This spot is good for all ages. There's plenty of parking spaces as long as there's no baseball or soccer games and J Muni line & Bart Balboa Park stop are nearby.
Excelsior Playground
RUSSIA AVENUE & MADRID IN EXCELSIOR
There are only two courts but they are well maintained. This is a great park for kids! Pick-up games, youth league, and even midnight basketball.
Holly Park
BOCANA STREET & HIGHLAND AVENUE IN BERNAL HEIGHTS
A secluded, well-maintained public park, with breath-taking views. This tiny park has tall trees that serve as a protective wind brake. The court is usually available.
Walter Haas Park and Playground
DIAMOND HEIGHTS BLVD. IN GLEN PARK
This basketball court in the renovated neighborhood park is next to grassy areas overlooking the city skyline. It's a good spot for kids, but it can get windy. There is ample street parking, even on the weekend.
Portola / Palega Playground and Rec Center
FELTON AND HOLYOKE STREET IN EXCELSIOR, PORTOLA
Bordered by beautiful trees, this recently renovated community center is a good spot for kids to hoop it up. Join a pickup game inside the gym. The center offers a wide selection of games, sports, programs and classes, including after school activities.
Upper Noe Rec Center
295 DAY STREET IN NOE VALLEY
Indoor and outdoor basketball courts are both well-maintained. Good run outside. Nice facility.
Sunset Rec Center
2201 LAWTON STREET IN THE OUTER SUNSET
The Sunset Rec Center is a highly recommended spot to hoop for free. Indoor gym and outdoor blacktop court. It's easy to find people for a pick-up game or just fine to shoot around.
Panhandle Courts
STANYAN STREET AND MASONIC AVENUE IN GOLDEN GATE PARK
This is the court of characters, cause there's usually an active, interesting mix of players. These courts can be hit or miss on consistency and skill level, but some great games can be found. A decent level of play and a standard level of aggression gets the blood pumping.
Alamo Square
BUCHANAN AND HAYES STREET IN HAYES VALLEY, LOWER HAIGHT
The lights stay on until 10pm and Saturday pick-up games last until 2pm. The crowd is generally pretty chill and the competition is just right for a weekend run.
lead image from shuterstock