Christmas Eve Dining Guide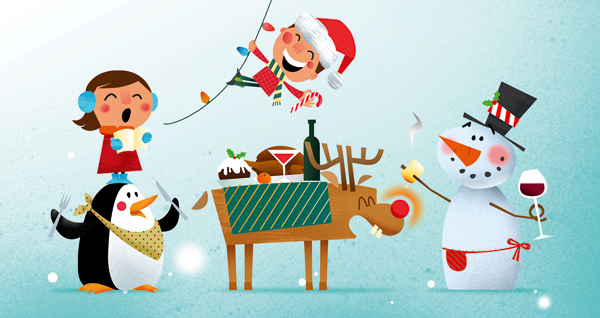 Christmas Eve can be spent wearing ugly sweaters, singing carols, or even cozying up next to a warm fire and eating a meal that can't be forgotten until the next year. For those who would rather throw down the spatula and pick up the bill, below are twelve Christmas dining options to help break away from Chinese takeout.
Bella Trattoria
3854 GEARY BLVD.
Bella Trattoria, a quaint and romantic Italian restaurant in the Inner Richmond, is known for its individually crafted pastas varying from spinach gnocchi with shiitake mushrooms to baked rigatoni with marinated chicken. Bella's ingredients are are locally grown and all organic making every dish fresh. Christmas Eve dinner will be served from 4pm to 9pm, featuring dishes from the regular menu as well as a few specialty items, such as a rack of lamb or lasagna.
Kung Pao Kosher Comedy
772 PACIFIC AVENUE
Kung Pao Kosher Comedy, an annual tradition in San Francisco, offers a night of dim sum in Chinatown accompanied by up-and-coming Jewish comedians. Located at the New Asia Restaurant, comedians such as Jeremy Hotz and Lisa Geduldig and many more will be performing. A $65 ticket for the dinner on Christmas Eve includes comedic entertainment and a seven course dim sum meal served family style.
Maruya
2931 16TH STREET
Maruya is known for being the first Edomae (Tokyo style sushi) Japanese restaurant to open in the Mission District. The menu includes Chef's Choice sushi ranging in price from $50 to $120 and Mauya Omakese for $85. For Christmas eve, Maruya will be offering a special nine course menu priced at $150 serving dishes such as dungeness crab risotto and sashimi.
Zazie
941 COLE STREET
Normally a Cole Valley brunch favorite, Zazie gets dresses up on Christmas Eve with a four-course prix fixe menu with dishes such as winter squash and sage raviolis and maple creme brûlée. The dinner is $59 per person or $29 for children, who also will receive a Christmas ornament craft kit.
Biscuits & Blues
401 MASON STREET
For Christmas Eve, blues guitarist and vocalist Shane Dwight will be performing two sets at 7:30pm and the second starting at 9:30pm. Dinner options for the show include the regular menu of favorites, including a basket of biscuits and New Orleans gumbo. Tickets are $20 and can be purchased on the Biscuits & Blues website.
The Fly Trap
606 FOLSOM STREET
Open since 1898, this funky and modern restaurant is a mix of Mediterranean and Californian cuisine served in a Persian setting by executive Chef Hoss Zare. The restaurant will be open on Christmas Eve from 4pm to 9pm serving regular menu items, including grilled lamb sirloin with farro, tamarind chimichurri, spiced yogurt and Pearl cous cous Cacciucco with prawns, dungeness crab, baby octopus, calamari, clams, mussels and sumac aioli.
Gitane Restaurant & Bar
6 CLAUDE LANE
Gitane specializes in cuisine from southern Spain. The food menu includes dishes, such as slow-cooked short rib and pacific black cod. The cocktail menu features twelve signature drinks inspired by the unique art of travel. The restaurant is open from 5:30pm to midnight.
Saha
HOTEL CARLTON, 1075 SUTTER STREET
Saha restaurant, inside the Hotel Carlton downtown, is a fusion of Yemenese Arabic, Californian and French cuisine with several options for vegans, vegetarians and meat eaters. Signature dishes include lobster knaffe and yemeni okra.
Trick Dog
3010 20TH STREET
With an impressive cocktail menu changing every six months based on a funky theme, Trick Dog is one of the most creative and innovative bars in San Francisco. While the emphasis is on drinks, a food menu with dishes based off the idea of sharing is also available. A few popular hits are the Trick Dog, chickpea falafel sticks and the thrice cooked fries. Christmas Eve hours are 3pm to 2am.
Chou Chou
400 DEWEY BOULEVARD.
Chou Chou Bistro is a cozy French restaurant located in Forest Hill, featuring an extensive wine list and signature French dishes, such as french onion soup and all natural moulard duck leg confit. The restaurant's dinner menu will be served on Christmas Eve from 5pm to 9pm.
Flour and Water
2401 HARRISON STREET
Mission District favorite Flour and Water will be open for the holiday with fresh handmade pastas and Neapolitan style pizzas. The menu changes daily, representing foods throughout the different regions in Italy.