Interview: Portola Music Festival Founder Shares What to Expect for 2023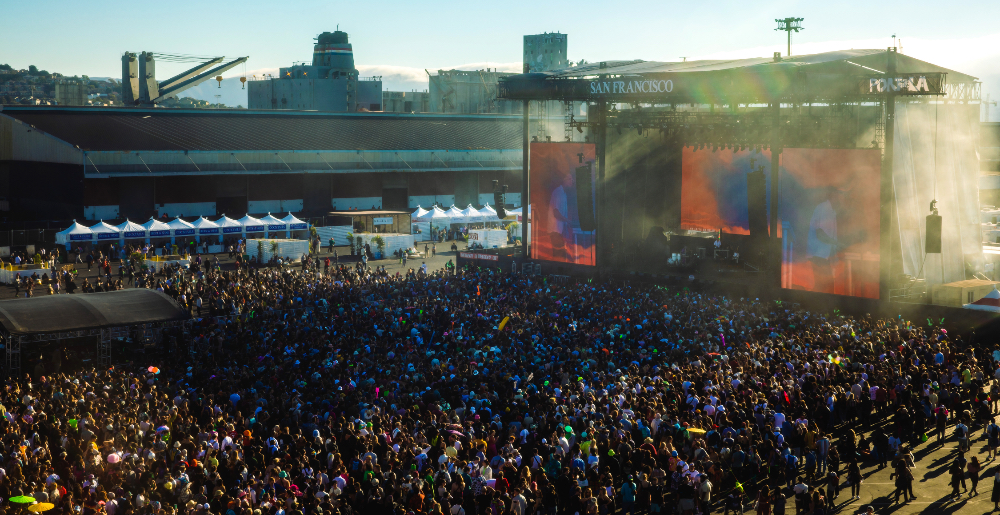 The 2nd annual edition of the Portola Music Festival is back in San Francisco, for two nine-hour days of electronic music, September 30th and October 1st, at Pier 80. This year's festival is headlined by Skrillex and Eric Prydz, and the lineup is packed with a diversity of acts; from dancehall crew Major Lazer B2B Major League DJZ, Swedish synthpop band Little Dragon, French duo Polo & Pan, German disco act Purple Disco Machine, to the legendary techno club DJ, Carl Cox. The full lineup of over 60 music acts performing this year can be found further below.
To preview the festival, we spoke to the Portola Music Festival founder and creator, Danny Bell, to learn what we should expect this year, and to highlight some of the artists and experiences.
Portola Music Festival
Pier 80, 401 Cesar Chavez St.
September 30-October 1
Buy Tickets
What was the inspiration or motivation for creating the Portola Music Festival?
I've been a big electronic music fan for 16-17 years. I started my career in LA working with Gary Richards at Hard Events. I did booking and marketing with him for 5 years between 2011 and 2015. After that I was ready for something new. So I took some time off and did some soul searching. I specifically took a trip to Europe. I bought a one-way ticket to London. I got to visit a lot of my friends from working over the years in their home towns in Europe. I went to Field Day in the UK. I went to Paris, I went to Barcelona for Sonar Festival. I went to Ibiza. I was initially going to stay for three days and I ended up staying for 12. Then, I went to Berlin and Mykyonos (Greece). In Berlin I got to go to Berghain. The thing I loved and that inspired me was an adult presentation of electronic music. In these markets, electronic music has been popular for 30 years. I came back and started at Goldenvoice in San Francisco. I started working on a concept for an electronic festival for fans who have been a fan of electronic for a long time, who want something new regionally. Something more adult and curated with artists I was a fan of. There really wasn't a festival like this in the U.S.
The thing about San Francisco I learned was how strong the left of center electronic scene is. Fans of artists like Jamie XX, Jon Hopkins. Left of center electronic. There are not large festivals for them in the U.S. My goal (for a long time) has been to work on this and create one. Then my friend showed me this venue that was really intriguing to me. I came up with a name that had a lot to do with San Francisco and the reopening of San Francisco. I came up with the name Portola as an homage to the festival San Francisco produced in 1909 to let the world know the city was back open for business after the 1906 earthquake. It all just came together. Based on the city, the type of music the city likes, the type of music I like. It all came together and that's how Portola was born.
Why did you pick Pier 80 for the location?
It's big. It's really cool. It's got a great vibe itself. There's not much you need to do to the site. It's right on the water. This music started in warehouses, so having a warehouse on site and the feel of the pier and a site for shipping and industrial business, it just felt right for this particular show.
When we think of this year's lineup, what goes into your curation process?
I'm a true music nerd. All I do is listen to music and go to shows. I'm constantly making lists of artists I'm hoping to have on the show. I normally start at the top and go down from there. This year is a collection of artists who I've worked with, who fit within the space I'm looking to create in. I've also been able to get a few special acts I have never booked before, particularly Jai Paul. It's a dream to have such a special artist as he's played very few shows.
It's great to have some legends like Underworld, 2manydjs, and Basement Jaxx. Some great newer acts like Overmano and Barry Can't Swim. A couple pop icons like Nelly Furtado and Rina Sawayama. Labrinth, who is one of the best artists out there today, in my opinion, making really original, creative music and putting on a phenomenal show. I'm able to top it with two heavy hitters. Skrillex, who has obviously been around for a long time who's had an amazing comeback over the last 12 months, making very innovative and creative music in the space. And the Eric Prydz 'Holo' show, a really high-end audio-visual experience that I'm very excited to present at the show.
More than anything, it's really trying to make the right combo to cater to this demographic. This type of left of center electronic music fan. Promising new acts, older acts, some left of center pop acts, and even people like Thundercat. It's really based on curation. I personally hand-pick every artist for their music first.
As the festival grows, how do you keep the experience new for attendees?
The thing with this show is that the focus is really on the music. I've been going to music festivals for close to 20 years now. My favorite days are where there are multiple things going on at once that I want to see and I'm able to easily hop around from stage to stage to stage and see lots of great acts. The things I care about are having great sound and there being great music that is easily accessible on a site. I try to curate the festival to where there are three to four things that are different enough happening at the same time so there's isn't a single time in the day where there is a lull, where there isn't anything you don't want to see.
At the end of the day, I'm trying to build a festival that's focused on creating a great platform for an amazing nine hours of music (each day) over two days. We'll keep improving the food offerings, the drink offerings, the places to hang, production and all of that. At the end of the day, the music is what will keep it fresh and exciting for fans to return.
What can attendees expect this year in terms of amenities and experiences, beyond the musical performances?
We have a great local food and beverage program. We worked with multiple local restaurants to be on-site to serve. The two I'm most excited about are Farmhouse Thai, which is one of my personal favorite restaurants in the city. It's actually three blocks from my house. And then Señor Sisig, the Filipino burrito restaurant that has a brick-and-mortar in the Mission and has the famous Bay Area food trucks. We also worked with the local bar Peacekeeper to curate an on-site bar experience.
In addition to that, there's going to be an art exhibit on site called The Brilliant Sticker Show with added rave flyers, and Spotify is producing the whole event for us. The event is a project that's curated by Dan Burkeman aka DJ DB. He runs a publishing company called Blurring Books. He's based in New York. He's a great art collector and art historian. He's curated an exhibit for us featuring some of the best art and music stickers from all over the world. He's been in the rave scene for over 30 years. In addition, he's put together an excellent collection of rave flyers from all over the country from way back in the 90s at the beginning of the scene. The art exhibit will have the stickers and multiple panels with hundreds of rave flyers for people to see.
We'll have a few seating areas and food courts and places to hang. But as I mentioned before, the real focus is the music. These are all things for people to do to when they need to take breaks. The hope is that they take quick breaks, see the art exhibit, get some good food, and get back into the thick of it with all the great music playing everywhere.