Horror movie fans are in for a treat this October as New Parkway Theater loads in the scary movie classics. Aliens, The Shining, Beetlejuice… the stuff you saw as a kid and either still haven't fully recovered from, or have been comparing every new horror movie to ever since.
The New Parkway Theater, in case you haven't been there, is a one-of-a-kind space in Oakland that offers 10 to 15 different movies a week; new releases, cult classics, and special programming, plus there is beer! Well to be more exact, twelve rotating taps of local beers, wine, and cider. Also there's food. A menu even your most gluten-free, vegan, soy-free friend can order from.
Also unlike some of the usual giant cineplexes full of broken arcade games and over-priced popcorn, New Parkway is a community-minded organization that opens their doors to open mics, pays their employees properly, and  is home to Oakland Drink & Draw, and includes a Karma Cinema night in which every patrons pay whatever they want on Wednesdays, 20% of the ticket sales go toward a locally-based charity.
I spoke with J Moses Ceaser, the man responsible for leading the Parkway Theater revival after its original close in 2009, to its reopen in 2012. As well as Oliver Beckwith, the behind-the-scenes film buff who has selected the movies listed here.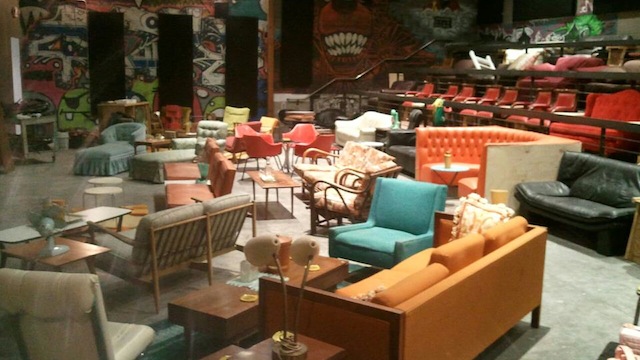 Have you always had an interest in film and movies?
Oliver: Yes…one of my earliest, joyful memories is going to the drive-in to see "Mary Poppins." I think I was three at the time. Not only does my love of movies come from this early memory, but my love of drive-in movie theaters, too.
Moses: I'm not much of movie person, though I guess I've become one through running a theater. I like a great movie just like the next person but I find I'm often disappointed with much of what's being made. But it's always exciting to stumble upon a gem of a movie, and even more so to be able to bring those to our audiences at the New Parkway.
I'm guessing by the awesome line-up of horror films, you were a fan of the horror genre. Any memorable costumes or film favorites you had growing up??
Oliver: I was into horror films from the start and I still am. I think my love of being scared started when I first saw "The Wizard of Oz." When The Wicked Witch of the West appeared I remember crying and hiding behind the couch.
I think the horror film that had the most impact was "Alien." When I was a kid I would go to the movies and buy a ticket to some kid friendly offering and try to sneak into the horror films I wanted to see. I tried over and over again to get into a screening of "Alien", but got caught by the usher. Finally, I begged my Mom to take me and she eventually relented to my constant pleading. We got to the part in the movie where the face-hugger jumped out of the egg onto John Hurt's face. I literally ran screaming. My Mom came after me and made me continue watching it because she was enjoying it. It is still a favorite to this day. Thanks Mom!
My favorite costume of all time would have to be this Satan costume that I had custom made when I was in my late 20's. It had this long tail that I would swing around and the whole costume was made of fleece, which was really warm and comfortable.
How do you select the films that will be shown on the New Parkway schedule?
Moses: Our goal is to always have something for everyone at the New Parkway and when you look at our line-up, I think you'll appreciate the true diversity of programming. Since we have a pretty discerning audience, we only show titles that score highly on Rotten Tomatoes, and ideally movies that we've already seen and can be really proud of. Our bread and butter are second-run films, which we get after they screen at the multiplexes, so we rarely know what we're going to get until the Tuesday before the Friday that the films open. It's important to us to have a mix of family-friendly and more adult-focused features so it wouldn't be a surprise to show Straight Outta Compton sandwiched between Inside Out and Mission: Impossible Rogue Nation, for example. And then we sprinkle in a handful of throwback titles, provocative documentaries, and screenings by local filmmakers, all with the goal of making the New Parkway a place that you'll want to come back to week after week.
What were a couple films you showed at New Parkway this year, or perhaps planning to show in the future, that are particularly near and dear to you?
Oliver: We just recently played a film called "Turbo Kid." This is the kind of movie I wish for. It's about a post-apocalyptic America in the future with all of the expected tropes of the genre. It a movie with a lot of action, gore, and heart and had a surprising love story that I did not expect to be moved by. It almost defies classification and that is something that I am extremely drawn to.
On October 23rd, we'll be playing "The Rocky Horror Picture Show," which will be a very rare showing for us. It's the 40th anniversary for the movie and so it will come to the New Parkway to celebrate that. If you want to ever see it at the New Parkway, do not miss it!
Lastly, do people come dressed up to these Halloween films? Oliver: Some do, but not as much as I'd like. I'd like nothing better that to walk into the theater some night a see a sea of ghoulish creatures populating the seats.
Below are my New Parkway horror movie picks for you and your just-as-creeptastic significant others out there, but hurry…Night of the Living Dead is playing tomorrow.