14 Things To Do This Labor Day Weekend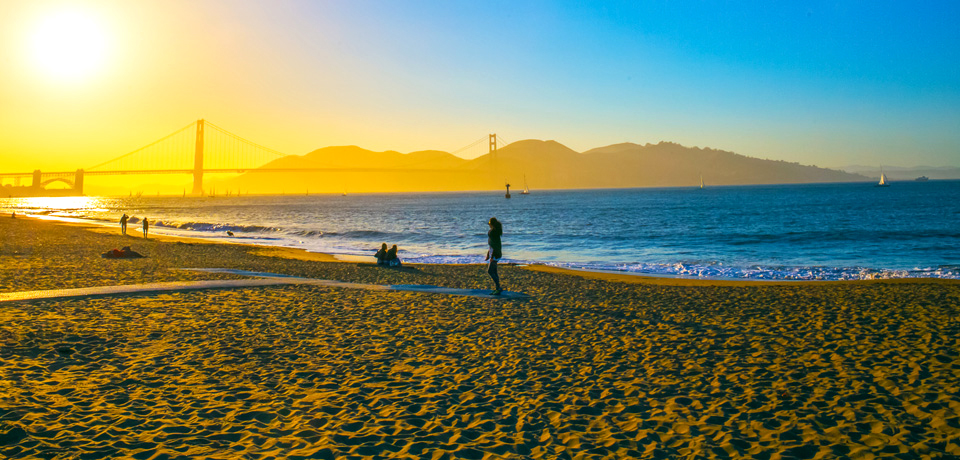 Labor Day weekend unofficially signals the end of summer, so everyone should take full advantage of the long weekend and consider at least one adventurous activity.
Fortunately, San Francisco offers tons of options to pursue September 4-7 before embarking on the long grind toward the end-of-year. Remember, there's no BART service between SF and the East Bay from September 5-7 (details here). To preview the extended weekend, we organized a round-up of our favorite events on tap this year, from walking through the Amy Winehouse exhibit at the Contemporary Jewish Museum to dance parties at numerous clubs and a picnic in the Presidio.
Here are 14 things to do during Labor Day weekend (2015).
Nerd Out at the 14th Annual SF Zine Fest
GOLDEN GATE PARK – THE SUNSET
Take advantage of free admission to the SF Zine Fest, where bookworms, authors, and collectors pack into the SF County Fair Building at Golden Gate Park. This highly recommended event features local writers, zines, and small presses. Independent artists showcase their latest editions and local art collectives and writing groups also premier their newest journals.
Enjoy Some Laughs with Stand-Up Comedian Scott Capurro
PUNCH LINE COMEDY CLUB – FINANCIAL DISTRICT
Kick back, relax and hear thought-provoking jokes by San Francisco native Scott Capurro, who will be performing Thursday, Friday and Saturday nights at the Punch Line Comedy Club on Battery Street. $16.50 tickets to see his confrontational and controversial style that won him the prestigious Perrier Award and led to appearances on both Comedy Central and radio station Alice 97.3. Scott's also a veteran actor, credited in Mrs. Doubtfire and Star Wars Episode I: The Phantom Menace.
Hit Up A Trap Party with TroyBoi & Stooki Sound
MEZZANINE – MID MARKET
Snag tickets for $20 to experience South London phenom TroyBoi and his bass-heavy production style at the Mezzanine on Saturday night. He's without a doubt one of the top up-and-coming producers at the moment. Sharing the stage with TroyBoi will be musical group Stooki Sound led by Jelacee and DJ Lukey.
Celebrate the 19th Anniversary of Dub Mission
ELBO ROOM – THE MISSION
Expect plenty of positive vibes and lots of dancehall music at the weekly Sunday party, Dub Mission, who host their 19th anniversary party with performances by Addis Pablo (son of Augustus Pablo) with Jah Bami (Suns of Dub/Rockers International), and the premiere of Suns of Dub's Far East LP plus DJ Sep, Vinnie Esparza, and Maneesh the Twister. Festivities start at 9 pm with tickets costing $12 in advance and $15 at the door.
Expand Your Mind at Casey Cripe's "One is All is One" Exhibit
MIRUS GALLERY – SOMA
Drawing inspiration from science fiction and graphic illustration, Casey Cripes' Magnus Opus includes nearly 40 pieces of multimedia meant to be read from left to right like a comic strip. Together these form a larger narrative about deep topics like humanity and evolution. Cripe's work can be viewed all weekend and runs until September 12, blending elements of human physiology, astronomy and other universal themes in cyclical patterns similar to an existence guidebook.
Visit the Amy Winehouse: A Family Portrait Exhibit
CONTEMPORARY JEWISH MUSEUM – FINANCIAL DISTRICT
Take advantage of the long weekend by stopping by this robust art exhibit at 736 Mission. It offers a glimpse into the British music star's human side through the display of personal items and memorabilia. Admission costs $12 to enter and learn about Winehouse's family life and Jewish heritage that were not always visible in her public life.
Find Your Indie Enthusiasm with Diet Cig
HEMLOCK TAVERN – LOWER NOB HILL
Consider infectious power-pop duo Diet Cig from New York, who kick off visit Hemlock Tavern during their U.S. tour on Saturday, September 5. The lovable punk-influenced combo will release a frosted clear vinyl on September 18 from local label Father/Daughter and London's Art Is Hard. Those seeking an underrated indie show should definitely consider this low-budget ($8 tickets) live music option.
Embrace the Psycho Disco with Treasure Fingers & Hotel Garuda
AUDIO – SOMA
Cap off Labor Day weekend with a bang by seeing electro artist Treasure Fingers' tour concept, "Psycho Disco". Special Guests, Hotel Garuda, will keep club bumping on Sunday, September 6. Admission is free before 11pm with RSVP and email the venue to reserve a VIP table. Monday is a holiday so no excuses to get your dance on.
Go Retro at Golden's Annual End of Summer Party
111 MINNA GALLERY – FINANCIAL DISTRICT
Join hundreds of Bay Area artists, professionals and creatives at "Intersection of Music, Art, Culture…and People" on Saturday, September 5. Two rooms of music from Bay Area DJs adds to the on-site experience, taking visitors on a journey back to the golden age of soul and R&B in one environment and the golden era of hip-hop in the other. Tickets to this social, cultural fusion and music mixology start at $15 in advance.
Grab Some Grub at Off The Grid
MONTGOMERY & LINCOLN STREETS – PRESIDIO
Picnickers are invited to enjoy the assembly of food trucks at Off The Grid from 11am-4pm at the Presidio's lush Main Post lawn. Soak in spectacular views of the bay and visit the historic scene of the old post. Specialty items will be served by SF eateries, including Mimosa and Bloody Mary drink kits, plus live music from an onsite DJ. main image from Shutterstock
Take a Free Tour of the Asian Art Museum
200 LARKIN STREET – CIVIC CENTER
Spend an afternoon observing more than 18,000 Asian Art treasures and artifacts than span 6,000 years of history. Fortunately, general admission to the museum is free on the first Sunday of every month. By unlocking the past for visitors, a trip to the Asian Art Museum can bring life, while serving as a catalyst for new creativity and thinking.
Get Rowdy with Bok Bok & Girl Unit at Mighty
119 UTAH STREET – THE MISSION
The first official Local Area Network (LAB) party kicks off on September 5 with a brand new club collaboration featuring South London DJ and producer Bok Bok, founder of the Night Slugs enclave, and Night Slugs product Girl Unit. Tickets are available for $20 online and mighty's brick warehouse makes for a perfect environment blow off some steam by dancing to some ghetto bass and dubstep sounds.
Run, Walk & Swirl Through The 5K FroYo Run
JUSTIN HERMAN PLAZA – THE EMBARCADERO
Sign up for the 5K FroYo Race sponsored by Easy Breezy FroYo to benefit California's American Lung Association. The spectacular road course offers motivation station to energize along the way, finishing with misting tunnels and a cup of FroYo at the finish line. All tickets come with a loaded goodie bag with a DryFit running hat, mirror shades, race bib & pro timing, gym tote bag, and a fab finisher medal.
Head to Oakland for Hiero Day Music Festival
3RD & CHESTNUT STREETS – DOWNTOWN OAKLAND
This one-day event on Labor Day Monday combines an outdoor festival, concert, food, and block party to celebrate. Artist headliners include tons of Bay Area talent like Oakland collective Hieroglyphics, hip-Oakland hip-hop duo Luniz, San Jose's Peanut Butter Wolf and Oakland's Crown City Rockers. Tickets start at $20 online or $35 at the door. This community event brings together all ages and backgrounds., offering children's area, multiple stages to host local and internationally renowned artists and DJs providing continuous entertainment from hip-hop, jazz, electronic, alternative and R&B genres