Hip Hop Duo Eric B & Rakim Highlight 2019 Dirtybird Campout with New Playlist – Listen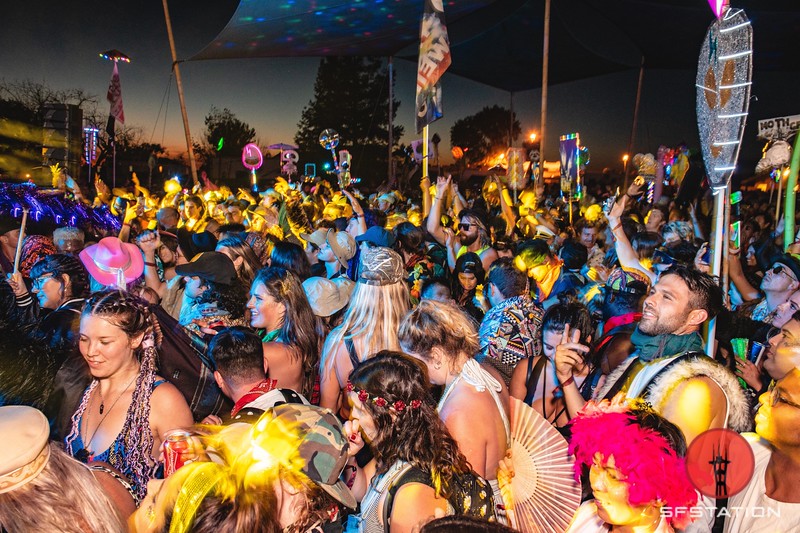 Ahead of their performance at next weekend's Dirtybird Campout, legendary hip hop duo Eric B & Rakim shared the songs they're loving right now with SF Station. Eric B & Rakim established themselves in the hip hop canon over 30 years ago, but their favorite recent tracks show a taste that has only continued to evolve. With a focus on beats and lyricism, their selections run the gamut from old-school soul and funk to the latest trap music.
While SF-based label and collective Dirtybird made its name spinning and producing tech house, their campout festival's "Bass Lodge" stage features a wide variety of funk, house, and hip hop artists, including Eric B & Rakim, Cut Chemist, DaM-FunK, J-E-T-S (Jimmy Edgar and Machinedrum), Wajatta (Reggie Watts and John Tejada), and more. Of course, the main "Birdhouse" stage hosts the DJs most commonly associated with Dirtybird: Claude VonStroke (label founder), Justin Martin, J.Phlip, Christian Martin, Worthy, Ardalan, and more.
Listen below or follow the playlist on Spotify, and read on to see the thoughts behind their selections…
Eric B's Playlist
Fat Joe – "Yes"
Joe has been a friend of mine for a long time, but this add is purely out of respect for his marathon on big tracks. When we started in hip hop, having a decades-long career was a fantasy. Joe doesn't just do that… he keeps putting out HITS. 25 years of number ones… that's not a hip hop accomplishment, that's an entertainment industry accomplishment.


Al B Sure – "Right Now"
This is one of those records you can break down, sample from and create something new, or just put on deck with your girl and enjoy. Al B does it in the booth and in the boardroom. We've been close for a long time and he knows I love his music.


Nas – "Made You Look"
We first ran into Nas at Power Play Studios when he was working with Large Pro. By the time he released Illmatic, it was obvious this guy was dangerous with both a microphone and, more importantly, his notebook. He's still family to me and, as a producer, "Made You Look" is one of my favorites.


City Girls ft. Cardi B – "Twerk"
I got respect for the classics but I also like a lot of what the new acts are trying. City Girls has that trap south influence there aren't a lot of females doing successfully, but they know how to pull it off. And they brought in Cardi, an artist defining this moment, to bless it and take it to the next level.


Idris Elba – "Even If I Die"
My man Idris does more than just fill up the screen. He's filling up the clubs as well, and that's because he's a student of the craft. He's taking old school and blending modern elements. He's got that underground grit but a mainstream sense of what tracks can cross through. This might be a soundtrack release, but he doesn't water it down at all.


Roger Zapp – "More Bounce to The Ounce"
Roger is one of the most sampled songwriters in hip hop and this song is the perfect example of why. A lot of people associate his iconic funk records with west coast hip hop where east coast was more of a James Brown, Motown thing. But don't be fooled, we were rocking these in Astoria just as loud as they were in Compton.


Fugees – "Fu-Gee-La"
We just performed with Ms. Hill in Montreal and she closed out her set with this classic. It's been in my head and back on my playlist ever since.


Eric B & Rakim – "Don't Sweat The Technique"
This one ain't just because I like hearing my own music. This one is a tribute to my brother Rakim who's new book "Sweat The Technique" hit stores this week. Ra's a pretty private guy, but he opened up and let people take a look at his life, what inspires him to write, and how he constructs a song.
Rakim's Playlist
Dave East – "Perfect"
This track is the "perfect" example of why I'm always going to be a hip hop fan first. East brings out a strong flow and carries himself alongside some other East Coast beasts. Its fly flow, New York, and stays focused on lyricism. You gonna see a lot of those three criteria on this list.


Swizz Beatz Trifecta
The Lox – "Wild Out"
Maino – "Million Bucks"
Lil Wayne – "Uproar"
Big up to each of the artists out front on these tracks, but two decades of Swizz Beatz blowing things up on the boards ain't no coincidence. Swizz's energy in the studio is infectious and the sound he brings is consistently and undeniably his own but never gets dated. Can honestly say he's the first producer in 30 years who can give me a beat on Friday and have a final done Saturday.


Fabolous – "You Be Killin Em"
I got love for hip hop from all points in the universe, but when my hometown of NYC was looking for a little injection, Fab hit the streets and took things to that level. This isn't the only track if he's on my turntables, but it's a nice one.


Chris Brown ft. Busta Rhymes – "Look At Me Now"
C Brown has that voice, style, and moves you can't deny and would probably make my list regardless… but what Busta did on this track?? No one, NO ONE, is original like my big NYC brother. I could probably just put down 10 of his tracks on this list and call it a day.


Eric B & Rakim – "Lyrics of Fury"
Aighttt… so putting a couple of my own tracks on here might be corny but I'll keep it quick. We don't play this track on tour this much but we just released it on a jazz remix album Follow The Leader [by Jonathan Hay, Benny Reid & Mike Smith] and it made me think of all the horror stories that inspired me to write it. Just a dude in the park gonna slay you with his rhymes.


Rakim – "The Mystery (Who Is God?)"
If you want to get inside my thought process and what I think about when the room is quiet and my notebook's open, you can start and end here.


Joell Ortiz & Fred Da Godson – "Talk Dat"
I needed to put a Fred Da Godson track on this list. Reppin New York. Check. Lyrical focus. Check. Original Flow. Check. He's one of those shouldn't be underground cats that MCs love. And featuring with another great, Joell, and shooting that video in Times Square. These are my dudes.


Ruth Brown – "Mama He Treats Ya Daughter Mean"
This kind of song might be a real switch up on this list but watching my Aunt Ruth get ready for shows at the Apollo when I was a kid taught me the preparation it takes to be a true artist. And who knows, maybe one of the Dirtybird Campout DJs or producers will get inspired to make a remix.
Dirtybird Campout 2019
Friday, October 4 – Sunday, October 6th
at Modesto Reservoir Campground, off Highway 132, outside of Waterford
Main photo by Stewart Tomassian