Dirtybird Campout 2019 Announces Lineup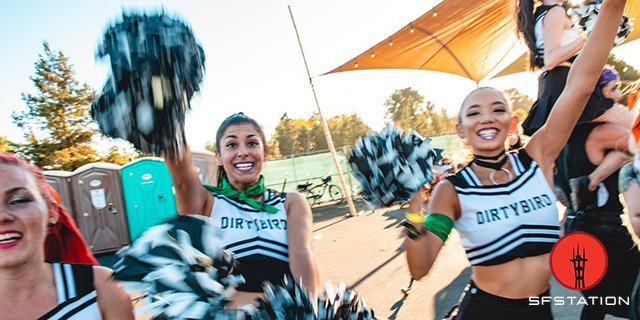 Today, Head Counselor Claude (Claude Von Stroke) unveiled the lineup of DJs and live acts performing at Dirtybird Campout 2019. Pack your tents, sleeping bags and get your supply list started, because October will be here soon enough. And you won't want to miss the ever evolving deep dive into the worlds of techno, bass, hip-hop, and house that Dirtybird Campout has become.
"The Birdhouse stage will be ready to impress with a stacked house and techno lineup."
The Birdhouse Stage features Ovum boss Josh Wink, experimental cuts Herbert, and Ukranian techno magician Nastia. Dirtybird Players include Walker & Royce, Shiba San, and Will Clarke.
"Bass Lodge will once again play host to the oddballs of the global bass and urban music scenes."
The Bass Lodge features turntablist Cut Chemist, jungle badman Dillinja, Jhené Aiko, a special drum 'n bass set from Nastia, and the dank-infused creativity of Wajatta. Eprom and Barclay Crenshaw face off in a sonic warfare debut B2B. Other artists include Stones Throw mainstay DāM-FunK, legendary drum 'n bass legend Adam F, the Detroit sounds of Amp Fiddler, future bassists Jimmy Edgar and Machinedrum as J-E-T-S, alternative German techno master Robag Wruhme, the genreless campout favorite Mija and Canadian Bass Coast curator The Librarian.
And there's a lot more happening all weekend long; "OG" Saturday, Claude's Cabin, a Talent Show, a Beatboxing Competition, a Pie Eating Contest, Deep House Yoga, Camper Comedy or even Speed Dating!
LINEUP: (Special Guests Will Be Added)
Adam F
Amp Fiddler
Ardalan
Black V Neck
Bot
Christian Martin
Claude VonStroke
Cut Chemist
DāM-FunK
Deep Sky Objects
Deron Delgado
Dillinja
DJ Holographic
DJ Glen b2b Bruno Furlan
EPROM b2b Barclay Crenshaw
Faren Strnad
Franklyn Watts
Galen
German Brigante
Gettoblaster
Heidi
Herbert
Holt 88
Honeycomb
J-E-T-S (Jimmy Edgar & Machinedrum)
Jhené Aiko
Josh Wink
J.Phlip
Justin Jay
Justin Martin
Kill Frenzy
Lubelski
Mija
Nastia (D&B Set)
Pillowtalk (Live)
Redlight
Robag Wruhme
Rybo
Sage Armstrong
Sherelle
Shiba San
Shield
Steady Rock
Steve Darko
The Librarian
Tiedye Ky
Tiga b2b Matthew Dear
VNSSA
Wajatta (Reggie Watts & John Tejada) Live
Walker & Royce
Westend
Will Clarke
Worthy
Wyatt Marshall
Yousef
Visit dirtybirdcampout.com for announcements, faq info, installment plans, and shuttle bus schedules. Thursday Arrival Pass holders can access the campgrounds and festival areas on Thursday, October 3rd at 2 pm. There will be a Pajama Party and a surprise DJ set Thursday evening starting at 8 pm. General Admission Music stages open Friday, October 4th at 12 noon and the campgrounds close at 12 noon on Monday, October 7th. This is a 21+ event.
Dirtybird Campout 2019
Friday, October 4 – Sunday, October 6th
at Modesto Reservoir Campground, off Highway 132, outside of Waterford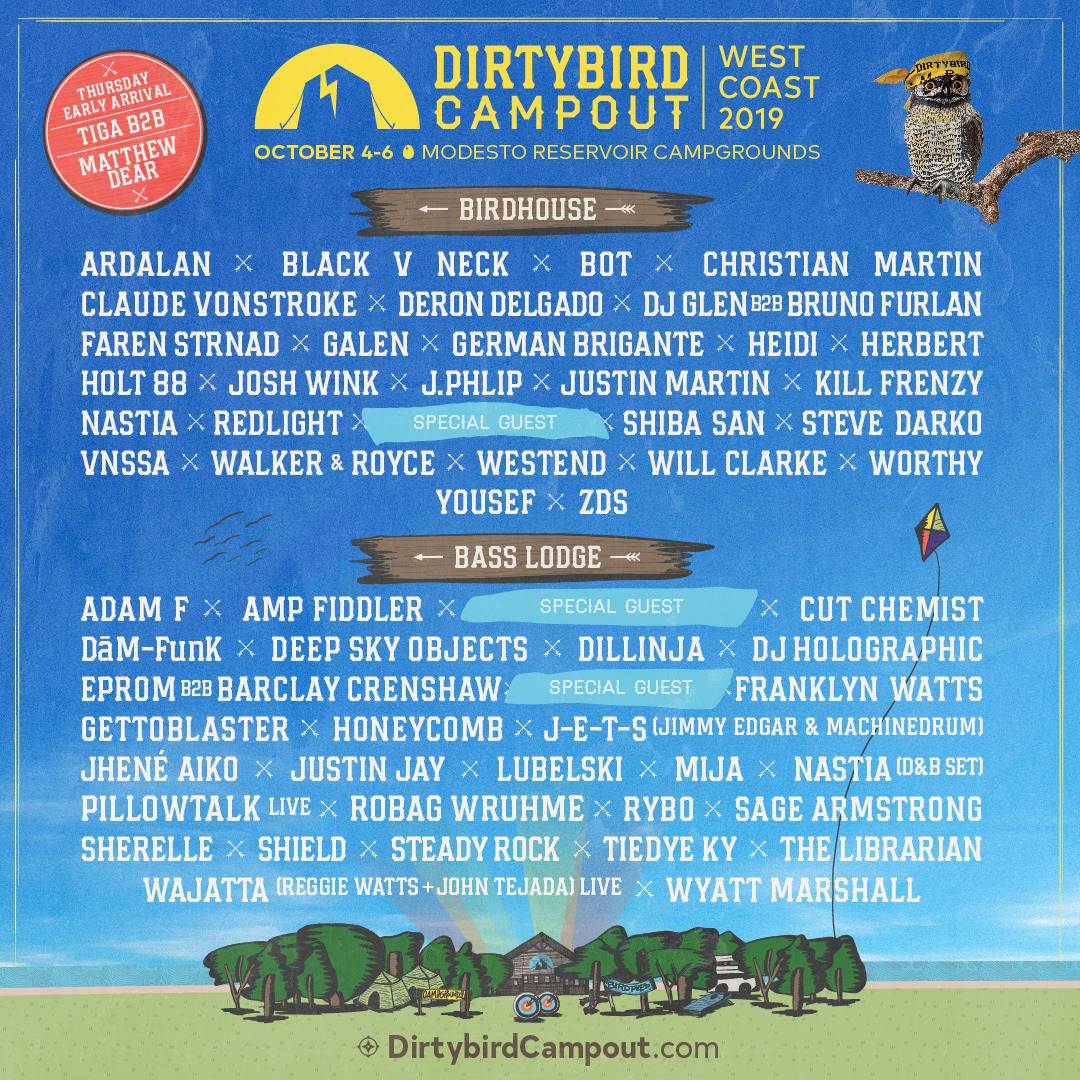 Photos by Stewart Tomassian