Put These June Food and Drink Events on Your Radar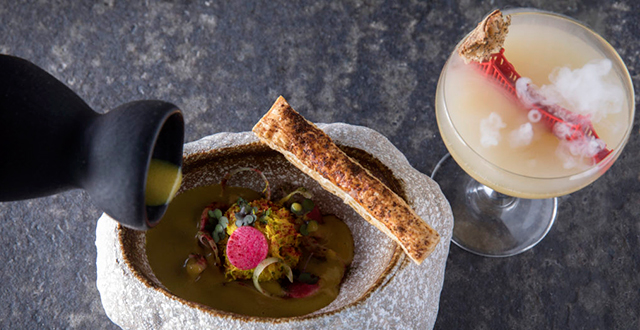 Switching from May Grey to June Gloom? Don't despair, from a corny festival to a poetry centered dinner, the month ahead is far less disappointing than the weather. Even if you are into the fog, rest assured, half the the city is enjoying the sun and somewhere 30 miles away, it's at least 90 degrees. Here are our picks for June's most delicious, educational and fun food and drink events.
~~~~~~~~

June 1st: Party with the new La Guerrera's Kitchen
Chef Ofelia Barajas's tamales, tacos, ceviche, and homemade salsas now have a permanent home at Fruitvale's new La Guerrera's Kitchen, and the opening celebration is this Saturday, 1pm – 7pm. The festivities will include music, the debut of an interior mural by Bay Area artist DJ Agana, and drink specials at Aloha Club next door. The event is free to attend.
~~~~~~~~

June 4: Celebrate Pride at Tilden Hotel
You can't (neither do you want to!) escape Pride, so why not give it an artistic spin? On Tuesday, June 4th, from 5pm-8pm, the chic Tilden Hotel welcomes local artist Eric Dyer for a two-month artist showcase on the ground floor. Dyer's oil on canvas paintings, inspired by walks around San Francisco and personal experiences, will be accompanied by a bar reception and a lit fire pit, with complimentary elevated bar bites and beverages crafted by The Douglas Room. Cheers!
~~~~~~~~

June 6: Listen to La Cocina's Voices From the Kitchen
There's no organization that had done more for the local food scene than La Cocina. Voices from the Kitchen is La Cocina's a storytelling project, a Pop-Up Magazine of foodies, if you will. The theme of the upcoming event is Recipes, and the speakers list includes writer Gustavo Arellano, Chris Ying, the former Editor in Chief of Lucky Peach, Margo True, the former Food Editor of Sunset, Celia Sack (owner of Omnivore Books), and more. Tickets are 65-$75 and include drinks & bites, plus a copy of La Cocina's newly launched We Are La Cocina cookbook.
~~~~~~~~

June 7: Snack and sweat with Athleta
Need to sweat some of the food away? New York and L.A-based Y7 Studio is known for their detoxifying infrared technology, juicy pop music, dark candlelit rooms and not a mirror in sight. Sounds like your jam? On June 7th (2:30 pm) and June 8th (10:30 and 12 pm), The Assembly and Athleta are bringing the unique workout to San Francisco. Snacks and drinks to follow. Register here.
~~~~~~~~

June 18: Attend a Live Podcast with Andrew Talks to Chefs
Another food-centric talk event brings together acclaimed podcast host Andrew Friedman of Andrew Talks to Chefs and local celebrity chef Preeti Mistry, Brandon Jew of Mister Jiu's and more. Expect deep conversation and an up-close look at the city's best culinary minds. The event, part of SF Cooking School's lucrative new Food Media Lab, takes place from 7-9 pm, tickets are $20.
~~~~~~~~

June 22: Nibble on Lots and Lots of Corn
Described by SoMa StrEat Food Park as the 'corniest festival yet', Elotefest is an event dedicated to all things corn on a cob; over 10 local vendors will serve corned boiled, grilled, topped and stuffed, with twists like elote lumpia, elote-topped and stuffed corn dogs, elote tots, and elote paletas in the mix. All-you-can-drink beer is a natural companion for the corn cornucopia. Tickets are $5, or $36 with unlimited beer – [ Enter the Giveaway ].
~~~~~~~~

All Month: Try Something New at August (1) Five
The lovely Indian restaurant just launched a new concept, ATB (At The Bar), featuring a cocktail dinner pairing menu served omakase-style. The first menu in the series was inspired by popular puns, parables & poems, which means brain food in addition to the actual fare. Dishes include oysters inspired by Lewis Carroll's The Walrus and the Carpenter, pork ribs themed around the poem Sticks and Stones and more. Reservations made for 10 diners per night, Tuesday – Thursday. The price tag is $130 including tax and gratuity.