San Francisco Pride Week Events Calendar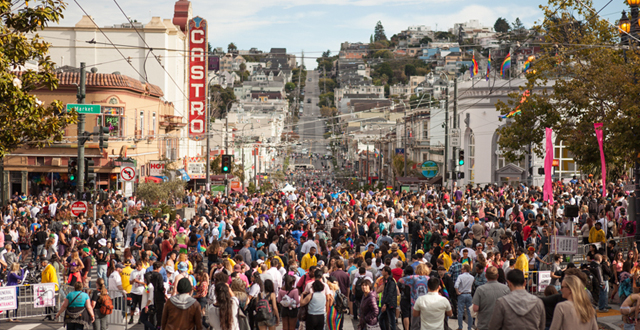 June is officially Pride month and there's an incredible array of fun and unique events to celebrate this year's theme "Generations of Resistance." The Parade, which takes place the Sunday morning of the event, kicks off from Beale Street along Market and ends at Market and 8th St. in the heart of downtown San Francisco. Discover some of the many activities happening in the SF Bay Area during the SF Pride Parade and Celebration weekend below.
---
THURSDAY, JUNE 27
Party
Booty Patrol Pride Party at F8
Free before 10pm plus free champagne from 9-10pm.
Exhibit
Trans March Pre-Party with Maia Kobabe
Maia will be on hand to sign copies and socialize with attendees. Poster board and markers to make signs for the march will also be provided.
Party
Love is Gay! LE FOMO, Polartropica, WASI & Rice Kings at The Ivy Room
Asian American queer anthem electronic jazz from the future.
Party
XO presents Bad Habits at BOND Bar
Show your Pride while making memories & new friends, all coming together with smiles, pure happiness annnd some free shots at midnight from our dancers.
Party
DJ Climaxxx at Temple SF
---
FRIDAY, JUNE 28
Community
Trans March at Dolores Park
The 2019 march route will once again weave from Dolores Park to Market Street, then down Market Street to Taylor (6th St.), and turn onto Taylor towards Turk where we honor our Trans history and landmark of the Compton's Cafeteria Riots and Vicki Mar Lane.
Party
So Stoked for Pride at DNA Lounge
The open display of the flag in different forms shows that the gay community has enormously gained in self-confidence. Acceptance has always been one of the main principals of raves. Let's celebrate acceptance and equality!
Party
Electroluxx Pride Party at Public Works
3 stages with 50+ musicians and visual artists. Electroluxx is an inclusive art and dance community.
Party
Heat Pride Friday at The Great Northern
International Circuit Star DJs Alexander, Eddie Martinez.
Party
SF Gay Pride Sunset Cruise w/ DJ Barry Harris
Brian Kent Productions and Chris Hastings of Lookout team up to bring back this unique SELL OUT San Francisco Gay Pride experience that will uplift your soul and enliven your spirit.
Party
Yousef X Dolby Atmos at Halcyon
Party
Autograf at Audio
After a sold out show in February, Autograf is back at their San Francisco home with a DJ set.
Party
DJ Heather b2b DJ Colette at Monarch
Performance
A Chorus Line – Broadway Under the Stars at Jack London State Park
This award-winning event, featuring world class talent from Broadway and beyond, is set amongst the vineyards of Wine Country and begins with two and a half hours of pre-show picnicking, music and wine on the property where Jack London lived and wrote many of his famous books.
Shopping
Gay Pride Weekend Kick-Off at Kearny Good Vibrations
Celebrate love at this colorful cocktail party.
Shopping
Gay Pride Weekend Kick-Off at Good Vibrations – Polk
They are serving up sips and giving away a swoon-worthy rainbow glitter clutch by Julie Mollo.
Party
LCD Soundsystem vs. Daft Punk Night at Cafe du Nord
North American Scum was born with on a snowy San Francisco night with one goal: to make the city dance.
Party
Swagger Like Us presents SF Queer Pride w/ LEIKELI47 at 1015
Party
Carly Rae Jepsen – The Dedicated Tour at Bill Graham Civic
Party
Khalid – Free Spirit World Tour at Oracle Arena
Discussion
Tales of the City's Lauren Morelli
Lauren Morelli is a television writer, screenwriter and producer. She is executive producer and writer of a reboot of Armistead Maupin's "Tales of the City" for Netflix, starring Laura Linney, Olympia Dukakis and Ellen Page.
Party
Do the Gay's (Super Late) Coming Out Party at Hotel Zetta
Festivities will include tunes by Adam Kraft and DJ Holographic, drag queens, drink specials.
Exhibition
Queer California: Untold Stories at Oakland Museum of California
Going beyond mainstream narratives, Queer California: Untold Stories will expand our understanding of this history through a multifaceted and interactive experience, providing the opportunity for museum visitors and members of the LGBTQ+ community to add their voices and stories to the conversation.
Dance Preparation
PRIDE Night at ODC
Dancers participating in the parade and members of the community are then invited to celebrate the 50th anniversary of the Stonewall Riot/Uprising, and enjoy a few snacks, libations and bright moments!
[RoyalSlider Error] No post attachments found.
See more photos at:
https://photos.sfstation.com/
---
SATURDAY, JUNE 29
Community
SF Dyke March at Dolores Park
Dyke March is an inclusive event. Welcoming members of the LGBTQ community of every body, color, gender, ability, background, immigration status, income, and sexuality.
Party
LGBootie Pride at DNA Lounge
Free for people in full-on rainbow costumes and/or drag.
Community
Pink Triangle Installation, Commemoration Ceremony
The pink triangle symbol has since evolved into an important reminder for the gay, lesbian, bisexual and transgender community of the continuing homophobia and inhumanity against them and other repressed minorities around the world.
Party
Gary Virginia and Donna Sachet's 21st Annual Pride Brunch at Hotel Whitcomb
Take a chance on exciting raffle prizes or bid on dozens of tempting silent auction items while enjoying the unlimited gourmet brunch buffet. Every year, this sold-out special event attracts dozens of City officials, LGBT movers and shakers, and a colorful crowd of revelers.
Party
Pink Block with Poolside + Hercules & Love Affair – Pride Saturday at The Great Northern
Multiple stages, tons of talent, art installations, food trucks, and a chance for everyone to come together and celebrate our community.
Festival
Free SF Pride Celebration at Civic Center Plaza
Hundreds of exhibitors and more than a dozen community-run stages from noon – 6pm.
Party
XOXO and Matinee Circuit Festival Barcelona present La Leche Pride San Francisco at The Midway
Born more than twenty years ago, this company has achieved an international recognition and produces events such as Circuit Festival, La Leche! Festival, Matinée Easter Weekend, Girlie Circuit Festival and Matinée Summer Festival, as well as the Matinée World Tour, present in over 50 countries worldwide.
Party
Kill Frenzy at Halcyon
Party
Fusion Pride Party at The Chapel
A Pride event for women who love women and their allies! All are welcome!
Party
7th Annual Pink Mammoth Summertime Block Party Fundraiser (Mint Plaza)
This is a staple of SF Pride's weekend festivities and a celebration of music, food, art, and pink love. There will be multiple areas of sound including THE DUSTY RHINO art car, Mezzanine, and Silent Disco featuring djs from some of Burning Man's most infamous sound camps.
Party
PRIDE at The Academy (Berkeley) w/ Mercedez Munro
Enter through our secret Speakeasy doors, grab a cocktail, then come hang out with some amazing people in our Outdoor Terrace.
Party
Gayer Things: The Stranger Things Pride Party at Rickshaw Stop
San Francisco's own gay homage to Stranger Things is back!! Join us at Rickshaw Stop to get your Pride on and get down to the best new wave, synth wave, 80's pop, and punk this side of Hawkins, Indiana. While this isn't Halloween, it is Pride, so dress up and be your fiercest self —Eleven wigs, Barb glasses, Demogorgon tentacles, options are limitless queen.
Party
Insomniac and Alda present A State of Trance 900 at Oracle Arena
Party
Branden & James debut The Broadway Covers Project
Broadway gets reinvented in classical music form complete with operatic tenor vocals and cello featuring music from West Side Story, Wicked, Waitress, Dear Evan Hansen, Sunset Boulevard.
Shopping
Good Vibrations Annual Pink Pleasure Party on Valencia
Get down at our legendary Pink Pleasure Party with beats provided by DJ Justin Credible, hot dancers from Red Hots Burlesque, sweet and salty bites, cool sips and shopping discounts.
Literary
Happy Birthday, Walt Whitman! A Bicentennial Celebration at DaDa Lounge
Whitman's 200th birthday falls on May 31st but as a celebrated, gay icon, his birthday party will piggyback San Francisco Pride Week. For a city that embodies Whitman's most generous ideals, he actually never set foot here.
Nightlife Safari
Afterglow 2019: Pink Saturday Blacklight Creature-theque at Space 550
Before heading inside, check out Cuddles In Space, brought to you by C&J's Art Committee. A serene tented oasis full of plushy goodness, interactive projections, tea service, tarot, massage chair & buffer, ready to accept you into it's warm embrace when you need some chill time.
Tea Time
Holy High Tea with the Sisters of Perpetual Indulgence at Hotel Zeppelin
The event will start with mingling, along with bites and beverages from Rambler, the on-property restaurant providing lively drinking and dining experiences, with specialty cocktails.
Party
BRKLYN at Temple SF
The duo returns with a welcome wave of summer-infused energy and the release of their latest track, "Heart of the City," featuring Mariah McManus.
---
SUNDAY, JUNE 30
Festival
SF Pride Parade
Kickoff at 10:30am along Market Street from Beale to 8th Street to Civic Center Plaza.
Party
Juanita More! Pride Sunday at Jones
This extravaganza is one of the only non-profit events of the weekend that supports some of San Francisco's most needy organizations. This year Juanita has chosen TRUTH (TRans yoUTH), a joint program between Transgender Law Center and GSA Network.
Party
Pride Official VIP Party at SF City Hall
eaturing three rooms of live entertainment, performance, dancing, catering by Whole Foods Market, and a hosted bar featuring our partners Bud Light, Smirnoff vodka, Captain Morgan's rum, Don Julio tequila, Menage a Trois Winery and Korbel.
Party
Sanctuary Pride at 1015
This is THE San Francisco Pride GLOW-IN-THE-DARK Closing Party.
Party
Mighty Real Pride Poolside Party at Phoenix Hotel
Party
Calvin Arsenia at Hotel Utah
But the music is just one part of his prodigious performances, for Calvin believes the art is in crafting the perfect moment. His music is best served live, with sensational performances and high fashion from the visually striking performer who stands at well over six feet tall.
Party
VIDA San Francisco Pride 2019 at Holy Cow
VIDA is somewhere you and our community can come together and smile, laugh, dance, meet new friends, be our authentic selves…and even dance to some dope DJs that will take us on a musical journey from reggae & dancehall all the way to hip-hop, salsa, and whatever else they feel like sprinkling in.
Party
Honey Soundsystem Pride 2019 at Social Hall SF
The dancing will be heavy downstairs under the Social Hall's vaulted archways. Custom lights & 4-way Alcons Waveworks sound will transform the classic hall into a cavernous dance space.
Party
Stern Grove Festival Presents Free Concerts: Galactic, Baby & the Luvies
Party
Chevere Sundays: SF Pride at Bond Bar
This is a FREE party – Get on the Guest List for guaranteed entrance. Walt Digz will be playing the best of Timba, Salsa, Soca, Reggaeton, Cubaton, Bachata, Dancehall, and Merengue.
Party
Imagina: Pride Closing Night at Public Works
Party
Proud & Proper: Rooftop Pride Party
Charmaine's rooftop party that brings elegance to the city-wide celebration. Legendary DJ Miguel Migs, who emerged from the 90s underground scene playing soul based, deep house electronic music, will be spinning.
~~~~~~~~