Veuve Clicquot Yelloweek is Coming to Town: Here's What You Need to Know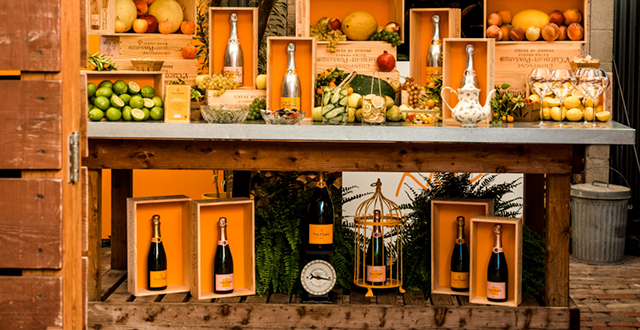 The bright-yellow label of Veuve Clicquot is synonymous with indulgent, good times; especially given the fact the brand does all it can foster a party-loving, bubbly image. During the annual global Yelloweek festivities, cities around the world get a hefty dose of champagne-fueled fun, with themed events and parties around town. On Saturday, May 11th, Yelloweek reaches San Francisco, supporting the San Francisco-Marin Food Bank, and you will not want to miss it.
Here's a quick round up of the official Veuve Clicquot Yelloweek events in San Francisco:
Saturday, May 11th: The party starts at Proper Hotel, with a boozy twist on the Afternoon Tea concept. Make reservations on Resy and enjoy infused cocktails, bites and the Proper's quirky design.
Sunday, May 12th: Another hotel, The Virgin, is hosting a Mother's Day-themed "Le Brunch", paired with plenty of drinks.
Tuesday, May 14th: Prepare to get your hands dirty at the Waterbar and Hotel Vitale – for Clicquot x Claws, the waterfront restaurants pair lobster rolls and other seafood dishes with bubbles.
Thursday, May 16th: Veuve comes to the new Decant bottle shop and bar for a champagne and caviar experience, for $55 a person (tickets are available here).
Friday, May 17th: To close off the festivities, a crazy-sounding event is taking place: Cliquot Tiki at the Tonga Room, as Veuve Clicquot Rich cocktails will meet tropical vibes and the bar's famously over-the-top atmosphere.