Pumpkin Patches, Corn Mazes, and Haunted Houses in the Bay Area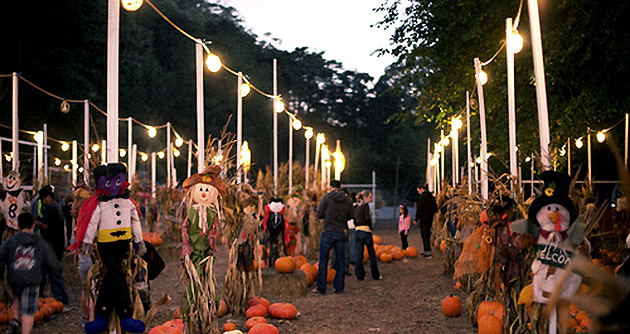 If you are looking for fun Halloween-related activities, we have you covered. Here's a list of some of the best in the Bay Area for this 2018's Halloween season.
Pumpkin Patches in the San Francisco Bay Area
Clancy's Pumpkin Patch
1620 7th Avenue, San Francisco, 415.753.2689
9am – 9pm, Daily in October
This classic city spot first opened for business back in 1979. Come see ghosts in the scraggly trees, scarecrows in the pumpkin patch, and meander through a hay maze. Their selection includes a variety of mini pumpkins, Sugar Pie pumpkins, Cinderella pumpkins, as well as blue, white, and striped pumpkins.
Arata's Pumpkin Patch
185 Verde Rd., Half Moon Bay, 650.726.7548
Monday – Friday, 9am – 7pm / Saturday & Sunday, 9am – 8pm
Lose yourself in Arata's 6-acre corn field and pumpkin river and try to navigate their 2-acre world-famous Minotaur's Labyrinth Hay Maze. If you still have energy, take a walk through their Haunted Barn… if you dare!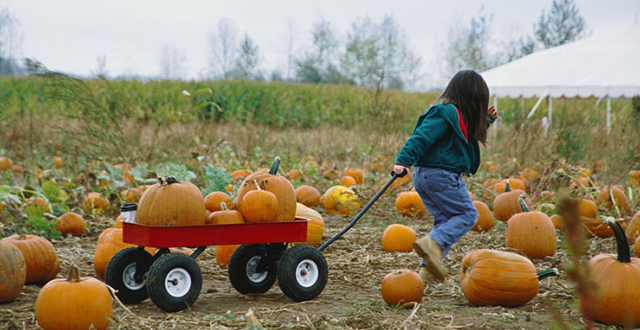 Moreland Education Foundation Pumpkin Patch
4825 Doyle Rd., San Jose
Friday – Sunday, October 19 – 31 / Patch opens at 4pm, Trail opens at 7pm
This not-for-profit organization combines community building and fundraising for great family fun, attracting more than 3,000 visitors each year. All schools in the Moreland District work together to create a magical pumpkin patch where kids can play games, explore, get spooked, try new foods, listen to stories and work on crafts. Beyond traditional pumpkin sales and family-friendly events, actors and Halloween enthusiasts transform the Moreland Woods into Grimm's Hollow, a spooky, scenic trail.
Piedmont Avenue Pumpkin Patch
4414 Piedmont Ave, Oakland, 510.967.9363
9am – 8pm, Daily in September & October
Several different types of pumpkins can be acquired at Oakland's oldest and cutest patch. Collect over 15 varieties of pumpkins, ranging from traditional Jack O' Lanterns and Sugar Pie to exotic Tonda Pandana and dark green Kabocha. This patch has been in business since 1996, making it an East Bay favorite. There are even two Haunted House options – Scary or "Less Scary".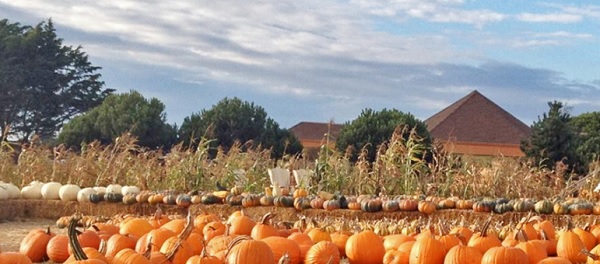 Farmer John's Pumpkin Patch
850 North Cabrillo Highway, Half Moon Bay, 650.726.4980
Monday – Friday, 9am – 5pm / Saturday & Sunday, 9am – 6pm
Fun, family atmosphere in a relaxing oceanside setting where all are welcome, including canine friends. Diverse variety of pumpkins are grown on-site, including the Atlantic Giant. This family-run farm has been in business since 1947.
Petaluma Pumpkin Patch
450 Stony Point Road, Petaluma, 707.781.31312
Sunday – Thursday, 10am – 6pm / Friday & Saturday, 10am – 10pm
This pumpkin patch and corn maze has over 5 acres of home grown pumpkins. From small pumpkins to giant pumpkins, it's one of the best selections of pumpkins in Sonoma County. The 4 acre corn maze is a challenge, with only one way out. It takes about 45 minutes to complete.
G&M Farms
487 East Airway Blvd., Livermore, 925.447.3276
Open Daily in October, pumpkin patch: Monday – Friday, 2pm – 6pm, Saturday & Sunday, 10am – 6pm / corn maze: Monday – Thursday, 4pm – 8pm, Friday, 4pm – 9pm, Saturday, 10am – 9pm, Sunday, 10am – 8pm
G & M Farms has been featured twice on the David Letterman Show! The corn maze is 6 acres of good old-fashioned family fun and the pumpkin patch has pumpkins of all sizes. Easy to find off I-580 in Livermore.
Santa Rosa Pumpkin Patch
5157 Stony Point Road, Santa Rosa, 707.331.6653
Monday – Thursday, 9am – 7pm, Friday & Saturday, 9am – 10pm, Sunday, 9am – 8pm / corn maze closes 1 hour earlier than the pumpkin patch
The pumpkin patch is 10 acres of pumpkins with 45 different varieties to choose from. The corn maze is 8 acres (with both a short and long route).
Smith Family Farm
4430 Sellers Avenue, Brentwood, 925.625.5966
Daily, 10am – 5pm​
The Pumpkin Harvest is not just a pumpkin patch. There are live music performances, farm animals, a beehive, a replica Native American village and more. The mile-long hayride takes visitors through the pumpkin patch, where each visitor gets a pumpkin.
Swank Farms
4751 Pacheco Pass Hwy, Hollister, 831.637.4704
Thursday, 10am – 6pm / Friday & Saturday, 10am – 12midnight / Sunday​ & Halloween, 10am – 10pm
Swank Farms has one of the best pumpkin patches in the South Bay. Spend a little time on the farm and enjoy attractions that are fun for all ages.
Pumpkin Festival
48th Half Moon Bay Art & Pumpkin Festival
Main Street at Miramontes Street, Downtown Half Moon Bay
9am – 5pm, October 13 & 14
The World Pumpkin Capital of Half Moon Bay celebrates its bountiful fall harvest and autumn splendor with a special display of gigantically enormous / heavyweight champion pumpkins, smashing entertainment with four stages of stellar live music.
Haunted Houses in the San Francisco Bay Area
Great America's Halloween Haunt
4701 Great America Pkwy, Santa Clara
Fridays, Saturdays and Sundays in October
Head to the best theme park in the south Bay to experience eight haunted mazes, five skeleton key rooms, live shows, scare zones and hundreds of monsters at every turn. A classic roller coaster has been transformed as "Demon: Re-ignited" with an array of lights, fog and the blood red waterfall.
Fear Overload Scream Park
15555 E 14th Street, San Leandro
7pm – 10pm or 7pm – 12midnight depending on the date, September 28 – November 3
Explore two horrifying haunted houses and enjoy live entertainment, for mature audiences.
Haunted House of Screams
1730 Oregon Street, Berkeley, 510.981.6671
6pm – 9pm, October 31
Get ready to scream as you enter the biggest and scariest haunted house in Berkeley. Come join in the fun as we have a ghastly and ghoulish good time. Get your best Halloween outfit ready for an evening of music, fun cotton candy, photo booth, fright and jumpers for the little goblins.
Tam Valley Haunted House
Tam Valley Community Center, 203 Marin Ave, Mill Valley
3pm – 9pm, October 26 – 28
Celebrating a Decade of Horror. The sights get scarier as the evening goes on. 3pm-4:30pm is deemed the scare-free times for those under eight years old, while 5pm-6pm is a bit scarier for those ages nine and over, then from 7:30pm-9pm it's a full-on scare fest.
Halloween Haunted House
Bayview Opera House, 4705 3rd Street
2pm – 9pm on Halloween, October 31
Details tba. Last year's event description: Bayview Opera House will be featuring a free-to-enter haunted house as one of the trick or treating stops on Halloween night. Stop by the Haunted House (created by BMAGIC, YMCA, and CYC) to grab a map of all the participating merchants on the Trick or Treat Trail along 3rd Street, stretching from Evans to Williams streets. Additional Halloween activities include a costume contest, mask making, pumpkin carving and decorating, plus candied apples and more.
Visit the Halloween Guide for more complete Halloween related event information.