5 New Richmond Restaurants to Try This Summer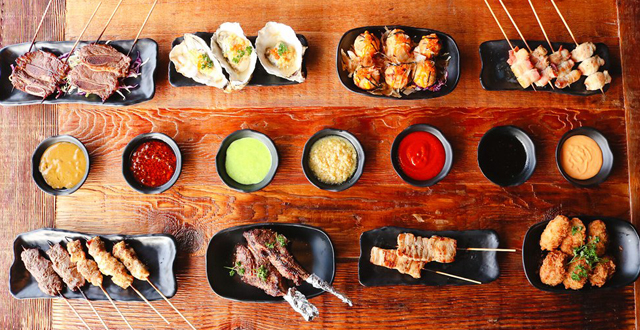 While the Sunset is flourishing with new boutiques, in the Outer and Inner Richmond, restaurants and eateries have been opening by the hour. In fact, a few brand new restaurants have joined the neighborhood in a matter of months, giving museum-goers and park walkers an excellent reason to stay in the neighborhood for dinner or lunch.
Looking for a new place to try after a walk in Golden Gate Park or after viewing the highly recommended Truth and Beauty exhibition at the Legion of Honor? Perhaps, you stopped by the Presidio or wanted to check out Legion's giant Julian Schnabel murals? Here's where to eat after.
Pearl
Everything about Pearl, the new endeavor by the owners of beloved Pizzetta 211, is beautiful; the elevated white ceilings and the leather booths are welcoming, be it brunch or dinner. The marble counters are perfect Instagram backdrops. But most importantly, the menu, by an all-female team, is a stunning collection of fresh dishes. Try the pretty-in-pink chicory Caesar for lunch, or a colorful carrot soup and grilled prawns for dinner, and exit the street floating on a cloud of good taste.
6101 California Street
Violet's
Buzzy and stylish, the new 'tavern' by the team behind Fiorella is a combination of booths, bar sitting, and small tables. As with many other city establishments, you'll hear your neighbors' conversation in its entirety, but the fare and the cocktails are well worth it. On Violet's menu, you'll find a craveable mix of seafood classics (oysters, scallops) and comfort food staples like a juicy hamburger and killer lamb kebabs. From the drinks menu, anything with a fresh, herbal flavor will complement the meal.
2301 Clement Street
Grill Spot
Specializing in all kinds of sneaky and exotic skewers, Grill Spot recently opened in the neighborhood and became an instant mecca of all things fried, grilled, and smothered in sauces. Don't skip the takoyaki, which are delicious morsels of fried octopus, and try at least a few of the skewers, from the bacon-wrapped asparagus to the garlic butter scallops.
2311 Clement Street
Lokma
Bringing a colorful Mediterranean flare to Outer Richmond, Lokma is a new Turkish-Californian eatery with a brunch and dinner service. The vibe is relaxed, the space is airy, and there are plenty of novel, curious dishes to start the day or finish it. For brunch, start with kaymak, a unique clotted cream, and a homemade pitta. For dinner, tangy carrot tzatziki and a hearty short rib stew with couscous will have you full and dreaming of Istanbul.
1801 Clement Street
Natives Bar
On the edge of the neighborhood, the long-time dive spot McKenzie's just rebranded into Natives Bar, with a slightly trendier menu but still-affordable drinks. Toast all your Richmond foodie discoveries with a Moscow Mule or a gin-spiked lemonade, watch a sports game, and enjoy city-inspired mural in the company of sort of, kind of city "natives."
5320 Geary Boulevard