8 of San Francisco's Most Instagram-Worthy Eateries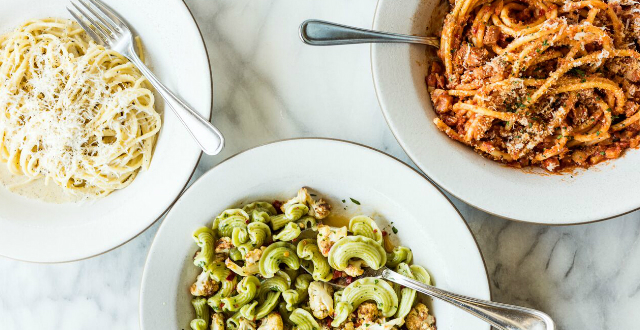 Eating out and Instagram go hand in hand these days, so much that it often seems as if interior designers and chefs tailor their new establishments specifically for the square little frame. What makes the perfect Insta-spot? For starters, natural sunlight is a must, complimentary tabletops for food-friendly backdrops and beautiful wallpaper. Extra points for unusual floor textures, vintage cocktail glassware and of course; plating plays an important role.
San Francisco has no shortage of impressive, Instagram-friendly restaurants, and these are our favorites—food and design-wise.
Media Noche
The new-ish Cuban restaurant in the Mission is the ultimate Instagram storm; from the flamingo mural outside (perfect for an #outfitoftheday shot) to the bananas wallpaper in the restroom. It's colorful, summery perfection. The turquoise touches will brighten the gloomiest San Francisco "summer" day and the colorful quinoa bowls and Cuban sandwiches are vacation-esque—without the flight expenses.
3465 19th St.
Cafe Reveille
Reveille has many locations, but the Mission Bay eatery is by far the prettiest. Instead of the Instagram-classic white, the tables here are attractive millennial pink, pairing nicely with the adorable logos on the napkins. Huge windows offer up natural light in abundance, and the retro bar adds a colorful touch. For Insta-food picks? The hamburgers and avocado toasts are extra-photogenic.
610 Long Bridge St.
Barzotto
The bright and refreshing Italian fast-casual hits all the right Instagram marks; snow-white plates covered with rustic, rich pastas and vibrant green salads. Donuts ooze with jam during brunch, and the white marble and tile tables serve as pristine backgrounds for a foodie photo. Add the monochrome tile floor (perfect for that "aerial cocktail shot") and the muted gray walls, and you've got a winning Instagram restaurant.
1270 Valencia St
Le Marais Castro
A few things photograph as well as Dainty French pastries. The newest branch of Le Marais knows all about it—their macaroons, cakes are tartines are almost too pretty to eat. The adorable bakery cleverly adorns its brick-meets-tile storefront with fresh flowers and heavenly daylight is aplenty.
498 Sanchez St
https://www.instagram.com/p/BMw4EmxhTGH/?taken-at=854280351
B on the Go
The casual lunch spot by B. Patisserie has the most covetable feature of all—truly great tile floors. The menu itself is no slouch in the photogenic department either, featuring rustic baguettes bursting with veggies and meats, striking salads and beautiful coffee drinks. The wooden tables lend warmth, making the floor-sandwich-table combo an Instagram winner.
2794 California St
Honorary mentions: 
Fiorella (Killer custom wallpaper, great floors and striking food)
20th Century Cafe (Old-school dishware and honey cake)
Liholiho Yach Club (The bar and steamed buns)