Off the Grid: Fort Mason Returns! 2018 Food Truck Lineup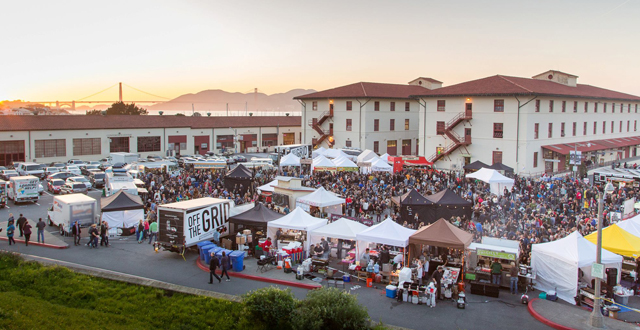 Off the Grid at Fort Mason Center is set to return on Friday, March 2. In a city that barely has seasons, this signals that spring/summer is approaching. And while there are food truck locations all over the Bay Area, many who didn't take any time off for "seasons," Off the Grid at Fort Mason is the ultimate food truck oasis.
Here you can sample a diverse range of street food options from a rotating lineup of over thirty vendors. With a healthy dose of competition for customers, comes an incredibly inventive list of menu items that's a win for all. And of course, there are the craft cocktails, beer and wine free-flowin' and the music goin'.
This year's Food Truck Lineup:
A16 (Pizza)
Bini's Kitchen (Nepalese)
Borsch Mobile (Russian)
Capelo's Barbecue
Cochon Volant (BBQ)
Doughp (Desert)
El Porteno (South American)
Frozen Kusterd
Grilled Cheez Guy
Gyro Stop
Heff's (Burgers)
Isaac's Eats
Jackrabbit (American)
Jeepney Guy (Filipino)
Johnny Doughnuts
Korean Bob Cha
Kurotaka Ramen
Lobsta Truck
Mama Lamees (Middle Eastern)
Oodle Cups (Noodles)
Rye on the Road (cocktails)
Senor Sisig
Southern Comfort Kitchen
Taqueria Angelicas
the Chairman
Turnt Up Tacos & Tortas
Wing Man Food Truck
Also a new thing that's happening this year is the debut of the VIP Tasting Ticket, which gives ticketholders access to a rotating selection of trucks and tents offering up specialty bites, curated by Off the Grid Catering. $25 for 4 tastes.
Off the Grid: Fort Mason
Every Friday night through October 26
5pm – 10pm
Related: Your Comprehensive Guide to Off the Grid Season
Have a favorite food truck (that you're willing to share about)? Leave in the comments below.