Your Comprehensive Guide to Off the Grid Season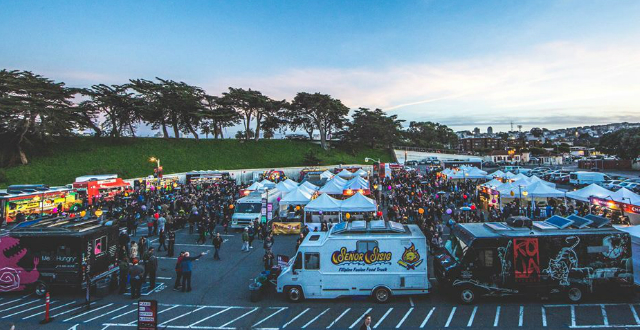 Don't let the weather fool you. Spring is officially on, and with it come the obligatory, and always welcome festivities of Off the Grid. The weekly food truck affair has grown significantly over the recent years, as everyone wants a piece of the action; there are currently 10 weekly locations in San Francisco, plus numerous East Bay and South Bay spots. Each Off the Grid is slightly different—offering a unique taste of urban indulgence and with a personality of its own. Here's a look at a few we visited across the Bay and back.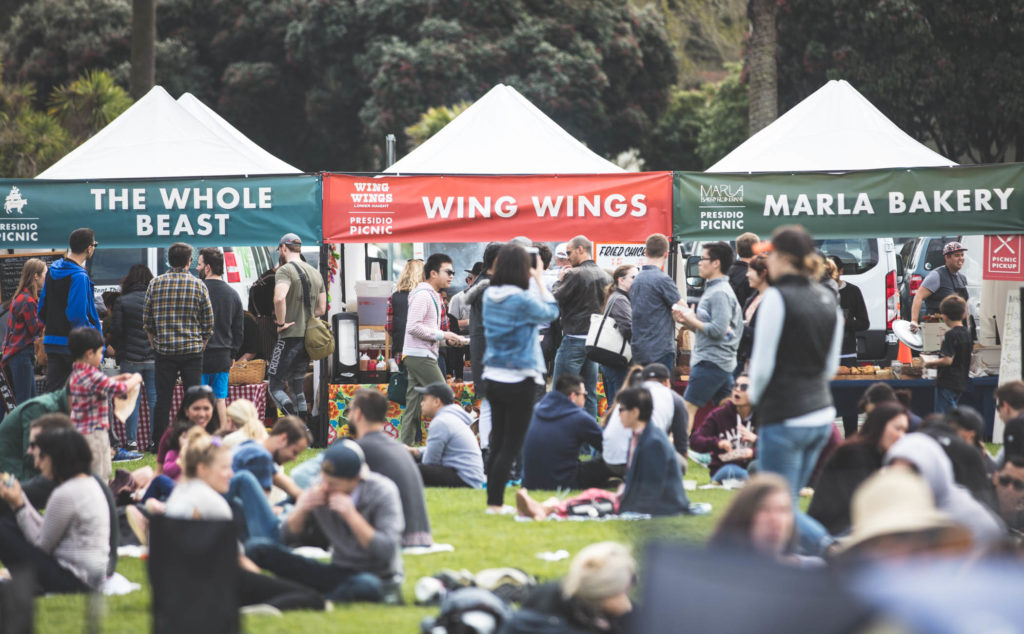 Presidio Picnic
The vibe: Windy, trendy, happy. Serving as a popular spot for big group gatherings and family parties, the Picnic is the place to see and be seen, in the company of a stylish toddler, an adorable dog or a newly minted significant other.
The dress code: Pendelton throws, Everlane cashmere, clogs and Alite folding chairs with the best possible prints. Dress warm, as the wind on the hill gets brutal.
The must-order: The picnic now has a pre-order option, catering to groups of 10 and up and offering platters of goodies from vendors like Senor Sisig, El Sur and more. For a cooler morning, you can't beat the Arepa (a corn flour bread that was commonly made and eaten among indigenous tribes across Venezuela), and for a sunny afternoon, a tray of succulent sliders from Jackrabbit.
What to do after: After all that eating and people-watching, take time to unwind on a picturesque Presidio walk or check out the nearby Legion of Honor, currently offering a romantic take on Monet's early work.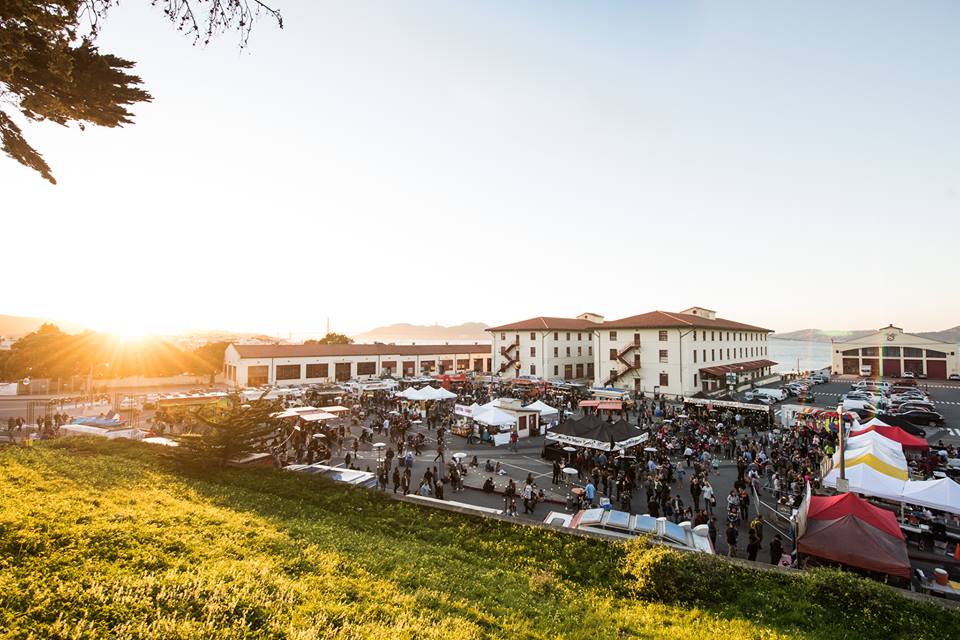 Fort Mason
The vibe: Part touristy, part historic, part old school. There's something magical about the Fort Mason location, especially when twilight sets in and the music gets louder.
The dress code: Windbreakers, plaid shirts and a younger crowd are mainstays, along with wide-eyed out of town visitors.
The must-order: In such proximity to the Bay, it makes sense to order something from the Lobsta Truck. Follow up with the best ice cream vendor in town, Salt&Straw, which choose Fort Mason for their food truck scene debut.
What to do after: As Fort Mason's affair is an evening one, drinks around the Marina are a welcomed development.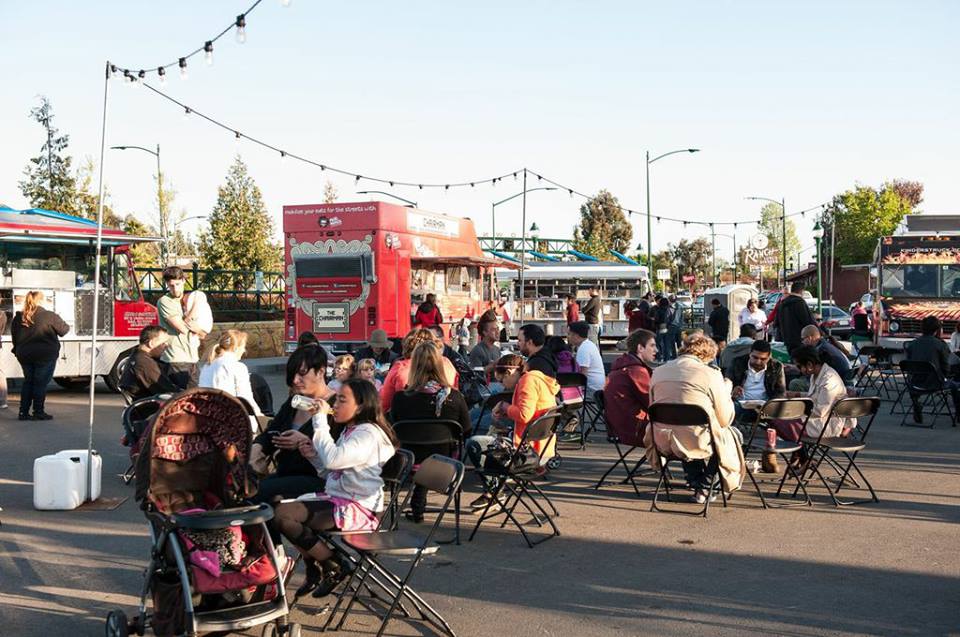 El Cerrito
The vibe: Neighborhood-oriented and cozy, in the best sense possible. Happening during the week, El Cerrito's Off the Grid is a smaller event, taking place just off the main street. Local bands and families mingle, and the small-town vibe is second to none.
The dress code: Come as you are. As the event provides folding chairs and lamps, no need to bring your own gear, let alone dress to impress. This is a casual affair, attracting all ages.
The must-order: As the atmosphere begs for straightforward comfort food, Drums & Crumbs will provide the perfect mac & cheese, and for dessert, grab a Johnny Doughnut.
What to do after: Catch a movie at the historic Rialto Cinemas Cerrito across the street, where new films and cult classics are served with beer and yet more snacks.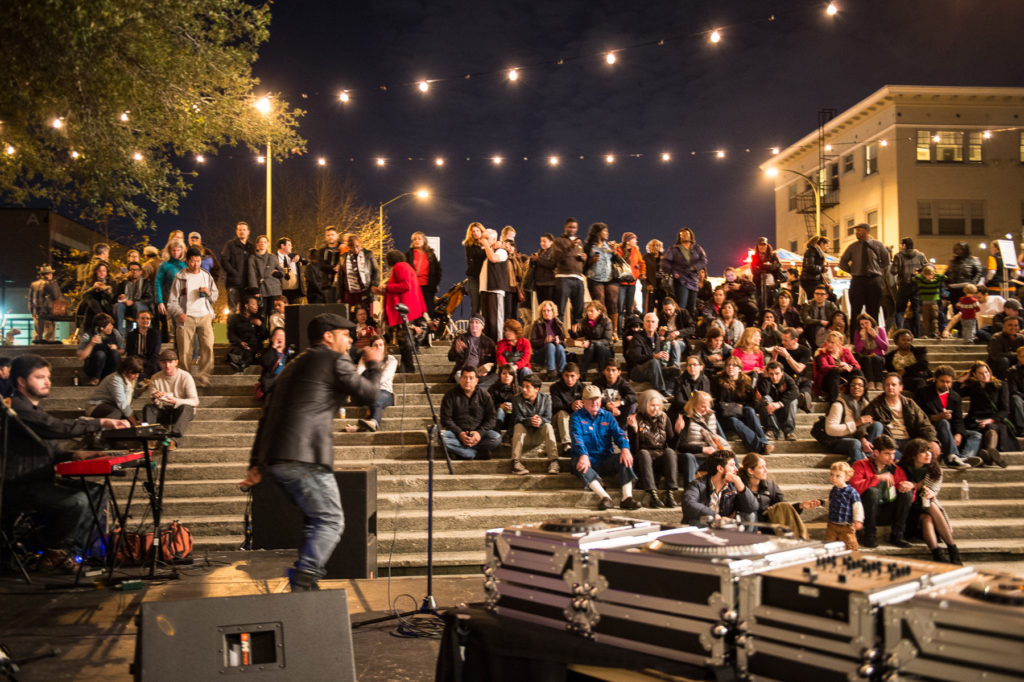 Lake Merritt
The vibe: Tied to the Oakland Museum's Friday Night events, Off the Grid on the lake is busy, loud and fun, mixing food trucks with live music and dance classes.
The dress code: Cool, over-sized jackets, denim, and boots seem to be the trend, but not exclusively.
The must-order: Order a steamy injera (basically a sourdough-risen flatbread) from Flavors of Ethiopia. It's a vendor exclusive to this location. And follow it up with the unmissable Rocko's Ice Cream Tacos.
What to do after: Visit the museum, of course! A walk around the lake, which brings to view Oakland's finest highlights, is a pre-food, sunset must.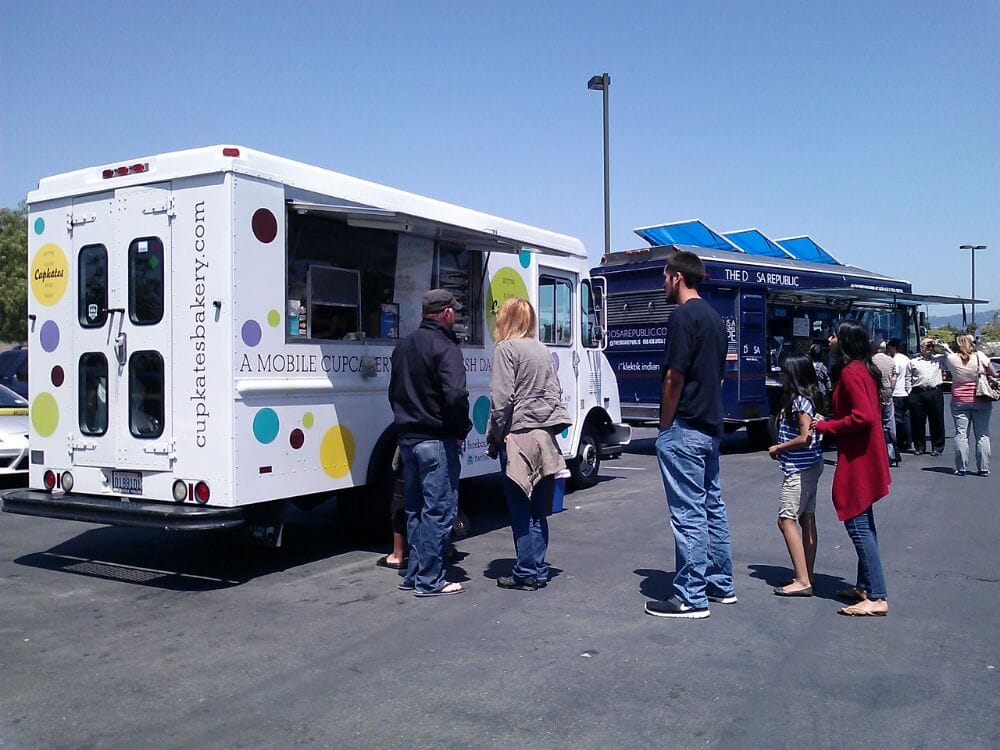 Alameda
The vibe: Relaxed, family friendly and typical of quirky Alameda. This Off the Grid location, in the middle of a busy shopping plaza, is perfect reward after getting a chore or two done.
The dress code: Saturday afternoon casual. As Alameda enjoys a fair share of sunshine, many break out their lighter summer gear and show off dungarees, sundresses and straw hats.
The must-order: The Waffle Roost, serving proper chicken & waffles, goes exceptionally well with Alameda's wholesome, old-timey vibe. Continue with a scoop of Humphry Slocombe's ice cream for good measure.
What to do after: Alameda has some of the best garage sales in the Bay Area, so make a list and go gem-hunting after you feast, or the beach is just a few steps away.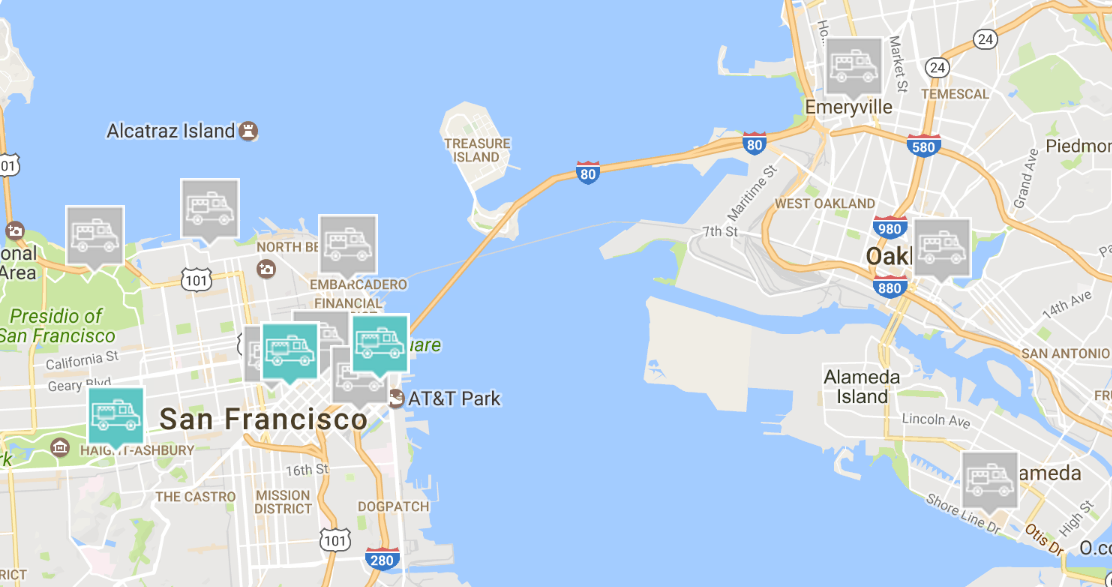 SAN FRANCISCO LOCATIONS
UN Plaza
10 United Nations Plaza, San Francisco
Upcoming Schedule:
Thu 11-2pm, Tue 11-2pm
South Park
340 Brannan St., San Francisco
Upcoming Schedule:
Thu 11-2pm, Tue 11-2pm
Upper Haight
Stanyan St & Waller St, San Francisco
Upcoming Schedule:
Thu 5-9pm
Civic Center
355 McAllister St, San Francisco
Upcoming Schedule:
Fri 11-2pm
5M: 5th & Minna
410 Minna St, San Francisco
Upcoming Schedule:
Fri 11-2pm, Wed 11-2pm
5th & Townsend
699 5th St., San Francisco
Upcoming Schedule:
Fri 11-2pm, Mon 11-2pm
Vallejo & Front
850 Front St. , San Francisco
Upcoming Schedule:
Fri 11-2pm, Mon 11-2pm
Fort Mason Center
2 Marina Blvd, San Francisco
Upcoming Schedule:
Fri 5-10pm
Presidio Picnic
Main Parade Ground, San Francisco
Upcoming Schedule:
Sun 11-4pm
Serramonte
39 Serramonte Center, Daly City
Upcoming Schedule:
Tue 5-9pm, Tue 5-9pm
EAST BAY LOCATIONS:
Lake Merritt
1000 Oak St, Oakland
Upcoming Schedule:
Fri 5-9pm
Emeryville
Park Avenue & Haven St., Emeryville
Upcoming Schedule:
Wed 11-2pm
Alameda @ South Shore Center
535 South Shore Center, Alameda
Upcoming Schedule:
Sat 11-3pm
El Cerrito
6159 Fairmount Ave., El Cerrito
Upcoming Schedule:
Wed 5-9pm
Click here to find the location closest to you!