The Latest from Treasure Island: New Shipping Container Restaurant & Bar 'Mersea' Set to Open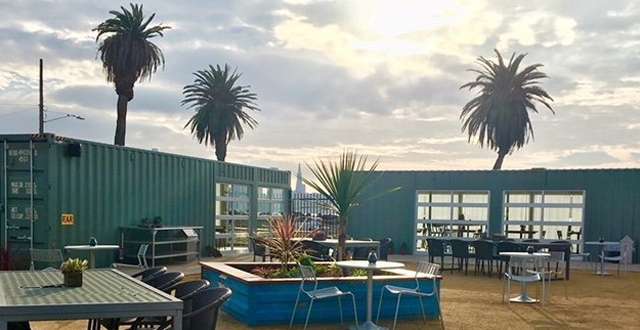 A new comfort-casual restaurant on Treasure Island called Mersea, built entirely from 13 recycled shipping containers, officially opens its doors on Friday, January 12. The menu was developed by Executive Chef Parke Ulrich from Waterbar and EPIC Steak and the building offers elevated, panoramic views of the San Francisco skyline, Bay Bridge, and Golden Gate Bridge from every seat.
Mersea will be open 7 days a week, for breakfast, lunch, and dinner. The restaurant's name comes from an Old English word meaning "island oasis," which is an accurate description given Mersea's eccentric menu and impressive design, topped with an outdoor bocce ball court and putting green. There are also a number of living walls made up of plants and succulents throughout the space.
Mersea's menu features a variety of cuisines representing the cultural diversity of the Bay Area. Globally-inspired dishes include Pork Roll and Egg Sandwich with kimchi, aioli and arugula; Togarashi Spiced Kettle Corn; and Chicken Shio Ramen. There are also American classics like Clam Chowder, Double Stacked Wagyu Cheeseburger, P3 Philly Cheese, plus an assortment of salads, soups, sandwiches, seafood favorites, snacks, and desserts. Breakfast offerings include assorted pastries from San Francisco cafe Bakeworks, egg sandwiches, brioche French toast, along with a build-your-own toast option. No word yet on what type of bar drinks will be served.
RELATED: Finalists Named for Three Major Art Projects on Treasure Island, Including Ai WeiWei
In addition, Mersea has floor-to-ceiling windows offering stunning views, sleek bathrooms, and a cozy private dining room deemed the "Board Room" – a nod to Chef Parke's passion for surfing and water.
Mersea has added in some environmentally conscious elements through its use of repurposed materials, including the use of multiple pallets to create seating areas, using reclaimed wood for furniture pieces, designing an herb garden made out of recycled pallets, and converting kitchen panel doors into four large communal tables. Artist and carpenter, Joe Wrye and Parke Ulrich even built two communal tables made of maple bowling alley lanes from the old Treasure Island Bowling Alley.
Mersea
699 Avenue of the Palms, Treasure Island, San Francisco