Where to Buy Weed in the San Francisco Bay Area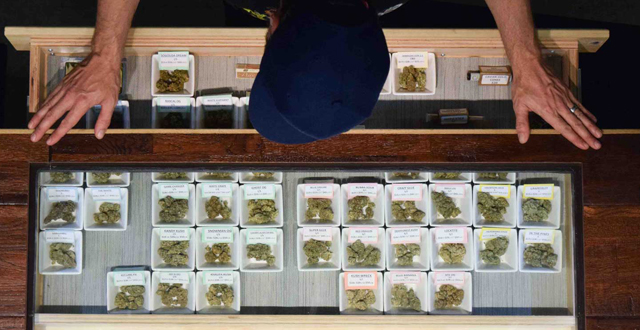 Now that weed is officially legal in California you can visit a local dispensary and pick up a variety of cannabis products, from your standard joints, to infused teas and candy. So far, San Francisco has licensed 16 medical cannabis dispensaries to sell recreational cannabis. The first round of licensing went into effect Jan. 6. This weekend, another nine clubs are expected to be added to the list.
The second round includes Purple Star MD, Flower Power SF, The Apothecarium (two SF locations), Harvest off Mission, SPARC (also the official cannabis sponsor of SF Sketchfest), San Francisco Foundation on Going Green, (SFFOGG), Barbary Coast Dispensary (advertising $40 quarter-ounces, which is more than 50% off), and Pure 710SF.
SAN FRANCISCO
Barbary Coast Collective
Flower Power
Grass Roots
Harvest on Geary
Harvest off Mission
MediThrive
Pure 710SF
Purple Star MD
ReLeaf Herbal Coop
SFFOGG
SPARC Lower Haight
SPARC Soma
The Apothecarium Castro
The Apothecarium Marina
The Apothecarium Soma
The Green Cross
BERKELEY
Cannabis Buyer's Club of Berkeley (CBCB)
Berkeley Patients Group
Berkeley Patients Care Collective
OAKLAND
Blum Oakland
Harborside
Magnolia Oakland
Oakland Community Partners
Phytologie
Purple Heart Patient Center
Telegraph Health Center
RICHMOND
7 Stars
Green Remedy Collective
Holistic Healing Collective
SAN JOSE
Airfield Supply Company
Caliva
Harborside