San Francisco's Legacy Business List: Historical & Cultural Hot Spots That Were Added in 2017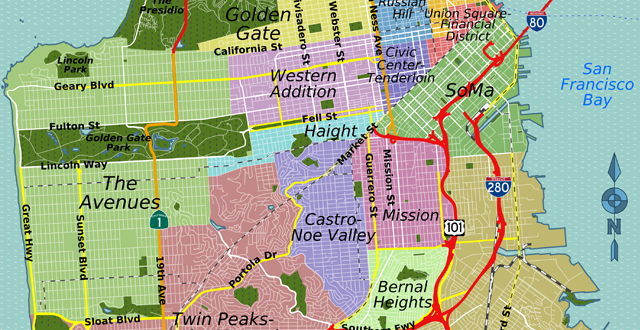 The Legacy Business list first became a thing in 2016 with 9 recipients gaining that title and its protections. In 2017, over 50 businesses that were considered of historical and/or cultural relevance were added to the list. While the list isn't exactly a guarantee of survival for any business or a free ride, the status does offer some financial assistance and gives the rest of us some hope that our favorite local institutions will still be around in 2018 and beyond.
Some highlights include El Rio, DNA Lounge, and Elbo Room, Noriega Produce (one of the family-run locations owned by Konstantinos "Gus" Vardakastanis, the well-known local grocer who was tragically killed after a hit-and-run in the Bayview in September 2017), as well as Flax art & design which remade itself with two new locations, one in Oakland and one in Fort Mason, after its move from its beloved Market Street location back in 2016.
One surprising name on the list was BrainWash, the laundromat, cafe, and local comedy spot in the SoMA which had also gone out of business in 2017. Other puzzling additions included the touristy chain Boudin's Bakery and Good Vibrations.
In a nutshell, here's how the Legacy Business Program works:
A business is eligible for Legacy Business status if it's been open for at least 30 years (although some exceptions to this rule are made), receives a nomination from the mayor or Board of Supervisors, and gets final approval from the Small Business Commission.
According to the San Francisco Office of Small Business, in 2015, voters agreed to create the Legacy Business Historic Preservation Fund, that would provide grants to both Legacy Business owners and property owners who agree to lease extensions with Legacy Business tenants. "It was the first legislation in the nation to recognize notable small businesses as historic assets and incentivize their preservation."
"Through the Legacy Business Historic Preservation Fund, Legacy Businesses on the registry may receive Business Assistance Grants of $500 per full-time employee per year, while landlords who extend the leases of such businesses for at least 10 years may receive Rent Stabilization Grants of $4.50 per square foot of space leased per year. The business grants will be capped at $50,000 annually; the landlord grants will be capped at $22,500 a year."
(Map of all the businesses added to the Legacy Business Registry.)
Here's who made the list this in 2017:
Acción Latina
2958 24th Street
Analytical Psychology Club 
2411 Octavia Street, #1
ArtHaus Gallery
411 Brannan Street
The Ave Bar 
1607 Ocean Avenue
Avedano's Holly Park Market
235 Cortland Avenue
Beck's Motor Lodge
2222 Market Street
Beep's Burgers 
1051 Ocean Avenue
Books Inc.
2251 Chestnut Street
3515 California Street
601 Van Ness Avenue
Boudin Bakery
Multiple Locations
BrainWash (Now Closed)
1122 Folsom Street
Brownies Hardware 
1563 Polk Street
Cable Car Clothiers 
110 Sutter Street, Suite 108
Cal's Automotive Center 
1004 Treat Avenue
Canessa Gallery
708 Montgomery Street
Date placed on Registry: June 12, 2017
Casa Sanchez
250 Napoleon Street Unit M
Chinese Historical Society of America 
965 Clay Street
Cinderella Bakery and Café 
436 Balboa St.
Cliff's Variety 
479 Castro Street
DNA Lounge
375 Eleventh Street
Donaldina Cameron House 
920 Sacramento St.
Eddie's Cafe
800 Divisadero Street
El Rio 
3158 Mission Street
Elbo Room 
647 Valencia Street
Elite Sport Soccer
1773 Haight St.
2637 Mission St.
Ermico Enterprises, Inc. 
120 Mississippi Street
Faxon Garage 
545 Faxon Avenue
FLAX art & design 
Fort Mason Center, 2 Marina Blvd, Bldg D
Gino and Carlo 
548 Green Street
Good Vibrations 
Multiple Locations
Great American Music Hall 
859 O'Farrell Street
Hwa Rang Kwan Martial Arts Center 
90 Welsh Street
Izzy's Steaks and Chops
3345 Steiner Street
Jeffrey's Toys
45 Kearny Street (Opening Soon)
(510) 898-1507 (Berkeley Store)
Joe's Ice Cream 
5420 Geary Boulevard
Little Joe's Pizzeria 
5006 Mission Street
Long Boat Jewelry 
754 Grant Avenue
Nihonmachi Little Friends 
1830 Sutter Street
Noriega Produce
3821 Noriega Street
Ocean Hair Design 
1619 Ocean Avenue
One Twenty For Hair
155 Main Street
Pacitas Salvadorean Bakery 
10 Persia Avenue
Perry's San Francisco
1944 Union Street
Phoenix Arts Association Theatre 
414 Mason Street
Project Inform 
273 Ninth Street
Real Food Company
2140 Polk Street
Red and White Fleet 
Pier 43 1/2, Fisherman's Wharf
Retro Fit Vintage
910 Valencia Street
Rolo San Francisco, Inc.
1301 Howard Street
2351 Market Street
Rooky Ricardo's Records
448 Haight Street
Ruby Sailing
Office: 1129 Folsom Street
Boat Dock: 835 Terry A. Francois Blvd.
Russian Hill Bookstore
2162 Polk Street
San Francisco Eagle Bar 
398 12th Street
Shanti Project 
730 Polk Street #3 (Headquarters)
3170 23rd Street (PAWS)
Spectacles of Union Square 
177 Maiden Lane
Tommaso's Italiano Ristorante 
1042 Kearny Street