Seeking Input: How Should the City Use the Old SF Mint?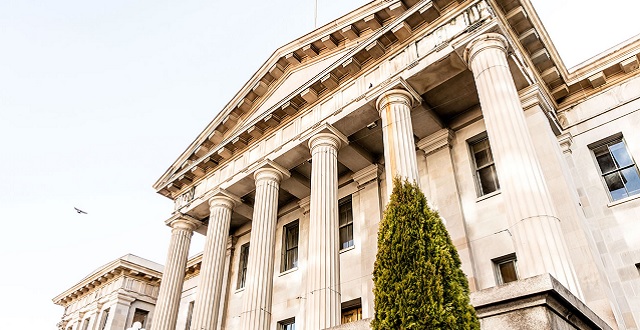 Since late in 2015, San Francisco and the California Historical Society have partnered to transform the Old Mint into a vibrant, sustainable place for history and culture. The city is seeking ideas from the local community for how to best use the "The Granite Lady," a marketing term for the building coined back in the seventies. Today's meeting is the first of four brainstorming sessions planned between now the end of the year.
The Old Mint, not to be confused with the New Mint at 155 Hermann Street, was constructed back in 1874 and is located at 88 5th Street cornering Mission Street. It is currently both a California Historical Landmark and a National Historic Landmark, which means any renovations will be governed by state and federal preservation standards. Besides just how to use the building, there is a need to update the structural stability and ensure it meets ADA compliance and current seismic retrofit standards.
"The Granite Lady" is slightly misleading because only the base of the building is constructed from granite, while the remainder is made of sandstone. It was open to visitors until 1993. In 2003, the federal government sold the structure to the City of San Francisco. Since then, it has been used as a historical museum and event space. It does not currently produce circulating coins.
Some noteworthy features of the 999-person capacity Old Mint are 52,000 square feet of usable space inside, 30-foot tall ceilings, and a 4,000-square foot interior courtyard. Examples of previous events held there include SF History Days, weddings, and dance parties.
The California Historical Society recently obtained a $1 million grant from the California State Library to develop a proposal for the future of the building. To make the best decision on the building's fate, four public workshops are part of the first phase of public outreach to develop a proposal for the building's future. The objective? Have a full proposal for the facility's overall rehabilitation ready for review by the Board of Supervisors before the end of 2019.
The society hosted a series of focus groups this summer, and subsequent workshops will be scheduled to discuss more specific proposals once they have been developed. More information about the meetings and project scope can be found at The Old Mint Restoration Project.
Workshop Schedule
• Monday, November 13, 7:00–8:30pm at The Old U.S. Mint
• Monday, November 27, 4:00–5:30pm at San Francisco Public Library, Main Branch
• Saturday, December 2, 12 Noon–1:30pm at Chinese Historical Society of America
• Monday, December 11, 7:00–8:30pm at San Francisco Public Library, Presidio Branch