San Francisco's Top 10 Halloween Parties of 2017: An Audio/Visual Preview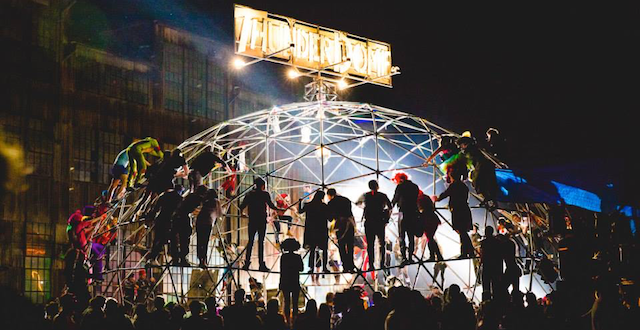 Each Halloween in the Bay Area, we face a frightening amount of hell-raising ragers to turn us all into zombies, stiff-legging through the following work week. And this is one of those glorious years where we find the weekend's festivities of All Hallow's Eve preceding the actual holiday and melting into Monday and Tuesday. Meaning you get to head to the office on Monday (and Tuesday) with an excuse to dress as undead pirates, or whatever else from that half-stocked costume drawer.
But before we look at the best of them, let it be known; this writer also works at two of the best clubs in the city—Public Works and The Midway SF. So, in an attempt at sidestepping the conflict therein, you won't find their events on this list of San Francisco's top Halloween parties. But if you're curious enough to follow a snake tail into a room of statues and ruins (wink, wink), then maybe you'll be interested in shakin' your rattle with us and Gorgon City at The Midway on the 28th, anyway. 
With that said, these are the top ten parties that have a scary chance of spiking my FOMO-meter while I'm hard at work this Halloween.
https://soundcloud.com/timsweeney/antenes?in=timsweeney/sets/bis885
Surface Tension Halloween: Antenes / 400PPM / HOM
The style of techno Surface Tension brings to SF is already frighteningly fringe. With an opportunity to go even darker, S.T. is bringing analog noisemakers from the underground of New York, Antenes and 400PPM, to match with Oakland's own, HOM.
Friday, October 27th, 1192 Folsom, 10pm-late, Tickets (~$16-20)
Deadly Disco: Duke Dumont / Classixx / Viceroy
This hell-raiser is sure to feature whips, bondage, and deep disco cuts! While Deadly Disco has sold-out three years in a row, ravers must beware…the CAN'T BRING list for this party includes furry boots and flow toys, while cautioning against kandi, sending a clear message—this is not a rave.
Friday, October 27th, The Armory , 9pm-2am, Tickets ($60-100)
https://youtu.be/drbGNEqZlbI
Bad Acid Presents: Hallorager V 
For those dive-bar demons, those in need of a break from 808s, or for those looking to catch a rad show before hitting the late night scene, fix yourself on Bad Acid's party at Thee Parkside. The hometown glam-punks, Glitter Wizard headline as Pink Floyd, right after Hell Fire rips a Metallica set. Plus a few other clever cover acts are set to hit the stage.
Saturday, October 28th, Thee Parkside, 9pm-late, Tickets ($10)
Phantasm: Hall of Mirrors w/ Hot Since 82 & Vau de Vire Society at The Armory
Opel & Vau de Vire Society take to the Armory for a nightmare of fun. This year, godless sinners and feral demons will run amuck in K!NK's porn palace, mash the dance floor to the sounds of Hot Since 82, and feast eyes on incredible art installations and aerial acrobats. See the appetizing trailer for this year's experience above.
Saturday, October 28th, The Armory, 9pm-4am — Tickets ($60-150)
LoveBoat Halloween w/ Moby & FatBoy Slim
With respect to the victims and all those touched by the tragedy at an Oakland art space last year, LoveBoat is the new name of the two-night rave at Pier 70 we once knew as Ghost Ship. This is the behemoth of Bay Area Halloween bashes and proves it's still on top with a lineup led by Fatboy Slim (Friday) and Moby (Saturday). The production value behind the art, music, and overall experience at this event always justifies its price tag. But in case you're not convinced, see the undercard, stacked with The Polish Ambassador, Soul Clap, and locals Shiny Objects, Vitamindevo, and MPHD, to name just a few.
Friday & Saturday, October 27-28th, 9pm-4am, Tickets ($85 single, $160 weekend)
Insomniac's BOO! SF w/ Dillon Francis, A-Trak & Zeds Dead — 
Leave it to Insomniac (Electric Daisy Carnival) to spook the Bass scene back to life in The Bay. Along with the gargantuan skull that has lurked over stage at the Bill Graham for past BOO! events, Insomniac and Deadbeats are bringing big names like Dillon Francis, Zeds Dead, A-Trak, What So Not, and Borgore. Don't be surprised if there's an onslaught of lasers, fog, and flames here.
Friday & Saturday, October 27-28th, Bill Graham Civic Auditorium, 9pm-2am, Tickets (~$82 single, $155 weekend)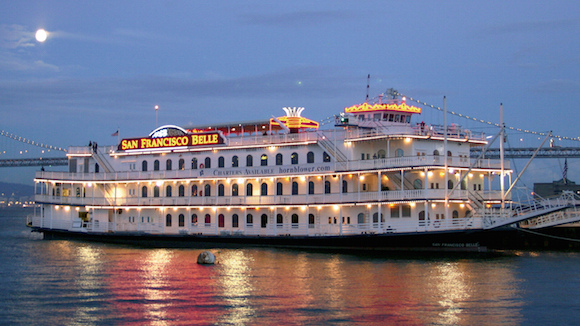 The San Francisco Belle
Sunset Sound System Halloween Costume Boat Party
Rumors claim this to be the best Halloween party in SF. If you're hip on the event quality of the Sunset Sound System crew, you won't have to stretch the imagination to believe the hype, and you probably already have a ticket. If you don't, you should. The San Francisco Belle pushes off the dock right around sunset and cruises the Bay with city lights on the backdrop and Catz N' Dogz, DJ Three, and more on the decks. The ship lands ashore again just in time for an official afterparty at The Great Northern.
Sunday, October 29th, The San Francisco Belle, 5-11pm, Tickets (~$75-80)
Techno Halloween featuring Kölsch
For those who DGAF about Wednesday morning, Audio will be throwing down proper with their own Halloween party on the night of, featuring Kölsch—the Scandinavian producer responsible for the smash remix of Monkey Safari's hit "Cranes." 
Tuesday, October 31st (Halloween Night!), Audio SF, 9:30pm-2am, Tickets ($10)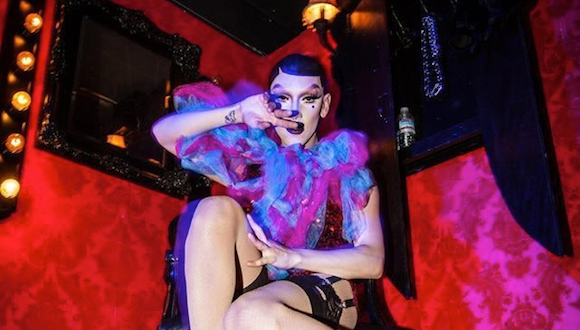 Tutu Tuesday
Halloween with Tutu Tuesday & You're Welcome
— 9pm-2:30am— Tickets ($10)This Halloween lands on a Tuesday, and San Francisco's favorite Tuesday party throwers haven't missed a beat. With so many hometown heroes brought together under one roof, this Halloween soirée is sure to be one twisted family gathering—like an Addam's Family reunion, but with a lot more tulle bouncing around. 
Meet the vibe keepers booked to spin for the night: Patricio curates Lightning in a Bottle's infamous Favela Bar; Zach Walker produces Pink Mammoth; Ramona Wouters is a fast-rising SF-based house DJ raised on Belgian techno; Shane One is one part of Pillow Talk and likewise of the Sunset Sound System squad; and Benjamin K is the man behind You're Welcome, who we'll all be thanking after this Halloween. All for just $10?—If you're not there, we'll assume someone's eaten your brains by then.
Tuesday, October 31st, Monarch, 9pm-2:30am, Tickets ($10)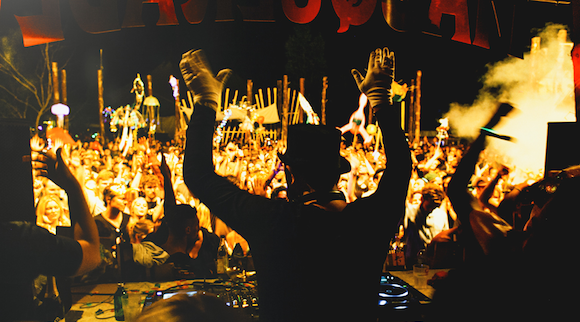 Claptone's "The Masquerade" in New York
Claptone's Masquerade w/ Special Guests
DJ Mag is taking over Halcyon for a masquerade with the masked maestro himself, Claptone. He's bringing some special guests along with him, so get ready to dance your mask off. And be sure to arrive early, as the open bar makes entry worth the coin.
Author's Edit: Claptone has since announced his special guests as Tensnake and Christian Martin. And this writer must now admit a gross underestimation of this event's magnitude. Open bar or not, this event just became a steal.
Tuesday, October 31st, Halcyon, 8pm-4am, Tickets* ($70-80), includes 2-hour open bar, 8-10pm

Related: The SF Station Halloween Event Guide 2017
Related: 9 SF Bay Area Pumpkin Patches & Haunted Houses to Hit this Halloween
+++As always, please party responsibly and respectfully. No costume invites unwanted advances.