9 SF Bay Area Pumpkin Patches & Haunted Houses to Hit this Halloween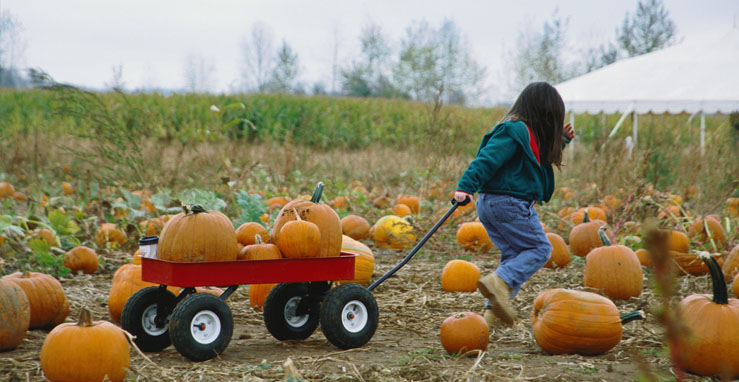 If you are looking for more family-friendly pumpkin patches to the scarier haunted house variety, then we have you covered. Here is a list of some of the best attractions for this Halloween season.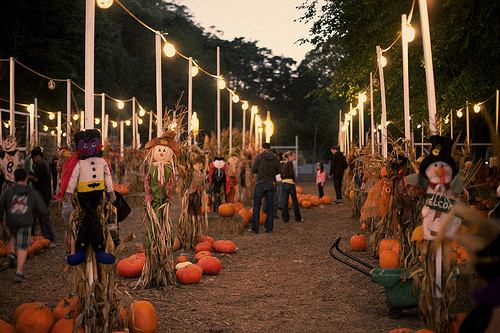 Pumpkin Patches in the San Francisco Bay Area
Clancy's Pumpkin Patch
1620 7th Ave., San Francisco
9am-9pm every day in October
This classic city spot first opened for business back in 1979. Come see ghosts in the scraggly trees, scarecrows in the pumpkin patch, and meander through a hay maze. Their selection includes a variety of mini pumpkins, Sugar Pie pumpkins, Cinderella pumpkins, as well as blue, white, and striped pumpkins.
Arata's Pumpkin Patch
185 Verde Rd., Half Moon Bay, CA 94019
Sunday – Thursday, 9am – 7pm, and Friday – Saturday, 9am – 10:30pm
Lose yourself in Arata's 6-acre corn field and pumpkin river and try to navigate their 2-acre world-famous Minotaur's Labyrinth Hay Maze. If you still have energy, take a walk through their Haunted Barn…if you dare!
Piedmont Avenue Pumpkin Patch
4414 Piedmont Ave, Oakland
9am-8pm every day in October
Several different types of pumpkins can be acquired at Oakland's oldest and cutest patch. Collect over 15 varieties of pumpkins, ranging from traditional Jack O' Lanterns and Sugar Pie to exotic Tonda Pandana and dark green Kabocha. This patch has been in business for 22 consecutive years, making it one of the East Bay favorites.
Moreland Education Foundation Pumpkin Patch
4825 Doyle Rd., San Jose
This not-for-profit organization combines community building and fundraising for great family fun, attracting more than 3,000 visitors each year. All schools in the Moreland District work together to create a magical pumpkin patch where kids can play games, explore, get spooked, try new foods, listen to stories and work on crafts. Beyond traditional pumpkin sales and family-friendly events, actors and Halloween enthusiasts transform the Moreland Woods into Grimm's Hollow, a scenic trail.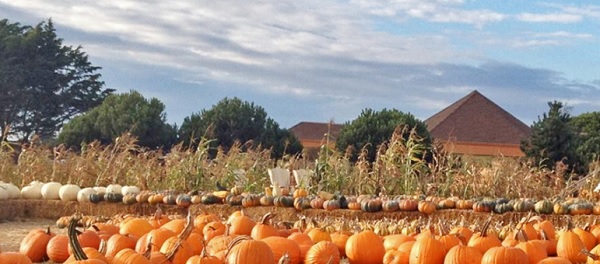 Farmer John's Pumpkin Patch
850 North Cabrillo Highway, Half Moon Bay
Monday–Friday 9am–5pm, Saturday & Sunday 9am–5pm
Fun, family atmosphere in a relaxing oceanside setting where all are welcome, including canine friends. Diverse variety of pumpkins are grown on-site, including the Atlantic Giant. This family-run farm has been in business since 1947.
Haunted Houses in the San Francisco Bay Area
Great America's 10th Annual Halloween Haunt
4701 Great America Pkwy, Santa Clara
Fridays, Saturdays and Sundays in October
Head to the best theme park in the south Bay to experience eight haunted mazes, five skeleton key rooms, live shows, scare zones and hundreds of monsters at every turn. A classic roller coaster has been transformed as "Demon: Re-ignited" with an array of lights, fog and the blood red waterfall.
Halloween Haunted House & Trick or Treat Trail
Bayview Opera House Ruth Williams Memorial Theatre
4705 3rd Street
5-9pm, Tuesday, October 31
Bayview Opera House will be featuring a free-to-enter haunted house as one of the trick or treating stops on Halloween night. Stop by the Haunted House (created by BMAGIC, YMCA, and CYC) to grab a map of all the participating merchants on the Trick or Treat Trail along 3rd Street, stretching from Evans to Williams streets. Additional Halloween activities include a costume contest, mask making, pumpkin carving and decorating, plus candied apples and more.
Fear Overload Scream Park
15555 E 14th St., San Leandro
7pm-12am, October 13-31
Explore two horrifying haunted houses and enjoy live entertainment, for mature audiences.
Tam Valley Haunted House
Tam Valley Community Center, 203 Marin Ave, Mill Valley
3-9pm, October 20-22
The sights get scarier as the evening goes on. 3-4:30pm is deemed the scare-free times for those under eight years old, while 5-6pm is a bit scarier for those ages nine and over, then from 7:30-9pm it's a full-on scare fest.
10 Old School Scary Movies Creeping Back into SF Bay Area Theaters this October