It's National Eat Outside Day! 5 Awesome East Bay Spots for the Occasion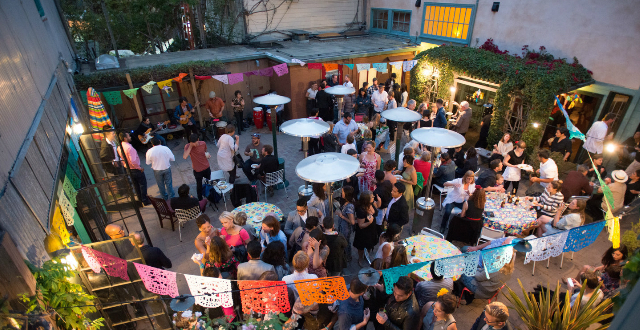 On August 31st, we're welcoming a holiday of utmost importance: National Eat Outside Day!
All around the world, eating outdoors is a summer staple, and in the Bay Area – given it's Fogust out there – the activity is best done in the East Bay, where delicious food pairs nicely with pleasant weather.
Head to one of the following places for the best combo of flavor, people watching and sun.
Paradise Park Cafe
The Park Cafe group, responsible for Dolores Park Cafe and Duboce Park Cafe, finally made the leap across the bay and opened its first East Bay spot this month. The newly minted Paradise Park Cafe is spacious and airy, with seating all around the building. The location is on a busy, sunny street corner on the Emeryville-Oakland border, great for soaking in the neighborhood. On the menu, you'll find delicious chickpea tofu bowls, a mouth-watering fried chicken sandwich, and a list of dishes to brighten up your daily grind.
6334 San Pablo Ave, Oakland
Calavera
Located in the trendy Hive complex, which hosts a coworking space, a trendy hair salon and other Oakland businesses, Calavera is roomy, atmospheric and always fun. As much as the indoor space is chic and suitable for festive gatherings, the outside patio is where it's all at; watch downtown Oakland's finest strutting down Broadway while munching on creative tacos and delicious agave cocktails. What's not to like?
2337 Broadway St, Oakland
Mission Heirloom Cafe
Tucked away and absurdly wholesome, Mission Heirloom doesn't always get enough credit, but it's one of Berkeley's most beautiful spots. The back yard seating, complete with woolly blankets for colder days, will make you forget all about the noise outside, as you sip matcha latte surrounded by luscious plants.
From the menu, the Brazilian breakfast (cheesy waffles, avocado and topped with sous vide eggs) is especially good.
2085 Vine St, Berkeley
Dona Tomas and Cholita Linda
Practically across the street from one another, this Temescal duo offers authentic Mexican cuisine in a colorful and friendly setting. The Cholita Linda patio is slightly smaller and more intimate, while Dona Tomas goes all out with a bigger, bolder back patio. Both are ideal for several rounds of nachos, beer and juicy tacos.
4923 Telegraph Ave, Oakland (Cholita Linda) and 5004 Telegraph Ave, Oakland (Dona Tomas)
Westbrae Biergarten
Under the Bart tracks and close to the Ohlone walkway and bike path, Westbrae is a beloved local spot welcoming groups of friends, families and even pets. Choose among endless beers and lagers, and let the permanently parked Brazil Cafe food truck feed you Tri-Tip sandwiches, linguica sausage and bacon wrapped chicken nuggets.
1280 Gilman St, Berkeley
Honorary mentions:
The Trappist for their cozy back yard-which is both romantic and hip.
Lake Chalet, with Lake Merritt views aplenty.
Navi Kitchen, Emeryville's newest sun patio.
Drake's Dealership is perfect for people watching and craft beer. Also, the fire pits!