It's National Fried Chicken Day! 9 Savory Stops in San Francisco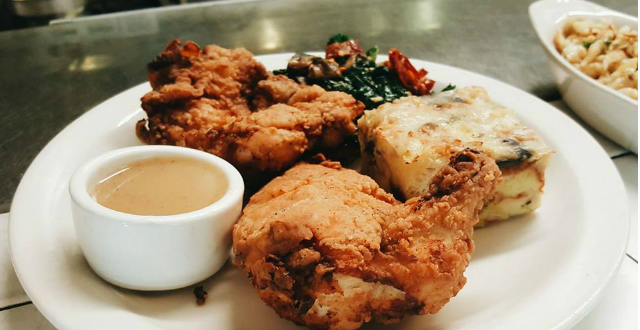 The post-Fourth of July food festivities continue with, July 6th, coined as National Fried Chicken Day! Celebrated for its all-American charm and overall decadence, fried chicken is a summertime all-star. In San Francisco, however, no staple dish ever stays true to form. Local chefs love to play with the classics and reinvent the wheel – and fried chicken is no exception.
To honor the occasion, we went in search of the city's most delicious, diverse and interesting takes on fried chicken.
Nomica: Chicken and Waffles
Nomica serves up a contemporary take on Japanese food. Known for its order-ahead chicken in a brioche, the elevated Upper Market restaurant is no slouch when it comes to fried chicken. Their unexpected twist on Chicken and Waffles is a legitimate dinner entree, made of succulent and crispy karaage chicken, beer-based waffle, trendy matcha butter and, for good measure, tried and trusted maple syrup.
2223 Market St
The Saratoga: Mole-Fried Chicken
This stylish bar and eatery is full of great, crave-worthy dishes, and one of them is the sweet and salty mole fried chicken, featuring a juicy bird coated in fragrant mole sauce and sesame seeds, then fried. For those used to the Mexican mole in stew form, this is a nice twist, served with pickled slaw and traditional crema.
1000 Larkin St.
China Live: "Chicken of the Sea" Wings
The new Chinatown food emporium loves its chicken in every shape and form, from juicy dumplings to fiery salads. One of the best chicken creations to be found at the Market Restaurant's sit-down section is the wings, generously coated in shrimp paste and curd and fried to perfection. Get as many napkins as you can and dig in.
644 Broadway St.
Rooh: Chicken 65
As Instagram-worthy as it is delicious, Rooh's fried chicken dish is an appetizer like no other. The lacquered, tasty bites are served with a crispy onion uttapam, sour cream, peanut chutney, podi masala, and radishes. Once you're ready to make a mess, all the ingredients mix into a sweet-sour-spicy celebration.
333 Brannan St.
Magnolia Gastropub: Fried Chicken Thursday
The clever brewery and eatery makes fried chicken special by serving it only one day a week. The rest of the days you have to wait but on Thursdays, oh it's on! Another twist? Flavored with cayenne, paprika, onion, garlic powder, the two-day soaked recipe includes a doubled-fried technique, resulting in an incredibly crisp texture. Order up the seasonal sides to spice things up even further.
1398 Haight St.
4 More stand-out fried chicken dishes…
The Bird: a busy downtown spot offers free-range chicken coated in fiery berbere spice blend and stuffed into a bun with celery, house-made apple slaw, mayo and pickles.
Finn Town: cornflakes-crusted chicken, delicious aioli, slaw and pickles, plus a freshly-made brioche bun is home-cookin' heaven.
E&O: celebrating its 20th anniversary, E&O is an O.G. when it comes to serving up a mean crispy chicken sandwich. Complete with kochujang glaze and a chayote-green apple slaw, this is a long-time SF favorite.
Front Porch: There's a cookbook sold here but leave the cooking to the pros. The 4 piece fried chicken is always seasoned and prepared to perfection. It comes with the garlic mashed potatoes & gravy, ham hock collards and is large enough to split. Throw in the baked mac n cheese and the fried okra with jalapeno aioli and you're in for a southern-styled feast!
Do you have a favorite spot? Feel free to share it (if you dare!) in the comments below.