Mission District bar Trick Dog, is known for its creative and ever-evolving menu concepts. Now for the bar's 10th bi-annual menu, which launched earlier this month, they introduced a dozen new cocktails that collectively doubles as a children's book sold for charity. Trick Dog's impressive concoctions were recently recognized by the cocktail industry's Spirited Awards who awarded Trick Dog with the 2017 award for "World's Best Cocktail Menu."
The new drink menu, which will be available for the next six months, was created in collaboration with the satirical publishing company and website McSweeney's. Trick Dog and McSweeney's extended the menu to also function as a tongue-in-cheek children's book called Rhymes with Trick Dog. Each rhyme is illustrated by San Francisco-based artists Kelly Tunstall and Ferris Plock, accompanied by a poem written by Oakland's Daniel Levin Becker. The menu and book's forward was written by McSweeney's staff, with the printing done by Solstice Press.
All of the cocktail names rhyme with "Trick Dog," such as "Seasick Hedgehog" served with vodka, citrus and vanilla, as well as the "Dramatic Pollywog" which has carrots and gin. Click here to review the entire menu.
The book is sold onsite at the bar for $35 and proceeds support the charitable arm of McSweeney's and SOMArts.
Trick Dog was conceived by the Bon Vivants team, co-founded by Josh Harris and Scott Baird. Past menu themes have included Zodiac signs, Pantone colors, vinyl records, and tourist maps.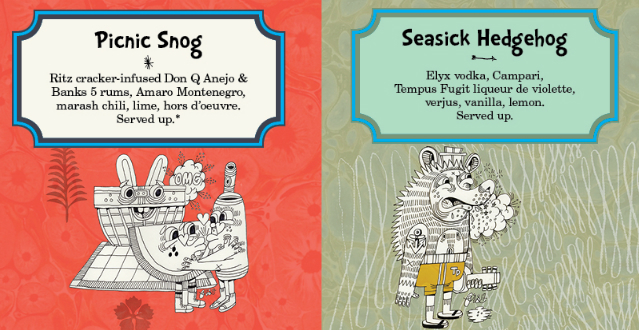 +++ Trick Dog
3010 20th St.