Happy National Ice Cream Day! 5 Unusual & Amazing Flavors Found in San Francisco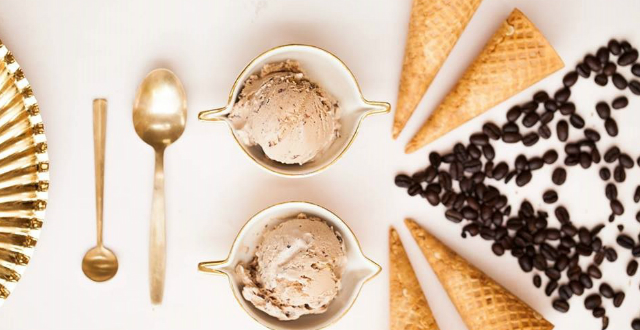 If you saw the incredibly depressing movie Christine, you know eating ice cream and singing out loud can fix pretty much anything. The cold, creamy, comforting dessert is an everyday sensation but on National Ice Cream Day, traditionally celebrated on the third Sunday in July, ice cream gets the royal treatment. And while chocolate chip, strawberry and friends are forever winning options, San Francisco has no shortage of new, gourmet, ready-to-be-licked flavors. The bonus? Some of them can be found in the city's newest, prettiest creameries.
This summer, opt out of the classics and check out these stand-outs:
Salt and Straw: Birthday Cakes and Blackberries
Epic lines have been forming outside Salt and Straw's first San Francisco location since opening, and rightfully so. The Portland-based creamery is responsible for some of the craziest flavors in the U.S., and their seasonal varieties are truly revolutionary. For July, in a close competition with the spicy Goat Cheese Marionberry Habanero, the winner is Birthday Cakes, tasting like an indulgent vanilla cake with swirls of homemade blackberry jam. Sprinkled with Technicolor sprinkles, this is the ultimate sweet-meets-tart flavor.
2201 Fillmore St
Coletta: Almost Chai
There's something about chai-flavored ice cream that just screams "San Francisco summer". Maybe it's the healthy connotation? In any case, Coletta, the new downtown gelato parlor, was founded by two handsome Italians, and their brand of the cold treat is smoother and silkier than classic ice cream. Among all the excellent flavors, The Fior di Latte-flavored gelato, infused with cinnamon, cardamom and ginger, is a real smooth operator.
685 Harrison St
Castro Fountain: Yas Queen
The vintage uniforms, the tile, the logo—everything about Castro's new spot is too cute for words. Bringing together impressive cakes, cookies, ice cream flavors and sweet drinks, the Fountain is a major crowd-pleaser, but picking just one flavor is quite impossible here. The best ice cream flavor, for the moment, is the aptly named Yas Queen, featuring delicate cream cheese ice cream, butterscotch swirl and rainbow cake pieces. In the mood for something lighter? The watermelon sorbet is a refreshing option.
554 Castro St
Garden Creamery: Butter Mochi
This Mission ice cream spot opened in February, aiming for everyone's Instagram accounts with cool, Asian-inspired flavors and photogenic chimney cones instead of the regular waffle ones. There are plenty of options to make an ice-cream lover giggle with delight, from the salty Ume Plum to the self-described 'Intense Black Sesame', but the winner has to be the Butter Mochi Toasted Sesame, combining rich mochi with toasted sesame seeds. Gooey, crunchy, and oh so addictive.
3566 20th St
Milkbomb: Pretty much anything
Ice cream, candy and fudge served in a doughnut? Milkbomb, the newest San Francisco decadence destination, "votes yes." The Potrero Hill shop is offering a variety of glazed doughnuts, sprinkles and ice cream flavors, out of which the most indulgent one is Purple Yam. Not to be eaten in festive clothes, this is the dessert to beat this summer.
1717 17th St