Stern Grove Festival's Admission-Free Concert Series Lineup Announced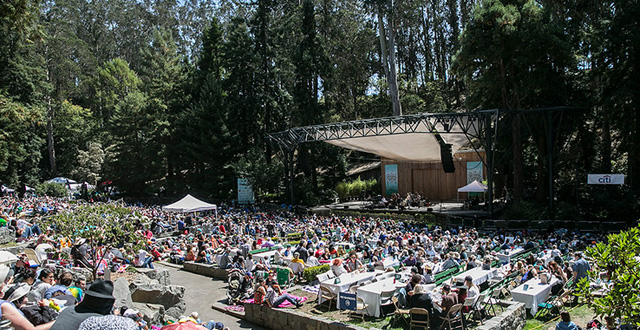 With the warm weather in full swing, and now that the organizers behind the Stern Grove Festival have unveiled the complete lineup for the 80th annual festival season, it feels like summer. For real. Now embarking on eighty years, which is undoubtedly a very long time for any series, the festival continues with world-class performances set in the woodsy Sigmund Stern Grove and is still admission-free after all these years.
Kool & the Gang were previously announced as the headlining act for the free kickoff picnic on June 25, and now the complete schedule for the entire summer has been revealed. See below for this year's calendar of performances. The concert series takes place every Sunday from June 25 to August 27.
June 25: The Big Picnic
Kool & the Gang, Quinn DeVeaux
July 2: Roots, Rhythm & Blues
Nicki Bluhm & the Gramblers, Fantastic Negrito
July 9: Mozart & More
San Francisco Symphony, Edwin Outwater (conductor)
July 16: Rock & Roll Rebels
Eric Burdon & the Animals
July 23: Cumbia in the Grove
Los Angeles Azules featuring Jay De La Cueva & Ximena Sariñana, Ensambles Ballet Folklórico de San Francisco
July 30: A Summer Classic
San Francisco Ballet, Helgi Tomasson (artistic director)
August 6: Afro-Pop Dance Party
Amadou & Mariam, Ibibio Sound Machine
August 13: Cross-Cultural Funk
War, Malo
August 20: Global Electronica
Brazilian Girls, Moon Hooch
August 27: Sunday Soul Jam
Mavis Staples, Kev Choice Ensemble
+++ All concerts begin at 2:00 p.m. at Sigmund Stern Grove, located at 19th Avenue and Sloat Boulevard (in San Francisco's Sunset/Parkside district).
Concerts are FREE and no tickets are required, however, donations are accepted and admittance is on a first-come, first-served basis. Please note: this is not in Golden Gate Park. Find additional festival info here.