Restaurant incubator La Cocina has been wowing the Bay Area with their entrepreneurial spirit and culinary powers. Now the group has organized their first La Cocina Restaurant Week which will serve as a week-long opportunity for diners to find out just what these chefs are cooking up. The festivities span March 6-12, bringing together La Cocina participants and alumni with local chefs to throw a series of fundraising dinners.
Restaurants will offer discounted prix fixe (fixed price) menus nightly with local entrepreneurs. 40 seats are available each night for $85 each. Below is the schedule of participating restaurants. Family-style meals will have three to five courses. Locations for these dinners are all over the Bay Area, from San Francisco to Larkspur, Berkeley, Walnut Creek and Emeryville. This event is already underway, so reserve your spot now!
– Monday, March 6 at El Buen Comer (3435 Mission Street) with Pizzeria Delfina and illy Caffé
– Tuesday, March 7 at El Huarache Loco with Three Twins Ice Cream, Belcampo and Marin Country Mart
– Wednesday, March 8 at A16 (2355 Chestnut) during their Festa Della Donna with El Pípila.
– Thursday, March 9 at Sabores del Sur (Walnut Creek) + a guest chef collaborator to be announced at a later date
– Friday, March 10 at Los Cilantros (Berkeley) with Arguello Restaurant
– Saturday, March 11 at D'Maize with Smitten Ice Cream
– Sunday, March 12 at Nyum Bai (Emeryville) with Sophina Uong of Mestiza Taqueria and Emeryville Public Market
La Cocina, a not-for-profit organization, has helped launch more than 20 Bay Area small businesses since its inception. Its support has been a crucial turning point for many dreamers to make their ideas a reality. La Cocina is proud to report that 97% of these businesses are female-operated and intentionally planned their Restaurant Week to coincide with International Women's Day on March 8.
La Cocina was born out of a belief that a community of natural entrepreneurs, given the right resources, can create self-sufficient businesses that benefit themselves, their families, their community, and the whole city. The food that has come out of this kitchen since 2005 reflects that aspiration and, quite simply, tastes amazing. -La Cocina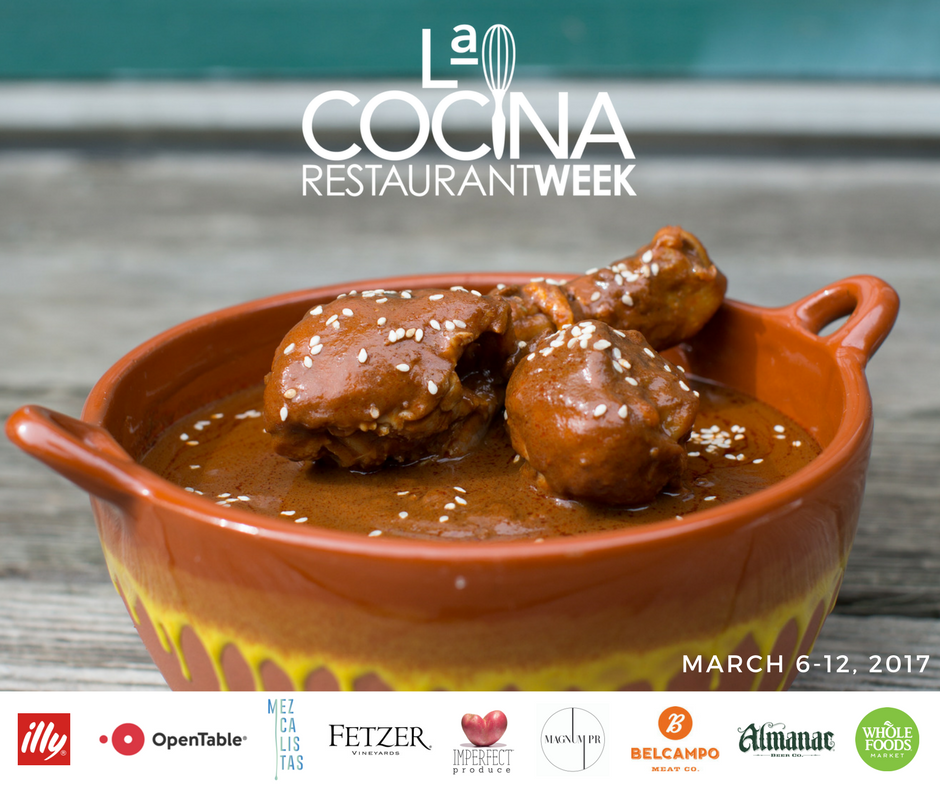 Related Article: La Cocina Supports Culinary Entrepreneurs & Serves Up the Fun with Tacos & Luchadoras