Q&A: SF Resident Viceroy on Local Bar & Dining Hot Spots, Plus NYE Show at Fort Mason Announced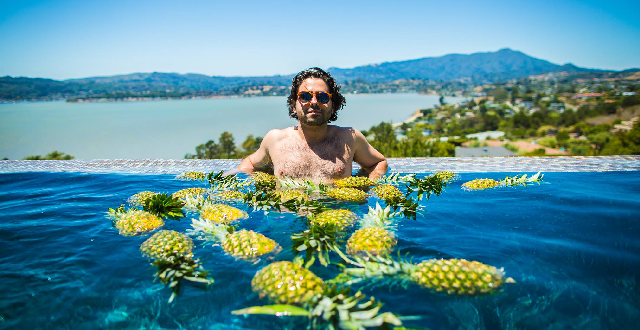 With Halloween now behind us, everyone can look forward to the end-of-year holidays and start making New Years' Eve plans. San Francisco always offers plenty of options, but partying at Fort Mason has been a consistently solid option for counting down to midnight on a more large-scale platform.
This year, Bay Area native and SF resident Viceroy brings his summertime-all-the-time vibes to the waterfront Fort Mason venue. Also appearing on the lineup are French DJ and tropical house producer Klingande with Arnold Sax, Kill Frenzy of Dirtybird Records, San Francisco house and nu-disco DJ The Schmidt, plus special guest pop duo Pretty, Handsome.
Other entertainment at the NYE show will include art installations, a giant Ferris wheel with sweeping views of the city skyline and the entire Bay, a virtual reality playground, in addition to a hip-hop silent disco hosted by HUSH Concerts and Channel #2 hosted by Northern Nights Music Festival. See below for the full event flyer.
The open bar, dance til 2am event is part of the 8th Annual Streets of San Francisco New Year's Eve presented by events organizer Eye Heart. Tickets are on sale now, starting at $109 for general admission and $160 for VIP options. Keep in mind that ticket prices will increase as inventory decreases, so grab them early while you can.
To preview the upcoming NYE festivities, we spoke with Viceroy to hear more about his musical development, his local restaurant investments, and his favorite spots in San Francisco.
Where did you grow up in the East Bay and what neighborhood do you currently live in?
I was born in Walnut Creek, then grew up in San Ramon, CA until I was 10 years old. Then my family moved to right outside New York in Connecticut. It wasn't until my senior year of college (2011) that my family moved back to the Bay. Now I live in Russian Hill
How did you get introduced to playing instruments or are you primarily self-taught?
I started playing piano when I was a little kid. I didn't have the patience for it. I ended up switching over to guitar and bass. That I took lessons for a long time throughout middle and high school and some stuff in college. I focused a lot of my time in learning production for fun. It wasn't something I took courses for or anything like that. That's when I learned how to produce music and I'm still learning a lot.
What did you learn about making and performing music from studying abroad and performing in Euro clubs?
I went to a small school called Trinity College in Hartford, Connecticut, in which I got to go study aboard with in Rome, Italy. When I was living there is when I started DJing. I had randomly gotten a job (while drunk, haha) at this local lounge, promoting and DJing one of the nights. I had no idea what I was going, and had never promoted a party before. So I just invited all my friends who were in the aboard program then started to learn to DJ on Ableton, because it was the easiest to learn.
I started learning stuff by doing mashups, which I had a little "mash-up career" in college. Then I got bored of all that and started learning about production. I was more interested in making disco and funky stuff. That's when I started Viceroy. In college, I had a lot of time to seek my interests and see what I wanted to do. I had fun with DJing and production.
How did you start the Viceroy name and brand?
It was all just organic. In December 2010, that was my senior year, and I just got sick of how many people were making mashups and how saturated the market was—I really liked more indie dance music back then. That was stuff I was interested in. I started messing around with that genre and put out a small EP with a French label in February 2011. That's when I launched. I thought the name sounded cool. Over time, things slowly started coming together from there.
Do you have any trouble maintaining the summertime vibes during the fall and winter months?
I just kind of do me. It has definitely grown over time into different things. It's essentially just fun music. That's what it really ends up meaning. Upbeat, fun music that people can have a good time to and not take too seriously. The branding fell under "summertime". It made a lot of sense and I've somehow been able to keep it going after the summer is over.
Do you also subscribe to the tropical house vibes?
The tropical house came on a couple years ago through Thomas [Jack] and Kygo. It's interesting…I do get labeled tropical house, [but] my sound is different for sure. I think with my branding being "Summertime," I kind of created the baseline for that to happen. The branding side though, not the music side. I definitely try to avoid being pigeon-holed into one label or genre. My music is way more than that. That's why I try to subscribe to a feeling or a mood or a theme for the music rather than a specific genre.
How did you decide to partner with local act Giraffage on, "Impression Of You?"?
We met each other at a festival, actually. We had the same ride from the airport to the festival. It was years ago in Tennessee. He's just a great kid. Charlie [Yin] lives in the city as well and grew up in the Bay Area. We have very different sounds, which made it fun to do a collab. There's an overlap in the audiences, but the sound is different. We're working on another track right now that we're hoping to put out [soon].
Do you have any dream collaborators?
That's a tough question. It's a huge musical world these days. All kinds of talent. I think I'd love to work with Gallant for vocals. I think he's really cool. Dude has just an insane voice. Producer-wise, there's definitely a big list. I admire Oliver. It would be fun to work with those guys. I've gotten to know Vaughn "U-Tern" Oliver over the years. It would definitely be an honor to work with people who are super talented in the production world, who've been doing their thing for years, and could allow me to learn some things.
What is your favorite beach in the world?
I always liked going to the beaches in the Cape Cod area in Massachusetts and Nantucket. It's definitely a very seasonal thing specific for the east coast. It reminds me of college. When I was younger before I had any serious job. For me, that place is definitely a special place in my heart. I've been to Grand Cayman, Hawaii…I especially like Kauai a lot. I think, more so, I like placed that meant something to me at different ages in my life, [having grown] up in different places in the United States.
You have investments in two SF restaurants, the Palm House and the Dorian. What are your favorite dishes from there?
The [Palm House] menu is constantly changing. The new menu is great that they started back in January. It might sound strange but the Philly cheesesteak tacos are a favorite. Also their jerk chicken taco just won an award and their drinks are where it's at.
As for the Dorian, I'm one of the three partners with a couple good friends. I'm not really part of the operation aspect, with the full time music stuff and all. We just won best restaurant in 7×7 and best cocktail. As for the menu, I love going there for the oysters. I love oysters a lot. The beef tartare is really good, and the rib-eye…plus they have all kinds of  sliders. It all depends what you like. There's a good variety at both restaurants.
Where would you get a cocktail on a Friday Afternoon in San Francisco
I really like Balboa Cafe in the Marina…it's been there for years. It's just a classic spot. I always love sitting outside and getting a cocktail there. Places like that or places downtown…if I want to meet my friends for happy hour, they mostly work in that area. Also there the outside bar at Hotel Vitale, it's right outside the Ferry Building. The El Techo rooftop in the Mission is also great. It depends what I'm feeling. Those are probably my favorite places to go grab a drink and start the night off on Friday.
To stay current on upcoming Viceroy shows, check out Viceroy's website, Facebook, and SoundCloud."