After overwhelming inaugural success last year, San Francisco house music label Dirtybird has released the full lineup for its 2nd annual Dirtybird Campout.  This three-day festival located at the Oak Canyon Park in Southern California brings a stacked lineup of underground house music, as well as camp-themed games and activities – tug of war, boat races, barbecues, talent shows, archery, and dodgeball. It's basically like your chance to live out your unfulfilled childhood camp dreams… plus booze.
Camp attendees will also get an unrivaled opportunity to interact with their favorite Dirtybird players who will fill in as "camp counselors," leading much of the fun both behind the decks and out on the grounds.
Comedian and musician Reggie Watts has been announced as a headliner in addition to the legendary house producer Green Velvet. These two top off a lineup chalk full of the label's mainstays like the Martin brothers, J.Phlip, Kill Frenzy, Worthy, Ardalan, and Shiba San. This year is also heavy with newcomers that label head Claude Von Stroke has A&R'd over the past year including  Bruno Furlan, Maximono, German Brigante, and Sage Armstrong, all of whom fit in perfectly with the booty-tech sound that has become synonymous with the label.
The campout will take place October 7, 8, and 9. Tickets are on sale now and conveniences like payment plans and shuttle buses from LAX are also available. Visit dirtybirdcampout.com for more info.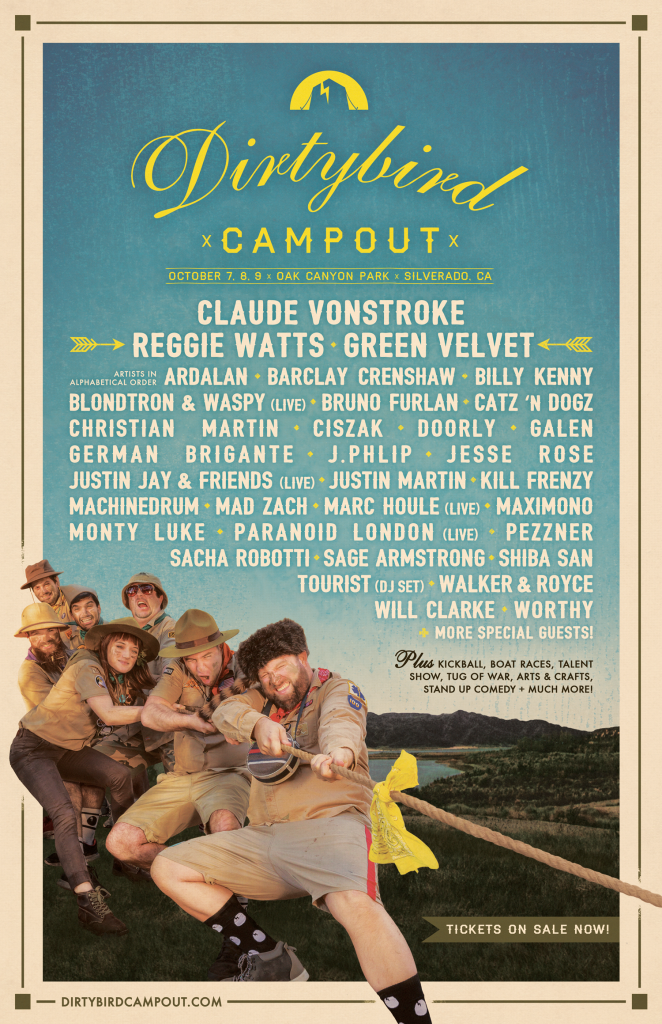 Here is the COMPLETE DIRTYBIRD CAMPOUT 2016 LINEUP (Updated 8/1)
Ardalan
Barclay Crenshaw
Billy Kenny
Blondtron (LIVE)
Bruno Furlan
Catz n Dogz
Christian Martin
Ciszak
Claude VonStroke
Doorly
Galen
German Brigante
Green Velvet
Justin Jay and Friends (LIVE)
Justin Martin
J.Phlip
Jesse Rose
Kill Frenzy
Machinedrum
Mad Zach
Marc Houle (LIVE)
Maximono
Monty Luke
Paranoid London (LIVE)
Pezzner
Reggie Watts
Sacha Robotti
Sage Armstrong
Shiba San
Tourist (DJ SET)
Walker & Royce
Will Clarke
Worthy