Dirtybird Wings It for First Campout Festival, Stays True To Roots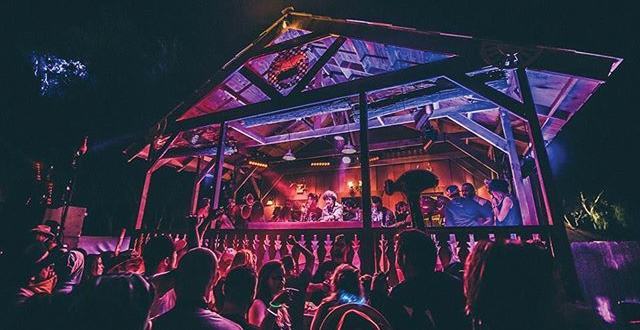 Last weekend Claude Von Stroke and his Dirtybird crew turned the Oak Canyon Park in Silverado into a house music haven. Full of eager fans from all over the country, the inaugural festival was an overwhelming success. Camp-themed activities pleased attendees with events ranging from archery to tie-dying, row boating to roasting s'mores. There was just one main stage with no overlapping sets, so fans never had to miss a moment of tech-house bliss. Justin Martin blew the crowd away Friday night with his closing set. He showed his appreciation for the true fans who made the trip out, commenting, "The people here are here for the music. They're not here because it's cool or they found out last minute about a cool party – it's people that are really dedicated, and there's nobody I'd rather play for than people like that." Claude followed suit on Saturday with his own closing set, not to mention bass-heavy mixes from j.phlip, Will Clarke, Kill Frenzy, and more in between.
The stage looked like a classic fusion between Wes Anderson's Moonrise Kingdom and Wet Hot American Summer with wooden structures and triangle-shaped roofs galore. Despite overnight rain that turned the ground to sludge, beat-freaks and house-heads partied hard throughout the weekend. Label mainstay Ardalan had this to say:  "I just love how everyone is going along with all the activities and dancing and playing volleyball — we've even got camp teams! It's so simple and fun, this is like paradise. I want more like this one. I actually just want to live here. But I live in SF now with Justin Martin, shoutout Fillmore! At festivals these days you see the same names everywhere. I just feel like the lineup and the programming here have been so good. I don't think I've ever seen a lineup this amazing, excluding myself."
As smaller boutique festivals like Symbiosis and Lightning In a Bottle have increased in popularity in recent years, the fledgling Campout places itself solidly among their ranks – apparently without much forethought as Justin Martin revealed: "Not many people know this, but we didn't know how this was gonna turn out. We put this festival together in three months. When Claude put out the flyer for the event, he didn't have a venue, he didn't have a production team, he was just like, 'we're doing it.' And it all just came together like magic." With some know-how from the Do Lab and a stacked line up of chunky booty-house producers, Dirtybird stayed true to themselves and created a playful, unique atmosphere that hopes to repeat for years to come.