Heron Arts' upcoming show, The Detroiter, will introduce an eclectic selection of artists, largely with ties to Detroit (nicknamed the Motor City), against a backdrop of electronic acts curated by Matthew Dear's label, Ghostly International, on Saturday, July 30th.
The Detroiter is the second collaborative gallery-exhibit-gone-block-party of its kind to pass through Heron Arts this year (the first was The New Orleanian, which we covered earlier this year). The show concept serves as a way to bring artwork from across state lines, and intermix it with work from the Bay Area community. For this one, Heron Arts has teamed up with Inner State Gallery, a Detroit-based gallery responsible for  producing nearly a hundred exhibitions worldwide, including stops in Mexico, and Vienna.
Over 45 artists, both native and with ties to Detroit, have been invited to showcase their work, giving the Bay Area a look inside the creative happenings of Detroit–a city with a history of being the epicenter of the American Dream as well as economic and political turmoil.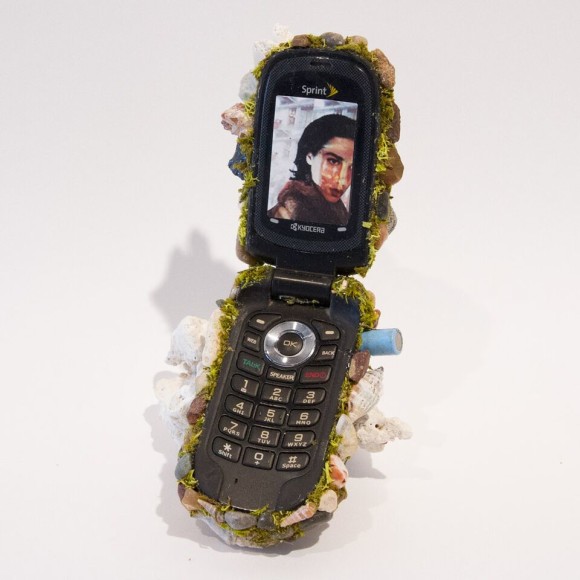 "Self-Perception" by mixed media artist Dessislava Terzieva
"This is a chance to show, in one breath, what's there and what Detroit is made of as far as artists go," said participating artist Rashaun Ruck. "We've been through bankruptcy, but we've never been dead – the art has been moving the entire time."
Ruck, an Emmy award winning photojournalist and lifelong artist, became familiar with Inner State Gallery after participating a group exhibition paying homage to Martin Luther King Jr.'s "I Have a Dream" speech. His involvement within the African American and homeless communities has grown exponentially since joining the Detroit Free Press and has only been surpassed by his long-standing dedication to art.
Ruck's drawings are often modeled after photographs and in his series, "Fly Away", feature aberrations of human features melded with those of pigeons. On Ruck's Instagram, he provides context to his work: "These images I've created speak to black men and why we often don't fly (achieve) even though we have the ability to go far beyond our circumstances," he said. "It paints a picture of how the somewhat negative environment becomes a comfortable condition and not simply a momentary station in life."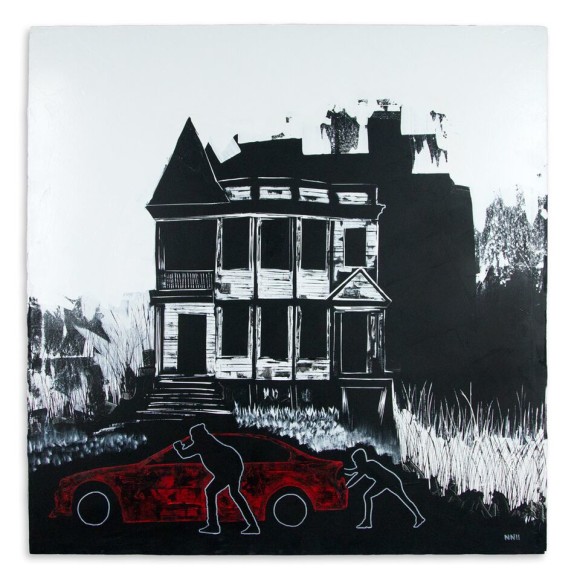 "Home Before Sunrise" by artist NNII (Nic Notion)
Ruck's son has autism, which has further urged him to explore mental illness on the streets of Detroit, but his craft has also been enlivened by the familiar confines of newsroom neutrality and his work served as a therapeutic outlet for the adversity he saw around him.
"That's what I love about art – it lets me give back in a real way, whether it's teaching or giving money," Ruck said. "It gives me the avenue to really address things."
Artist Scott Hocking also looks to the city's spirit and landscape for his work. Hocking has spent the last fifteen years fascinated with the fingerprints of the city's past. He creates colossal art installments from found objects from abandoned buildings across the city.
Growing up in a working-class family in the Rust Belt, a part of the northeastern and mid-western US that's characterized by urban decay and economic decline, Hocking's mantra is to make use of what is available. No matter how bleak the surroundings might look to others, he is able to see these excessive abandoned materials as resources for his artwork here.
"There's something about the material where it's decaying and becoming really organic~this point between the man-made and natural," said Hocking. Further he puts together installations that involve a grid-like system of boxes where everything is scientifically ordered–he finds that there is a common  human behavior that draws us toward finding order, to categorizing, to making a taxonomy of things we find.
With two major art schools, Cranbrook Academy of Art and the College for Creative Studies, both minutes away from the downtown Detroit area, it shouldn't be a surprise the city is a hotbed for the artistically inclined.
Roula David, Director of Operations at 1xRUN, a fine art publishing company sharing gallery space with Inner State, notes that two of the biggest things working in favor of artists in Detroit is the availability of space, which most would find inconceivable in other metropoles, and frigid weather, which is a good enough excuse to hole up for five months making art.
While art collectives in Detroit rage on as the city struggles to pave it's way into the next decade, the music scene also prides itself on churning out equally notable talent – and not just from the Motown era.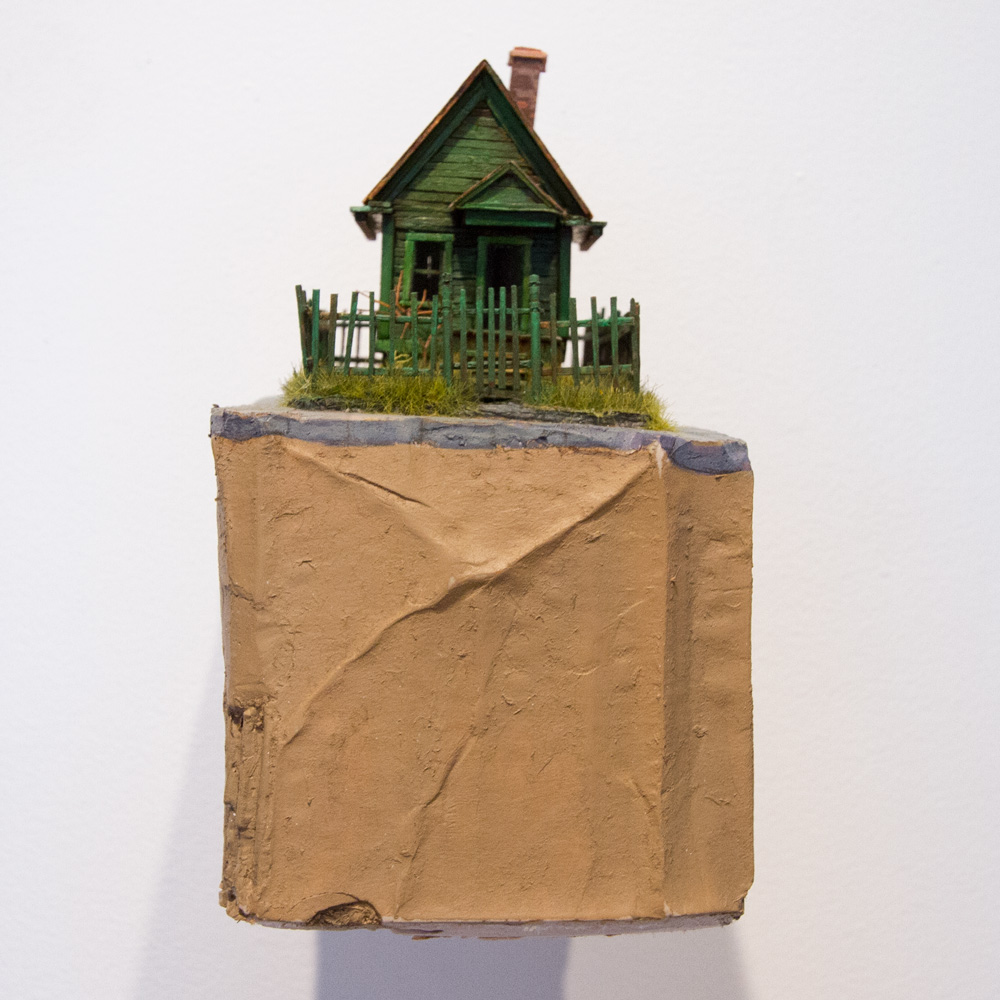 "Remainder" by Clinton Snider
Commercial and underground hip-hop (thank both Eminem and J Dilla), as well as big acts in garage rock (ahem, The White Stripes), and shock rock wonders like Iggy Pop and Alice Cooper also made their name here.
For David, a stalwart of the electronic music scene, it's hard to ignore the futuristic sounds of techno that spawned here. In fact, Inner State Gallery sits on the same block of Historic Eastern Market District as the headquarters of electro-guru Derrick May's legendary Transmat Records.
The Detroiter serves to equally pay homage to the musical powers that have taken root in Detroit. For this show, Heron Arts has teamed up with Detroit-based record label Ghostly International, which has produced albums by Phantogram, Dabrye, and Tycho (to name just a few). Matthew Dear, electronic music producer and co-founder of the aforementioned label, will play a set, along with Ghostly International artists Shigeto, Christopher Willits and Lusine.
+++ The event runs from 6-11pm at Heron Arts, 7 Heron Street, with free entry from 4-5:30pm only. Tickets for the fast selling-out show can be purchased here.
* Visual artworks will be on display by: Andrew Krieger, April Armand, Ben Saginaw, Brett Amory, Camilo Pardo, Clinton Snider, Dabls, Dan Armand, Derek Weisberg, Dessislava Terzieva, Eddie Colla, Ellen Rutt, FEL3000ft, Glenn Barr, Graham White, Jeremy Harvey, Jerry Vile, Jesse Kassel, John Dunivant, Jonny Alexander, Julian Spradlin, Lauren Harrington, Lucien Shapiro, Mark Arminski, Mark Sarmel, Matt Eaton, Matt Gordon, Michelle Tanguay, Monica Canilao, Nick Jaskey, NNII, Ouizi, Pat Perry, Patrick Ethen, Paul Johnson, Paula Schubatis, Paula Zammit, Peter Adamyan, Rashaun Rucker, Ron Zakrin, Ryan Doyle, Scott Hocking, Shaun Roberts, Stephanie Buer, Sydney James, Tiff Massey, Tom Thewes, Tylonn Sawyer, Vaughn Taormina, Eugene Watson.