On Saturday, November 7th, Heron Arts presents "The New Orleanian", a Nola inspired block party-like event that will bring together live music, art curated by Red Truck Gallery, and food reminiscent of Nola.
Inside the Heron Arts' converted brick firehouse space, will be a group art show presented in partnership with New Orleans-based Red Truck Gallery. Also on view will be art installations from the "Mars Molecule Project" by Mario Martinez (MARS-1) which debuted at Burning Man this year.
The outdoor area will include a music stage, food set-up and bar in the alley. The Grammy award winning Rebirth Brass Band is set to play this indoor/outdoor event. This San Francisco event is the only California stop on Rebirth's current music tour. You might remember Rebirth Brass Band from its jazzy horn introduction on the HBO hit series Tremé, but its been something of a New Orleans institution before some of us were born.
Drawing on the spirit of The Crescent City and the artists who helped foster its identity, the event will also showcase painters, craftsmen and a number of mixed media pieces, as well as Cajun-inspired grub from Hayes Valley restaurant the Boxing Room.
Overview of Heron Arts gallery space with the "Mars Molecule Project" by Mario Martinez (Mars-1)
Since its inception in 1983, Rebirth has grown from only a few members to a full-on harmonic brass band harnessing elements of jazz, soul and hip hop and still plays regular shows at The Maple Leaf Bar, an iconic and longstanding New Orleans destination for nightly live music.
"The New Orleanian" is the first-ever collaborative music/food/art show of its kind hosted by Heron Arts' curators and will serve as a pilot for several future city-themed exhibitions down the road.
Noah Antieau, co-curator at Heron Arts and owner of New Orleans-based Red Truck Gallery, said the show is meant to pay tribute to both San Francisco and his hometown of New Orleans – two cities he sees as having quite a bit in common.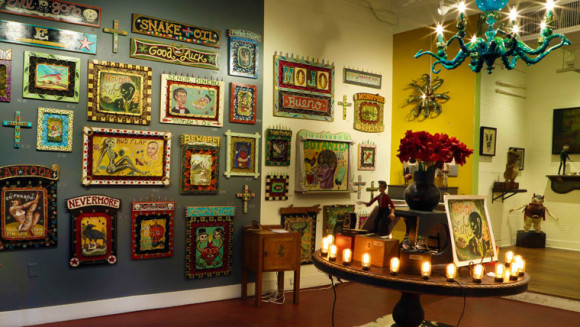 Inside the Red Truck Gallery in New Orleans, curated by Noah Antieau
"I think there's a ton of overlap in culture in that both cities take their culture very seriously," said Antieau. "The culture is so dominant that it really does impact everyone and everything." For example, he said, he's frequently seen musicians move to New Orleans and end up sounding like they're from there.
As the director and curator at Red Truck Gallery, Antieau has welcomed an influx of contemporary artists who bounce between mediums and techniques—a variety that makes a city like New Orleans as diverse in its culture as it is proud.
The show features work from artists who embody that same range of talents, such as Matthew Cox, who stitches soft and hard elements together to create embroidered x-rays, and Diem Chau, who creates miniature sculptures with pencil tip lead.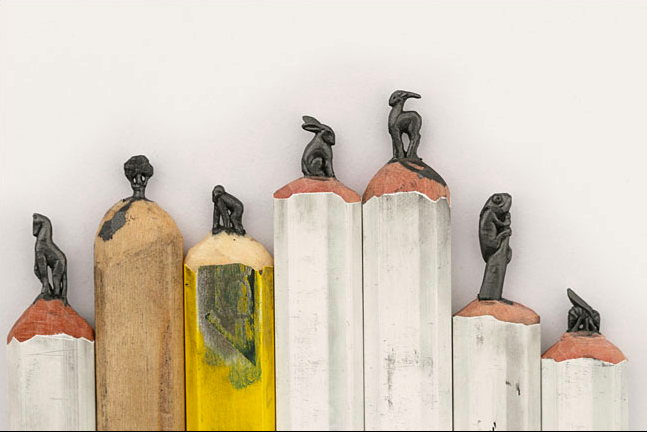 Artist Diem Chau creates tiny sculptures with pencil lead
Much of the art at the event will be on sale and ticket sale proceeds will go to the New Orlean's Musicians Clinic, a nonprofit that provides social services and medical care to local musicians, which Rebirth's founder Phillip Frazier sought care from after he had a stroke following Hurricane Katrina.
After Saturday, Heron Arts will set its sights on cities like Detroit and Portland where they'll organize music and art events that embrace each city's unique culture and creative aesthetic.
The event is 21+ and will run from 6-11pm at 7 Heron Street on November 7th. General admission tickets are $40 and can be purchased here.