Q&A: Experimental Pop Duo Young Magic Brings Chaotic Energy to the Fillmore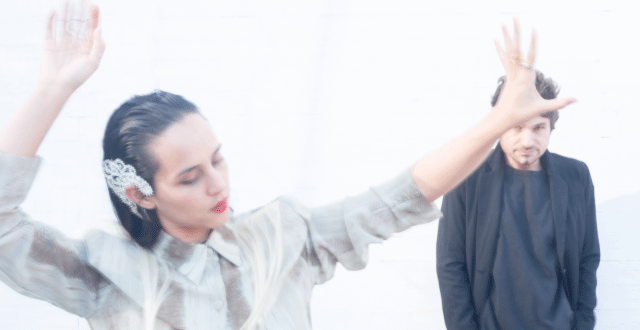 New York experimental duo Young Magic has a unique approach to music creation and travels the world seeking out and recording sounds in a variety of exotic locations. The group, now based in Brooklyn, originally formed as an international trio with Australian Michael Italia. Now a duo, Melati Malay (born in Jakarta, Indonesia) collaborates closely with her visionary sidekick Isaac Emmanuel (also from Australia) to bring the magic.
Young Magic is currently touring with psychedelic indie rock band Yeasayer–both will perform at the Fillmore on Tuesday, May 31. The tour is in support of their new album, Still Life, released earlier this month on May 13 via independent label Carpark Records. That label also backs fellow experimental talents such as chillwave act Toro y Moi and electronic musician Dan Deacon.
We spoke to singer Melati Malay to ask about her arrival in the United States, learn about her collaborative process on the new record, and what we can expect from the group's live show.
When did you move from Indonesia to the United States?
I moved when I was 21, but I lived in Australia just before that.
Why did you decide to to make New York your home base?
I grew up in Jakarta, which is also a mad city like New York. I think I was drawn to the energy of that city. I like the fact that anything can really happen in New York, so it stuck with me. I was actually traveling around the country with my sister and New York was the last stop. I just ended up staying cause I liked it so much.
How did you determine that making music would be your profession?
It was a gradual dawning I think. It has always been a love of mine. It wasn't until I met Isaac and Michael, and we started a band together. It all started clicking and working and feeling right. [It felt like] something I should pursue.
Who would you say are your biggest musical influences?
My influences are Broadcast, Stereolab, and Björk. Those are the ones that keep coming back–I don't think I'll ever get sick of any of those.
What instruments do you play in Young Magic?
I'm playing guitar live. On the record, I play some synths and keyboards as well.
What do you admire most about Isaac Emmanuel's skill set?
His overall vision and his ear for sound. He can find the beauty some pretty obscure places.
Can you explain the process for recruiting other musicians for your current record?
We like to surprise them and not really let them know what they'll be doing. So we'll have the song primarily written and then we just throw them into the deep end. We worked with really talented musicians. They're quite great.
Is there a difference between the music created in a studio and when you perform live?
Yeah, there's always new parts. Anything that brings live, chaotic energy to the show always adds. We have visuals that we've added to out shows as well–projection map visuals.
Are you big into costume design?
Yeah, I have been trying to make costumes. I have a few costumes made for this tour, which I think should be fun. They involve a lot of extensions sewn onto clothing. I don't know why.
Does Isaac participate as well?
Not so much. It's more my zone.
Have you ever visited San Francisco before?
I have. I love it. It's a really great city. We've played there a couple times. We played at Bottom of the Hill and the Independent. I have some friends that live there and I always love visiting. It's a pretty special space.