Lineup Announcement: Chairlift & Alvvays to Headline 6th Annual Phono del Sol Festival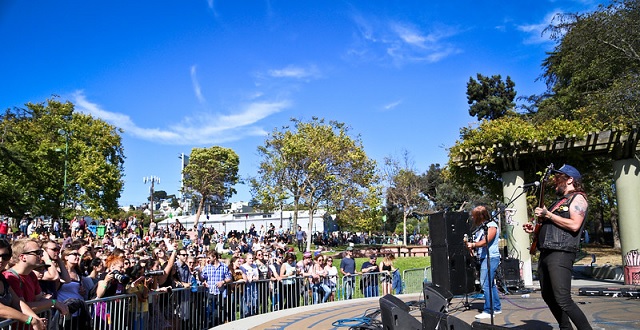 One of the most intimate outdoor music festivals in San Francisco, the Phono del Sol Music & Food Festival, has announced the artist and vendor lineup for its sixth edition, which takes place July 9 at Potrero Del Sol Park.
Electro-pop band Chairlift and Toronto dream pop group Alvvays lead the way for this year's event. Other musical performers playing this year include indie pop/rock band Born Ruffians, Norwegian singer-songwriter Mr. Little Jeans, San Francisco Bay Area-based soul fusion group The Seshen, SF garage band The She's, local indie pop group Hot Flash Heat Wave, and Oakland singer-songwriter Dick Stusso. One more artist will be expected to be announced shortly…so stay tuned for that.
The festival is presented by local not-for-profit The Bay Bridged and SF indie rock recording studio Tiny Telephone. A portion of proceeds from the festival supports the San Francisco Recreation & Parks Department.
Besides the stellar music lineup, there will be a bevvy of food truck options onsite, including Bacon Bacon, Curry Up Now, Doc's Classic, DUM Indian Soul Food, El Sur, Frozen Khusterd, Kokio Republic, Mozzeria Pizzeria, Sajj Street Eats, and Whisk on Wheels. Complementing the exquisite foods will be artisanal cocktails by Mark DeVito (owner of Cease & Desist), plus enhanced beer gardens with direct sightlines to both stages.
Festival attendees who wish to take advantage of all the daytime hours can join the fun for a special festival-day brunch at Cease & Desist on Mission Street (between 19th & 20th Streets). Brunch tickets cost $40 in advance or $50 at the door and include food, drinks, and live music entertainment.
Last year, electro rock band Tanlines and psychedelic garage rockers King Tuff headlined the fifth annual festival. In 2014, the festival saw performances by Wye Oak, Thao & The Get Down Stay Down, and Nick Waterhouse.
Tickets for the event at the sunny Mission District park are available now starting at $20 for youth (ages 6-17) and $40 for general admission. If you bring five friends with you and buy your tickets together, the cost is only $33 dollars per ticket (appropriately dubbed the 6-pack deal). VIP tickets cost $85 (which includes 20% off cocktails, access to private bathrooms and express bar line, and an official Phono del Sol beer koozie). Producer's Experience tickets are $250 (includes all VIP benefits, exclusive viewing areas, complimentary beer, and a ticket to brunch). A Brunch & Festival package is also available for $70 (includes one festival ticket and a single brunch ticket).