Stern Grove Festival Full Lineup of Free Concerts Announced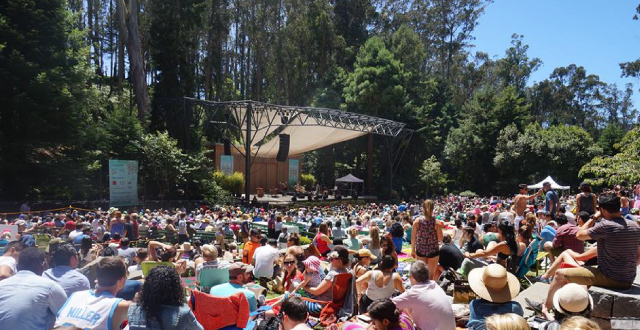 Stern Grove Festival is a San Francisco summer tradition and just announced its 79th Season of admission-free concerts. The 2016 Season showcases an eclectic roster of popular performers from the Bay Area and beyond.
This summer's 10-week concert series features Janelle Monáe, George Clinton, Hieroglyphics, Julieta Venegas, The New Pornographers, Atomic Bomb! The Music of William Onyeabor, as well as the Festival's classical partners San Francisco Symphony and San Francisco Ballet – Full lineup below.
The 2016 Stern Grove Festival series will present 10 world premiere commissions by local artists who will create a work of art inspired by the interplay between art, nature and audience at the Festival. The artists performing commissions are noted with a * in the list below.
THE LINE UP
June 19 – Janelle Monáe
and Midtown Social*
June 26 – George Clinton & Parliament Funkadelic
and Bayonics*
July 3 – Hieroglyphics*
and dance crews Mix'd Ingrdnts* and Golden State Breakers*
"Hieroglyphics will be participating in a pre-concert Artist Talk at Stern Grove's Trocadero Clubhouse at 12:00 noon on the day of the concert."
July 10 – San Francisco Symphony
Edwin Outwater, Conductor
July 17 – Joan Osborne's Soul Revue
and John Brothers Piano Company*
July 24 – Julieta Venegas
and La Misa Negra*
"This performance is presented in association with the Mexican Consulate and is a part of the MexIAm Festival, showcasing the best performing arts, culture and ideas from Mexico."
July 31 – San Francisco Ballet
with Artistic Director Helgi Tomasson
August 7 – The O'Jays
and MJ's Brass Boppers*
August 14 – Atomic Bomb! The Music of William Onyeabor feat Jamie Lidell, Luke Jenner, Money Mark, Sinkane, and Afrolicious*
August 21 – The New Pornographers
and Astronauts, etc.*
The Big Picnic, An Opening Day Benefit and Concert kicks off the 79th Season with an admission-free concert starring R&B sensation Janelle Monáe. Opening the show is the Bay Area's own Midtown Social.
The Big Picnic features a ticketed benefit party at 11 a.m. followed by the admission-free concert at 2:00 p.m. Tickets for the benefit party are available on Stern Grove Festival's website.
+++ All concerts begin at 2:00 p.m. at Sigmund Stern Grove, located at 19th Avenue and Sloat Boulevard (in San Francisco's Sunset/Parkside district).
Concerts are ADMISSION FREE; no tickets are required. Admittance is on a first-come, first-served basis.