Kathryn Calder Gets Philosophical, Plays The Hotel Utah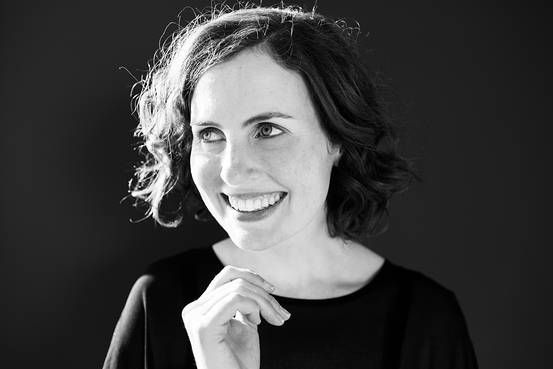 Kathryn Calder, keyboardists and vocalist of the New Pornographers, takes to the road for a string of intimate shows, supporting her newly released self-titled record.
Recorded at her house in Victoria, Canada, Calder's third record is the most polished and philosophical to date, combining influences of her other projects, The New Pornographers and Immaculate Machine. Touching on personal dilemmas, the first two singles, "Take a Little Time" and "Song in Cm" playfully confront a neurotic and self-abasing personality, relieving the pressure of such high expectations with a reminder that it's ok to fall, yet it's also ok to smile. We caught up with Calder to talk about the meaning of her new record, the importance of distance and being a Gemini.
Kathryn Calder plays the Hotel Utah Wednesday, April 29th — Buy Tickets.
The lyric "If we fall, then we fall" in "Song of Cm" is a very simple and yet profound statement. What is the meaning behind those words for you?
I would say the meaning for me is just if it happens, it happens, pretty much verbatim. Falling, of course, is a metaphor for whatever- failure, or things not working out, or death- the things we worry about in life. Not that if we die, we die, because we will die, but mostly if we fail or screw up, it's like 'oh well.'
I think artists tend to be their own worst critics. You're also a Gemini (like me). We tend to beat ourselves up a lot…
Yeah, I do a lot. So I feel like that's coming from a fairly personal place. I mean more like worrying about things too much. I have a song called "Castor and Pollux," on Are You My Mother? named after the Gemini twins in Greek Mythology. I can't believe we're talking about astrology. That's very West Coast of us.
Solo albums seem very personal. It's been four years since your last one. What did this one symbolize for you?
This one just felt like I was really refining my sound. Almost like a reinvention from the last one. I think I took all the things I liked about my previous records and really honed in on those things. When I was making it, I was doing a lot of thinking and reading, so the lyrics are really personal, and the music was building on the things I liked. All in all, it pretty much sums up me and my music. That's why it's self-titled.
What were some of the differences this time around?
It was recorded in a different way. I recorded while I was writing. Other records I demoed songs and had other people come in and play on it, but this record was done upstairs in my house, and then I'd have other people come in and play on it. There was a lot more freedom, a lot more time and distance, and I love distance. It's really important for me in the recording process because I have no perspective if I'm listening to the same thing every day, so having breaks was really important. It makes everything clear. If you're listening to it constantly you don't have that clarity.
It seems you've been pretty busy over the past four years. When did you find time to make this record?
I probably started writing at the beginning at 2012. My last record came out in 2011 and I was feeling antsy because when you finish a record you've been playing those songs for a long time. In the summer of 2012 I did a bunch of recording and threw it all away because I didn't like it. 2013 was when most the recording was done.
Did you recycle any of those tunes?
I really feel like sometimes songs are written so that you can write one particular part and use it another song- sometimes it doesn't have to exist as it is, you can mutilate it. It wasn't a total waste. I just felt like I needed to start again because the direction I was going. I wasn't into the songs.
"When You See My Blood" was written at the beginning of 2012. That song took almost two and a half years and it's one of my favorite songs on the record. Maybe part of it was because it took so long. But I was never frustrated with it. There was something that kept me coming back and interested in it.
There seems to be debate about how long it should take to create a quality song, or direct movie, or write a script. Some artists can create something fantastic in one sitting, while others it takes years.
I don't think one is necessarily better than the other. I've had both experiences. "Song in Cm" was probably written in a day or two, and "Take A Little Time" wasn't a big complicated process. Other songs took years. The first song on the new record is sort of like this intro, and I had entirely forgotten that I had written it and decided that I didn't like it and I put it in some folder. About a year later I was like 'what is this song and why did I get rid of it?' I was probably just frustrated.
Would you say playing with the New Pornographers influences your solo music?
We were kind of mostly on break. I was mostly at home trying to write, and feeling guilty about not writing. It was kind of a mess. There are things I've taken away from the recording process, like the freedom of dissecting parts during the recording process. I've seen Carl do that many times. We'll be mixing and he's like "I think I wanna take out that bridge or Chorus," and messes around with it until he likes it. Watching someone do that with such abandon, I take that into consideration. If there's a gut instinct that something isn't quite right, you don't have to stick with it.
You're playing much smaller venues on this tour compared to those with The New Pornographers. Was this a conscious decision?
Yes, I'm mostly kind of starting over again when I do a solo record. There are fans that will come, but it's not enough to sell out giant theater. You can play a big venue and have no one there and it can be awkward. I just wanted it to be cozy. If it's full, it feels great.